Daphne Payne Lewis
Auckland Singing Lessons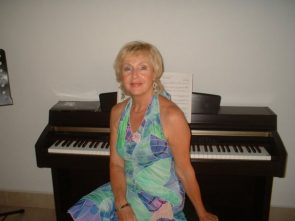 Qualifications: Performance credentials and experience as listed
Pricing: $40 - 35mins / $55 - 45 mins / $70 - 1 hour
Styles: Classical / Opera / Musical Theatre / Contemporary
Suitability: Children/ Beginners / Adult
Bio
Born in Wellington and raised in Blenheim where I studied piano, singing, dance and speech. Showing an early talent for music, at the age of 16 I gave live recitals of both piano and singing on NZ National Radio.

During high school I was appointed as a substitute teacher for music classes.
I moved to Auckland to pursue my singing career and became involved with various musical theater productions.

My first leading role was as Nellie Forbush in the Auckland Operatic production of "South Pacific", for which I received rave reviews.
While performing a leading role with an Auckland professional theater company I met and married my leading man, Metropolitan Opera tenor, William Lewis and moved to New York.

I have performed leading roles in both musicals and opera as well as musical theater, concerts, recitals and one woman shows throughout the US and NZ.

I have performed with the Milwaukee Symphony Orchestra, Little Orchestra Society of NY, New York State Opera, Florentine Opera of Milwaukee, Los Angeles Civic Light Opera, Sacramento Summer Theater, Milwaukee Concerts in the Park ( audience of 15,000) to name a just a few. Venue's I have performed in include Dorothy Chandler Pavilion, Los Angeles, Curran Theater, San Francisco, Kennedy Center, Washington DC, Avery Fisher Hall, New York, Auckland Town Hall, Hay's Theatre Christchurch, Palm Desert Museum, California and one woman show's at the Hilton and Ritz Carlton Hotels, Palm Springs CA. I have recently returned to New Zealand to continue teaching and performing.


Teaching Info
I have had vast experience as a professional singer/performer and singing teacher/voice coach and piano teacher for over 40 years. I studied in Auckland with the late Dame Sister Mary Leo for 4 years and in New York with one of the top singing teacher's and voice coaches in New York City Sue Seton, for 12 years. Some of her students were Bette Midler, Betty Buckley (original Grizabella in the Broadway, Production of "Cats", Carole Laurence (original Maria in "West Side Story", Shirley McClaine and many more. I studied opera with Elsa Fiedler, (sister of the late Arthur Fiedler of the Boston Pops orchestra), and was coached in operas by repetetuers of the NY Metropolitan Opera, the Munich Opera as well as the late Charles Richards, repetateur and pianist to many of the leading opera singers at that time including Grace Bumbry. I was also coached with Broadway conductor's, composer's and voice coach.

In my teaching I concentrate on correct breathing and use of the diaphragm. This is the first and most important aspect of learning to sing. Placement of the voice and voice production must go along with the breathing. I also feel that presentation and interpretation are extremely important...one needs to communicate with their audience and must express themselves wholely. As one builds confidence, this becomes much easier. My job is not only to teach students to sing but build their confidence. Being a singer and performer myself, I am able to demonstrate what I am trying to get across to the student, and that to me is a huge advantage to the student.