Daphne Payne Lewis
Auckland Singing Lessons, Artist development, Ensemble Coaching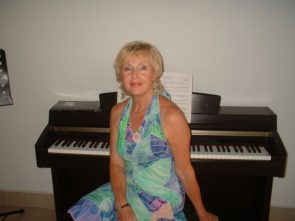 Qualifications: Performance credentials and experience as listed
Pricing: on request
Styles: Classical / Opera/ Musical Theatre/ Contemporary
Suitability: Adults / children / beginners /professionals
Bio
Well known NewZealand born and New York trained singer/actress, Daphne Payne Lewis now living and teaching singing in Auckland.
She has performed throughout the US, Europe, Australia and New Zealand in Opera, Musicals Theatre, Concerts, (including touring with NY Metropolitan Opera treading tenor), Recitals, TV, radio.

Among the company's, Orchestra's and venues I have performed include the Milwaukee Symphony Orchestra, Little Orchestra Society of NY, NY State Opera, Florentine Opera of Milwaukee, Los Angeles Civic Light Opera, Sacramento Summer Theatre, NY Avery Fisher Hall, Kennedy Centre Washington DC, Dorothy Chandler Pavilion LA, Palm Springs Desert Museum, CA with one women shows at various hotels and clubs, including the Ritz Carlton and Hilton.


Teaching Info
I have had vast experience as a professional singer/voice coach/ teacher for over 35 years.
I was fortunate to work with top singing teachers/voice coaches, Broadway conductor's as well as repeteteurs from the Metropolitan Opera, and the Munich Opera.

In my singing lessons I teach breathing and technique for correct voice production.

Because of my background, I also believe that presentation, interpretation and communication is extremely important.
It is also very important to build confidence in a student and in my experience with students, I feel that is one of my strongest points, as well as the fact that having been a singer and performer/actor myself, I am able to demonstrate what I am trying to get across to the student. I feel that personal experience in singing and performing is also a great advantage in teaching singing to a student, no matter the genre.