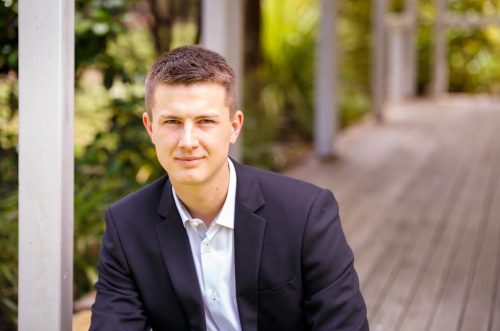 Bay of Islands

Piano Lessons | Aural Lessons, Theory Lessons, Jazz Improvisation Lessons, NCEA Music Tutoring
Qualifications: Bachelor of Music (Hons) from Victoria University.
Pricing: $60 per hour, $30 per half hour
Styles: Jazz specialty, Classical to diploma level, pop and playing by ear.
Suitability: Students from 6 years old. Absolute beginner to advanced. ABRSM to grade 8.
---
Bio
Northland's mobile piano teacher!
Alex is a young and experienced jazz pianist and teacher. He is a graduate of the New Zealand School of Music, graduating with honours. He has already begun a successful career as a pianist playing live for Radio New Zealand, Music in the Parks, the Grand Hotel, Rendevouz Hotel and many other venues and festivals around New Zealand. He has been teaching for over twelve years and was recently the piano tutor for Lynfield, Whangaparoa, Long Bay and Westlake Boys Colleges, ACG Parnell. He has played internationally including a regular residency on The World, luxury cruise liner. He has performed in Australia, Korea, Shanghai, Hong Kong and even Antartica.
Alex has been the Jazz Programme administrator and tutor at the New Zealand School of Music at Massey University's Albany campus, a division of Victoria University department of music and has previously taught at NZSM and Excel school of performing arts.
He has completed a teaching degree with Waikato University, and is a registered teacher.
Lessons are taught from your home in the greater Kerikeri, Paihia Bay of Islands region.
---
Teaching Info
In addition to teaching at local colleges I offer private lessons to students who wish to further themselves as a pianist or an improvising musician. In order to develop as a teacher I am constantly trying to find new ways to teach my subject and have found that the most successful teaching method varies enormously from student to student.
In light of this I keep my lessons flexible, adjusting subject matter, focus and approach to suit.
A key component of my teaching method involves introducing the student to new forms of music, new artists and new directions. I believe that in order to keep a student engaged it's necessary to retain a certain level of inspiration and forward motion in their learning.
I am very experienced with helping beginner pianists enter into the world of music right from their very first note. I'm also experienced in helping talented young pianists to "cross over" to the world of improvised music including beginner to advanced level jazz and chordal pop. I also offer lessons focusing on ABRSM grades, and have helped many successful candidates through both practical and theory exams.
So far my youngest student is 4 and my oldest is 66. Get in touch to talk about what is right for you.