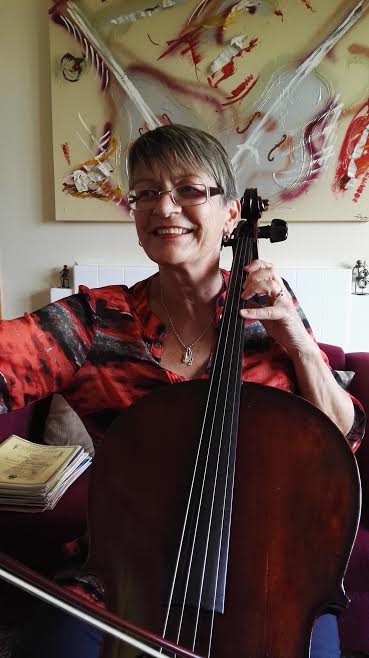 Auckland

Cello Lessons
Qualifications: B Mus (Otago) Dip Mus Exec (Auckland) Dip Tchng, AIRMT
Pricing: $45 for 45 mins $60 for 60 minute lesson
Styles: Classical Cello
Suitability: Ages 6 to ???
---
Bio
I am a Registered Cello Teacher with over 20 years experience. I give a good technical foundation and a love of music to my students. I was a Music Specialist in both Secondary and Intermediate schools for many years. Previously I had taught cello in groups at several Auckland Saturday morning music schools. In 2008 I gained my B Mus with cello performance from the University of Otago and was the Itinerant Cello Tutor in six secondary schools in Dunedin. I returned to Auckland for family reasons in 2009 and now teach individuals, both children and adults in my new Private Studio in Remuera. This year (2017) all my students are sitting Trinity College London exams in November, from Grade 3 to ATCL Diploma level. I give two performance opportunities each year with a mid year and end of year concert.
---
Teaching Info
I encourage all ages and stages in my teaching, with a focus on excellent technique and tone production.
I cover Trinity College Scales Grades 1 to 8, Studies and Pieces. I have a large collection of music that I share with my students.
I help co ordinate workshops with the Auckland Company of Cellists and play in an Auckland University Ensemble led by Edith Salzmann. Two former students (that started their lessons with me) now play with the Auckland Youth and National Youth Orchestras.
I have played in most of the orchestras in Auckland at some time in my career and in Dunedin I was a member of the Southern Sinfonia and City of Dunedin Choir. I particularly enjoy chamber music. Currently I play in the Malvern String Quartet, Cellissimo Trio and Bacchus Piano Trio.
Dora is a very inspiring individual. I have only been playing cello for almost a year but the quality of her teaching looks like I've been playing with her for five years. She is a kind and welcoming lady. She treats all her pupils as family which I think is the best thing about her. I have never experienced having a teacher like Dora. She is a real role model. Thanks Lesieli.
Vicka Allen (13 years old)
During the time I have been with Dora I can see and hear how much I have progressed. Dora has high expectations which motivates he students to push themselves to continually improve. She has a wide range of techniques and methods adapted to each student in order to help them succeed. I would highly recommend Dora for her teaching ability and musical skill, patience and personal interest and care for her students' welfare and progression. Kind regards, Zoe Haughton
Zoe Haughton (adult student)
I have been learning the cello from Dora for more than 4 years now and she is a great teacher. She gives me a lot of guidance on my playing so that I can improve my technique and be a better cellist. I love how she gives me a variety of pieces to play which makes it interesting and the very challenging ones are so rewarding once I am able to master them. She also helps and coaches me with my ensemble playing. Dora is a kind, fun and inspiring teacher and i look forward to my lessons every time. She has given me the passion for playing the cello and i really thank her for it! She is simply the best. Thanks Dora. Hugs Michelle.
Brian Ng (11years old)