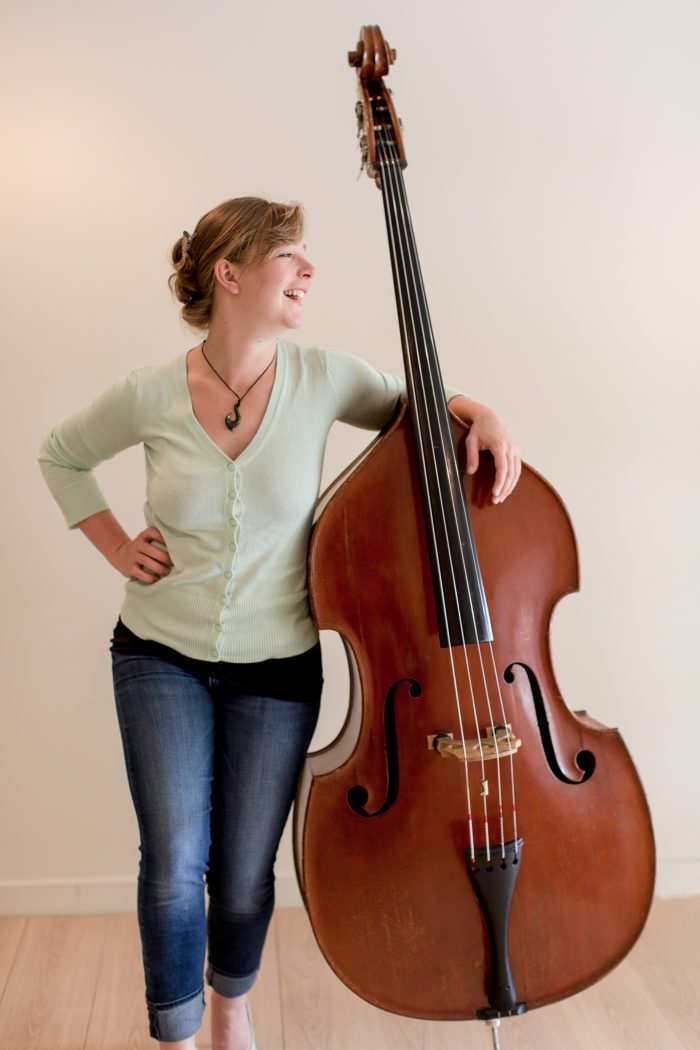 Wellington
Double Bass Lessons | Aural Lessons, Theory Lessons, Skype Lessons
---
Qualifications:

BMUS, MMUS

Styles:

Classical

Suitability:

All ages, including absolute beginners. Please ask about small basses for children.
---
Bio
Alanna Jones joins the New Zealand Symphony Orchestra after several years studying and working overseas. She completed her undergraduate degree at the San Francisco Conservatory of music with Scott Pingel and her Masters Degree with Timothy Pitts and Paul Ellison at Rice University. She is an Auckland Philharmonia Fellowship alum, a two-year Sydney Symphony Orchestra Fellow and a two-year Tanglewood Music Center Fellow. She performs primarily with the New Zealand Symphony Orchestra (NZSO), but still works as a casual with many New Zealand and Australian orchestras. Including the Auckland Philharmonia and the Sydney Symphony Orchestra (SSO).
Alanna has performed numerous chamber concerts throughout her career including the New Zealand premiere of Fred Bretschger's "Fantasy Duo" for cello and double bass. Igor Stravinsky's "Pulcinella Suite" and Roger Kellaway's "Esque" with the Sydney Symphony Fellows and the Kevin Puts' "Snapper" Quintet at the Tanglewood Music Centre. She was also the double bassist for NZ Barok for two years.
A passionate educator, Alanna has been teaching since the age of thirteen, first in gymnastics and later in music. She has started absolute beginners on the double bass with great success, as well as preparing high school students for auditions and coaching university students of all ages. She organised and ran the inaugural Repertoire Class for the SSO Fellowship Program, which is still part of the fellows' training. Alanna continues to find ways to get double bass in to the community. She teaches privately and in schools, both one on one and group lessons. She has been a part of countless outreach programs in Sydney including double bass demonstrations for schools, presenting children's concerts and coaching students in multiple day workshops.
Alanna was born in the United States, but her family moved to the far north in New Zealand when she was eleven. After playing piano and harp, she began playing the bass in Whangarei Youth Music at the late age of eighteen. She was principal bass for the Auckland Youth Orchestra for two years and she was accepted in to both the Auckland Philharmonia Summer School and the NZSO National Youth Orchestra for two seasons before moving overseas to complete her tertiary studies.
Alanna plays a very special double bass that had been in Oriental Bay, Wellington, since its previous owner brought over on a boat from Europe in 1967. Found by a dear colleague, the 1884 french bass, made by Gabriel Jacquet-Gand has been restored and continues to make music in Wellington, where it has lived for so long.
---
Teaching Info
I teach a variety of repertoire, but what I teach depends on each student. When I start a student I prefer to use a mix of standard method books with some George Vance and Caroline Emery technique. I studied with Paul Ellison, a pedagogue who has a very ergonomic approach to teaching that I have also adopted. This ensures the student is able to adapt to the physical demands of the double bass. I supplement performance lessons with musicianship and theory work to make a well-rounded education for my students.