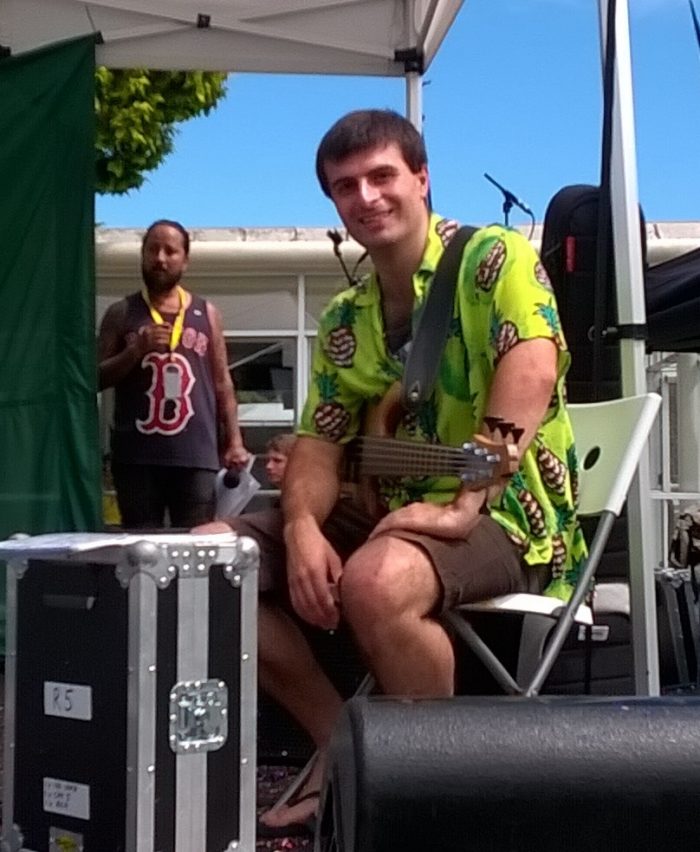 Auckland
Bass Guitar Lessons | Theory Lessons, Composition Lessons, Mixing and Mastering Lessons
---
Qualifications:

BMus (Jazz Performance)

Pricing:

$40/hour or $30/half-hour

Styles:

Rock, funk, jazz, blues, metal

Suitability:

Any age
---
Bio
I had piano lessons as a child for a number of years, eventually attaining a Grade 2 certificate, but it was apparent that the piano wasn't the instrument for me.
I started playing the bass guitar when I was a teenager. I had lessons from Scott Sutherland, during which we covered a range of concepts including technique, music theory, the physics of sound, and music reading. During these years I also played in a few bands with school friends, and I was one of the first members of The Auckland School of Rock. Sometime after this, I joined my first serious band (which recorded an album of all-original material).
I eventually left that band so I could move to Melbourne (Australia) to experience its music scene. During this time, I developed my recording skills by making many demo recordings for various groups (including my own). My skills were eventually utilised by the band 'Summon the Birds' for pre-production of their first full-length album.
One of the bands I played for was Five Acre Field, led by Matthew Gough (a graduate of Melbourne University's Bachelor of Music Composition program). He applied his skills to create challenging, classically-influenced music, while sticking to a conventional rock band format. The experience included learning an 8-minute rearrangement of Bach's BWV 1052, which was very challenging for me! We recorded a 5-track EP in 2012, which I highly recommend to anyone interested in a progressive take on classical music (facebook.com/FiveAcreField).
After that, I returned to New Zealand to complete a music degree at The University of Auckland (majoring in jazz performance), and have since kept myself busy teaching privately and playing on the occasional recording.
---
Teaching Info
Are you a beginner, trying to figure out the songs that inspired you to pick up the bass?
Are you an intermediate player, trying to advance your technique, music theory knowledge, and/or music reading ability?
Or have you been playing for years, and are just looking for something fresh and new?
Then look no further!
My name's Alex. I've performed and played on recordings both here and in Australia (covering a range of different styles), and have recently completed a music degree at The University of Auckland (majoring in jazz performance). Along the way I've picked up sound engineering knowledge, and learned many things about the instrument that go beyond just playing it (including set-up work). I want to share these things with you!
I have an archive of teaching material that I've accumulated over the years, so we can either work through that or just focus on things that are more relevant to you. Either way, I guarantee that I'll give you the tools you need to become a better bass player!
Contact me on 021 288 8803 or alex.khouri@gmail.com, and we'll make an arrangement that works for you. I'm located in Meadowbank, Auckland. $40/hour or $30/half-hour.