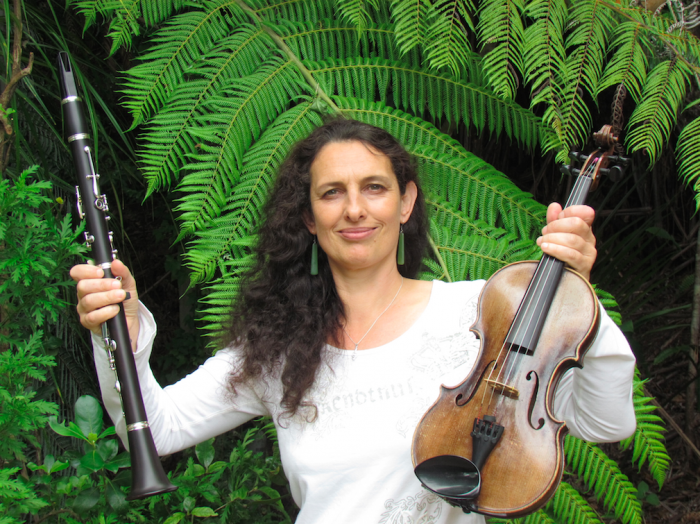 Auckland
Violin Lessons | Recorder Lessons | Aural Lessons, Theory Lessons, Composition Lessons, Online Lessons
---
Qualifications:

BMus

Pricing:

Please enquire. Individual or small group lessons

Styles:

Classical, Jazz, Folk/World

Suitability:

All ages, beginner to advanced intermediate.
---
Bio
My musical education started with recorder and piano lessons and after some forays into classical guitar and flute playing, I settled on the violin as my instrument of choice. Enthusiastic teachers and participation in musical summer schools, orchestral, and chamber groups led to a desire to take music further and resulted in a BMus from the University of Auckland. Although classically trained, I enjoy playing a wide variety of musical styles, with a particular interest in the rhythms and scale systems of Latin America, India, Klezmer, and Romani music from the Balkan to Spain. I am also interested in improvisation and have recently embarked on learning Jazz clarinet. I play the violin regularly as a member of the Auckland Symphony Orchestra, and occasionally with the St. Matthews Chamber Orchestra. Participation in smaller ensembles in recent years include performances with the Sargam School of Indian Music, The Wonderfish Collective and Flamenco NZ. Initially teaching violin to small groups of students on a casual basis in Remuera, I am now teaching mostly from my studio near Titirangi.
---
Teaching Info
My aim is to make lessons fun and stimulating. I take into account the different personalities and learning styles of my students and tailor the lessons to their needs. While the focus is on active music making, lessons will address all aspects of musicianship, including aural training, theory and music literacy.
I usually teach from my home studio near Titirangi. For other locations please enquire. On request I can travel to a student's home. A home visit charge and conditions apply. Online lessons are available through Skype, Zoom or FaceTime. Preparation for Grade exams as desired.
Alex is a wonderful teacher for my child. She is patient, gentle and enthusiastic. My child absolutely loves going to her lessons and has been progressing incredibly, thanks to Alex'spositive guidance.
Marie Audegond Deverell
Alex has taught Isla violin for the past four years, and has been unwaveringly kind and patient. She intuitively works with an approach best suited to Isla, allowing her to focus on her strengths, while gently encouraging gradual progress in areas she finds challenging. Alex shows an outstanding level of commitment to her role as teacher, often giving over and above what is expected with both her time and effort. As a family we are very appreciative for Alex's positive and inspiring input, and highly recommend her to anyone wanting to learn the violin.
Alexa
I think Alex is a good teacher because she asks me what I want to do and lets me choose what I want to play. Also, she helps me learn a lot of things
Melody 5
I think Alex is a very amazing violin teacher. I am very thankful of how she has taught me to play the violin like I do over the years, and I hope she continues to do so with her other students, and being a great teacher for them, too. I am very privileged to have learnt to play the violin with such a talented tutor. I thank her very much.
Isla 11
My daughter has been taking Violin lesson with Alex for many years now and as someone with a decade experience in teaching I can certify that Alex is a great teacher for many reasons. Starting from the calm and reassuring approach into her teaching, to keeping her students motivated by tailoring the lesson adequately to the student's level, interests and needs, to organizing recital events to give her students the opportunity to experience playing in public. Her studio is private, inviting and perfectly setup for the lessons. All in all, I can say we made the right decision in choosing to have lessons with Alex rather than in a music school.
Marlei
When I first started learning the violin I was really nervous, but after one or two lessons I felt really comfortable, and started enjoying playing the violin. I really like the one-on-one lessons, and the way Alex teaches.
Charlie 12
We have been so pleased to have had Alex teaching our daughter to play the violin over the last 5 years. Alex is very kind, encouraging and patient. She has a gentle teaching style and is always on hand to help if additional teaching is needed for exams or performances. We would totally recommend Alex to anyone wishing to get starting playing through to advanced players.
Wiki Gillespie