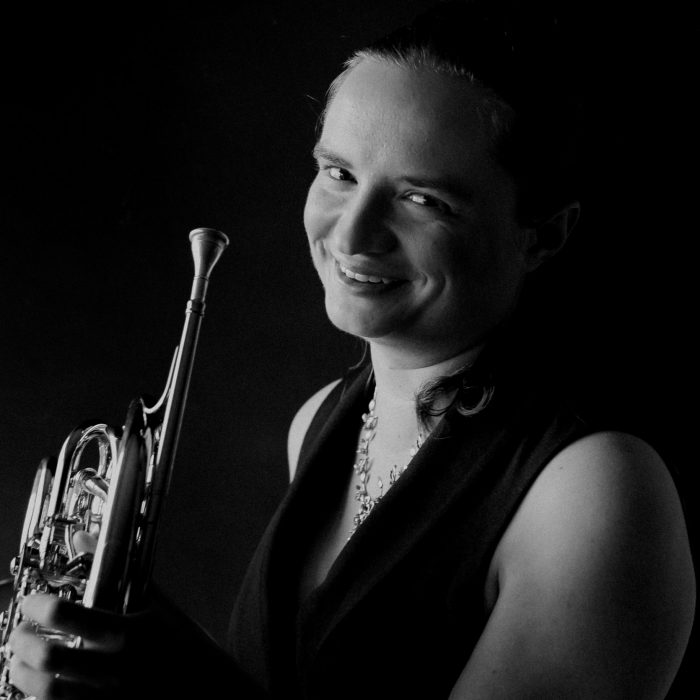 Auckland
French Horn Lessons | Cornet Lessons, Trumpet Lessons | Online Lessons
---
Qualifications:

Master of Music Studies, Queensland Conservatorium

Styles:

Classical

Suitability:

All
---
Bio
Anita is an Auckland based freelance French Horn performer and brass teacher. In 2019 she graduated from the Queensland Conservatorium in Brisbane with a Masters in Music Studies (French Horn) as well as The Griffith Award for Academic Excellence in both years of study. She previously completed a Bachelor of Music (Hons.) majoring in Classical Performance, French Horn in 2017 at the University of Auckland where she was also awarded an Auckland University Summer Research Scholarship that looked at teaching brass to 5-7 year olds via age-appropriate pedagogies. In 2015 she also spent a semester exchange at the Royal Irish Academy of Music.
She is the current principal horn of Bach Musica (Auckland) and OPUS Orchestra (Waikato).
In 2021 she published "Duets from Aotearoa, 60 duets for Trumpet or French Horn" with the support of Creative New Zealand.
​Anita has undertaken professional development through the Queensland Symphony Orchestra Internship (2019), New Zealand Symphony Orchestra Fellowship (2017) and Auckland Philharmonia Orchestra Internship (2016). She has performed Strauss' Horn Concerto No. 1 with Devenport Chamber Orchestra and Mozart's Horn Concerto No. 4 with Wairua Sinfionetta, Devenport Chamber Orchestra and Northland Sinfonia.
Working as a freelance horn player in both New Zealand and Australia she has performed with orchestras including Auckland Philharmonia Orchestra, Dunedin Symphony Orchestra, Hawkes Bay Orchestra, Festival Opera Orchestra and Auckland Chamber Orchestra. She has previously being principal horn of the Auckland Youth Orchestra, NZSO National Youth Orchestra and The University of Auckland Symphony Orchestra. She regularly presents solo or duo (with piano) recitals around New Zealand to rest homes, retirement villages and in public venues.
Anita has a natural ability to encourage and engage younger students, sharing with them something she really enjoys. Because Anita began music young (aged 5) she is patient and kind, understanding both the fun and difficulties involved with learning an instrument, lessons and personal practice. She believes lessons should teach students how to play their chosen instrument well, but also how to appreciate music, encourage personal growth and an investigative nature whilst feeling proud of themselves and their achievements. As these are the qualities in teachers that have made the difference to her as a musician she uses them to inspire and motivate her own students too.
Zoom lessons are available for those unable to travel, short on time or who live in rural areas and cannot reach a teacher.
---
Teaching Info
Some instruments are available for rent.
Testimonials from past students:
Anita is an amazing teacher, and always supports her students with lots of encouragement and a can-do attitude. She pushes you to improve and finds opportunities for performance and meeting other professionals through her connections, which has been invaluable. Not only has my technique improved through Anita's guidance, but also my confidence in performing to audiences. I highly recommend pursuing lessons with her.
Joni (departing Y13 student)
_________
I have had weekly French Horn lessons with Anita for the past three years. Within these three years, I've learned many musical concepts (and how to apply them to my playing) such as rhythm, dynamics, and tone; and most importantly have found a hobby within Music. Through this, I have been able to join many of my school's music groups (like Orchestra and Concert Band) which have not only helped me improve but were the favourite parts of my week.
Anita makes each lesson entertaining with different games that secretly help you practice, which (as I have learned) is an integral part of growing and improving. You will play the 'save the animals' game lots if you're like me! She is kind, enthusiastic and an amazing musician and teacher.
Over the years, I have thoroughly enjoyed my lessons with Anita and had looked forward to them each week. I have learned more than I think I could in the last three years than I could with any other teacher. Anita has helped me stay determined and hold on to the drive for progress (even if the majority of it was only for the stickers!). I couldn't have asked for a better French Horn teacher, thanks Anita!
Aditi (departing Y13 student)
_________
Anita, you have been an amazing teacher for April. She has gone from strength to strength under your guidance. She has loved going to trumpet lessons because you make it so much fun, and always made an effort to have a good/friendly relationship with her. I appreciated the way you were always thinking of different ways you could keep the learning fresh for her, such as sending links to youtube clips, making up games for her for her to keep her practicing in lots of different ways. You got her to think really creatively about her music – she really got on board with the concept of making up a story to go with her piece. Helping her to organise playing opportunities was a key driver. Examples were: guiding her towards being exam-ready, playing duets with another student for fun, performing for family members, putting on house concerts. You pushed her to play her best, and encouraged her to put in a lot of effort. You also managed to keep the lessons fun. You always seemed to hit the right tone with her. I think you did this by being interested in her as a person. You had faith that she could achieve what you asked of her. Many many thanks for teaching April.
Best wishes,
Miriam, (parent of an 11-year-old trumpet student)
_________
To whom it concerns:
Anita is a gifted musician and teacher. She taught my son trumpet and the progress he made in a short space of time was wonderful. Her focus on fundamentals and technique was very much appreciated. She has a wonderful manner for younger students (my son was eight years old when taught by Anita), with the right balance of fun and focus in each lesson.
I would highly recommend her as a teacher.
Kind Regards,
Pauline, (parent of 8-year-old trumpet student)
_________
Anita Austin is a brilliant teacher. She brings energy & enthusiasm & is very engaged in the job.  I feel she genuinely wants me to grow & improve.  She encourages me to push myself & take on challenges & is constantly suggesting new strategies to help me move forward in my playing.  And I believe she goes above & beyond a typical teacher, sharing links, videos, new music between lessons too! Thank you, Anita, for all your tips!
Kirsty, (adult horn student)
_________
We have been thrilled with Anita teaching music to our two girls over the last year.  Our 10 year old loves the piano and our 8 year old, the trumpet.  They have been eager to go to lessons and to practice(!) during the week and it shows in their playing.  Thank you Anita!
Rebecca and Guy
_________
Anita have been my daughter Silvia's harp teacher for almost two years. She is lovely, encouraging and well organised teacher. Silvia was so excited for her harp lesson every week. And she also recommends some music events for my daughter which we were absolutely love it. Thank you so much Anita for teaching Silvia! :)
Yen, (parent of 7-year-old harp student)
_________
When Anita taught me, I was in Grade 3 for French Horn and in the school Symphony Orchestra. I brought the orchestra music pieces to Anita and asked for her help.
She made everything much easier by giving some examples on small chunks of the pieces such as perfecting rhythms and dedicating parts of the song to memory to make it easier to identify when and how I should play when in the Orchestra.
She has been very patient when I don't understand and detailed with describing complicated parts of songs.
Luke, (Aged 15)
_________
Anita is a firm but caring, motivated, hardworking and diligent teacher.  She tailors her teaching to a student's interests.  She encourages students in goal setting and useful practice techniques.  We found her to be an excellent teacher and would happily engage her again.
Frances, (parent of 12-year- old trumpet student)