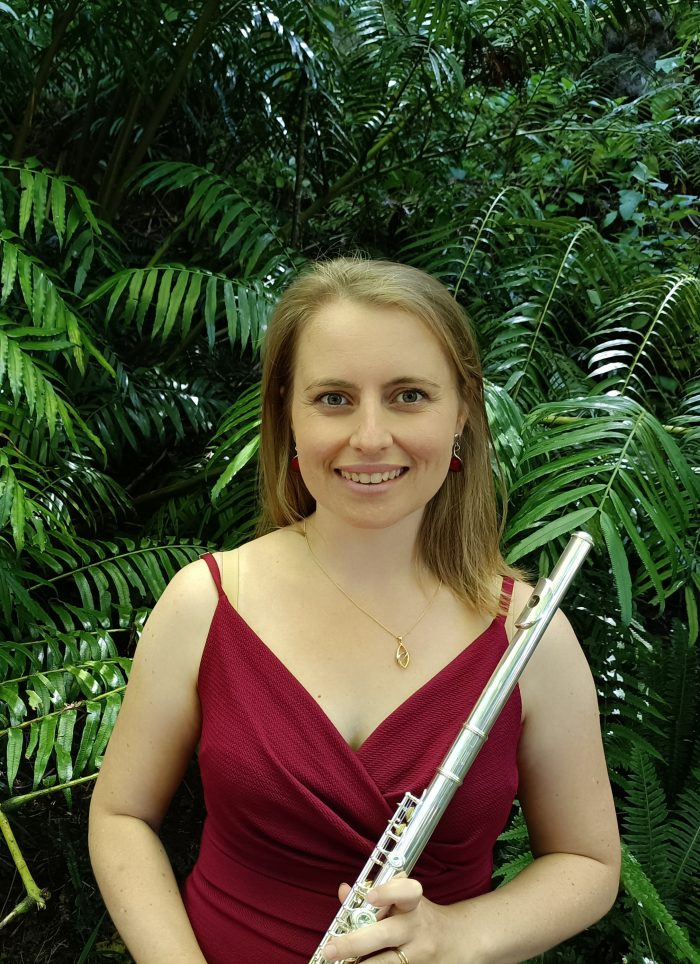 Wellington
Flute Lessons | Piano Lessons, Recorder Lessons | Theory Lessons
---
Qualifications:

BMus. PgDip, ABRSM Grade 8 piano.

Pricing:

$35/half an hour $50/45 minutes $65/hour FREE TRIAL Lesson

Styles:

Classical focus- but can teach a range of styles

Suitability:

Age 4 + (Piano) Age 5+ ( Recorder, Toot, Nuvo Jflute,) Age 7 + ( Standard flute)
---
Bio
Limited vacancies remaining for after school hours-
Anna is  a full-time music teacher teaching children from  age 4 to advanced level. She teaches beginner to intermediate level piano ( approx to  grade 5 level) 
She is also passionate about chamber music ! She performs in Wellington  with various chamber groups including the Wellywind Ensemble which was established with Pei-Ying Pan in 2018 and a harp and flute duo with Michelle Velvin. https://www.facebook.com/wellywindtrio/
Anna completed her BMUS degree in Flute in 2012 at the New Zealand School of Music, Victoria University Wellington studying with several teachers from NZSO and orchestra Wellington. In 2017 she  returned to studies graduating with PGDIP in Flute Performance in 2018. For her postgraduate diploma Anna took 2 years of  flute and piccolo lessons with Bridget Douglas, the principal flute player in the New Zealand Symphony Orchestra. She has begun lessons again this year with Bridget. A highlight from 2018 at University was becoming a finalist in the Body Harris Prize for best performance of a New Zealand composition at Victoria University playing the Anthony Ritchie Flute concerto! She also has performed various concertos with various orchestras including Ibert Flute Concerto  Vivaldi goldfinch concerto and Chaminade concertino.
Anna grew up with a very musical background. Her father is a music teacher, conductor and performer. Anna began teaching piano alongside her father at the age of 16 in Nelson. The motivation for bringing the joy of music to others was inspired by his passion and enthusiasm. She has been teaching flute, piano and recorder in Wellington for 6 years.
Anna's Students in action:
Wellywind Duo: 2021
Flute Harp Duo: 2021
Christmas Student Concert 2021: Some of Anna's students
https://youtu.be/4zYARRDWlQE
Anna playing Piano 
---
Teaching Info
Anna enjoys teaching  Flute to people of any age from beginner to advanced level on the Flute. She has taught up to grade 8 level on flute. She also teaches recorder and Piano from beginner to intermediate level ( up to approx grade 5 level)
Anna likes to help students have a strong foundation in tone and technique, and will put children through trinity exams to an advanced level if they wish.  She has experience putting children through exams on flute and they have received excellent results. Anna is also happy to put children through piano exams if they wish. Her main priority is that students enjoy playing their instrument, and she  does not put pressure on children to do exams if they do not want to. But she will encourage confidence building through performance opportunities in the form of student concerts and duets.
Testimonial for Anna Prasannan( From Liam- A year 13 grade 7 level student who learnt off Anna for 7 years.) Thankyou so much for being the best flute teacher ever! You are a wonderful teacher. You are a credit to your students and it has been an honour to be taught by you. I have been your student for a long time and it has been a great time. Your patience and kindness never fails to amaze me. Over the years I have had lessons several other flute teachers but I always come back to you. You have helped me grow and learn and I would not be the person I am today without you. You've especially been supportive of me while I learn to cope with my chronic pain, thankyou for your consistent understanding. You are friendly and warm hearted. Your passion towards music is infectious and you make learning flute fun and exciting. Along with your extensive knowledge, your compassion and enthusiasm make you a brilliant person and teacher. I will continue to find joy in playing flute and I have no plans to stop. My love for music has been a gift from you that will stay with me for the rest of my life. Please use this letter as a resounding endorsement of your teaching. Thankyou for every lesson and thankyou for your support, Liam
Liam ( Year 13 student)