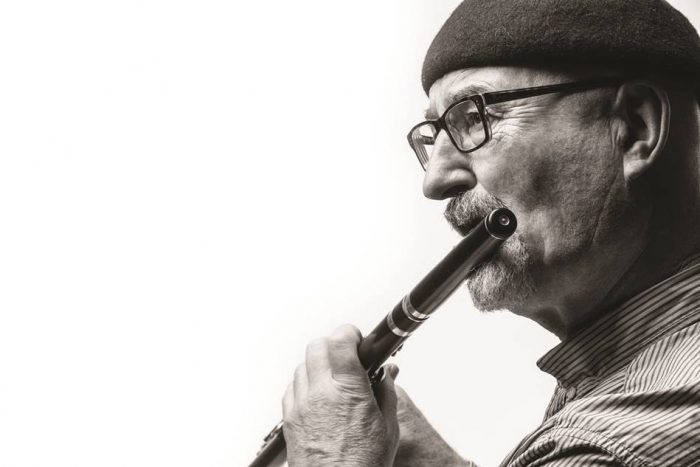 Christchurch
Flute Lessons | Alexander Technique Lessons, Aural Lessons, Ensemble Coaching, Theory Lessons, NCEA Music Tutoring, Online Lessons, Posture for Singers and Instrumentalists
---
Qualifications:

BMus, FTCL, LRSM, CMT

Pricing:

$80/60 minutes tuition

Styles:

Classical

Suitability:

From Intermediate to professional level of flute playing, around Grade 6 above, adults welcome
---
Bio
Anthony Ferner is Principal Flute Emeritus of the Christchurch Symphony, lecturer in flute at the University of Canterbury and a conductor. 
He won the first prize in the New Zealand Concerto Competition and he has frequently appeared as soloist with the Christchurch Symphony. He was trained in England at the Guildhall of Music studying with Peter lloyd (Principal Flute LSO) Trevor Wye and William Bennett.
He had a 17 year career in Australia playing in the Sydney Symphony Orchestra and the Australian opera and Ballet Orchestra before returning to New Zealand in 1996.
He is an active recitalist and chamber music player and his recording are heard regularly on Radio New Zealand concert program.
His classes at the University of Canterbury focus on preparing students for the professional arena both as soloists and orchestral players. For more than 10 years his students have dominated positions in the NZYO flute section, and many have successfully auditioned for casual work with the Christchurch Symphony Orchestra and have won awards in national and international competitions.
He coaches chamber music at all levels including university, community groups and had many successful groups in the national finals for the NZCT Chamber Music Contest for secondary school students.
He has studied conducting in St Petersburg, London and Milan and conducted the Christchurch Symphony, St Petersburg Chamber Orchestra, Radio/TV Tbilisi Orchestra, Wellington City Opera and Sydney Mozart players, L'Estro Armonico Strings and guested with New Zealand regional orchestras. He was musical director of the Risingholme orchestra for 7 years and he conducts Christchurch's Resonance Ensemble. He enjoys sharing his orchestral experience working with orchestras throughout the country and associated with the CSO outreach program.
He has given many flute seminars and masterclasses in flute events and festivals in New Zealand and Australia. In 2017 he was artistic director for the University of Canterbury International Flute Symposium 2017 featuring Emily Beynon principal flute of the Royal Concertgebouw Orchestra with fellow associate artists Bridget Douglas principal flute NZSO and James Kortum lecturer in flute Sydney Conservatorium.
---
Teaching Info
'A great sound brings ultimate success as a musician!'
You can get International standard lessons in NZ.
My aim is to optimise each students musical talents by giving them the tools to express themselves in their own personal musical manner. I love passing on the technical and musical knowledge I received from my great inspirational teachers in England and Europe.They learn to listen and understand how to develop their own rich focused sound.
The elements of stance, breathing, balance, flexibility, facility, legato & articulation are the essentials of playing that must work together to achieve the end result.
We  start with sound production which remains central in all technical work in scales, daily exercises, appropriate across the entire range as soon as possible tailored to the level of the individual.
I encourage students to be involved in as much performing as possible playing pieces  entirely appropriate to their level. 
Orchestral and group playing is socially and culturally a fantastic fun collectively making music together.  
Grade exams fit in around these activities.
I OFFER SKYPE LESSONS
Skype/FaceTime allows students across the country to have lessons without travelling.
Specific areas in which I can train you are for:
 Orchestral Auditions; professional, local orchestras,youth orchestras e.g. NYO, NZSSSO, and. Entrance into a university performance courses.
Competitions; National Concerto Competition, Gisbourne International Competition, provincial and state competitions, Australian Flute Festival competitions and other international competitions
Solo playing; Preparation for recitals and successful programming
Performance anxiety; Ways of dealing with nerves related to all above
Chamber Music Coaching at all levels; NZCT Chamber Music Contest, Chamber music for your own enjoyment for all in particular adults
Exams; Trinity College of Music, Royal Schools of Music and NZMEAB. This includes aural training and theory. 
In our FernerMusic studio , We offer students various opportunities to perform in our house concerts and other venues such as Nutpoint Centre, the Wednesday At One, The Piano and Great Hall.
Isabella Is a finalist for the 2019 New Zealand Concerto Competition "My six years of flute lessons with Tony not only prepared me exceptionally well for studying music at university, but they were always a highlight of my week. All while successfully guiding me through challenging repertoire, technical intricacies and demanding orchestral auditions, Tony's affable personality and sharp sense of humour brought joy to everything we worked on. With his years of experience as an orchestral player, teacher and soloist, Tony helped me to develop the technical and musical skills required for success in further study, competitions and auditions. But most of all, Tony taught me how to love playing the flute!"
Isabella Gregory
Gisborne flautist named for National Youth Orchestra by Finn Rainger Published: May 18, 2015 2:00PM A Gisborne-born musician has been chosen to perform in the country's top youth orchestra. Flute player Matthew Lee, 21, was ''overwhelmed and humbled'' when he found out that he had been selected for the 2015 National Youth Orchestra. "It is an honour to be chosen for such a prestigious position," the former Campion College student said. "Being a principal player in the orchestra has been a dream of mine for years." Mr Lee had a taste of what it was like to be in the NYO (National Youth Orchestra) last year when he was called in from the reserve list. He prepared for the audition months in advance. He felt an amazing sense of accomplishment."The excerpts (short parts of the piece used to test the people applying) are made available a couple of months before the audition is due. "At the start of the university year, my teacher and I put a lot of focus into preparing these excerpts and my chosen piece. "It is an honour to be chosen for such a prestigious position," the former Campion College student said. "Being a principal player in the orchestra has been a dream of mine for years." Mr Lee had a taste of what it was like to be in the NYO (National Youth Orchestra) last year when he was called in from the reserve list. He prepared for the audition months in advance. He felt an amazing sense of accomplishment. I feel as though all the hard work I put in has paid off." Mr Lee studies music at Canterbury University and was quick to thank his teacher Tony Ferner for preparing him for the part. "I am grateful for all the work my teacher has put in," he said. "I would not be where I am without him."
Matthew Lee