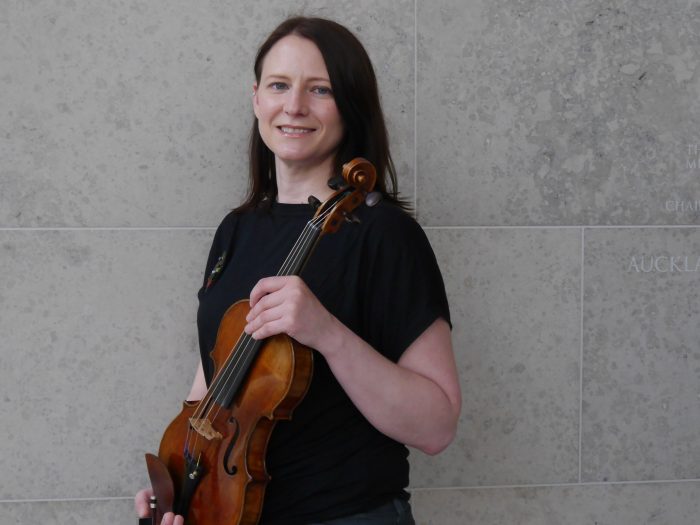 Auckland
Violin Lessons | Viola Lessons | Artist development, Aural Lessons, Ensemble Coaching, Theory Lessons, Online Lessons
---
Qualifications:

PhD, MA, BA (Hons), BMus(Hons), LMus (AMEB) (Violin), AMus (Violin) (Piano)

Suitability:

I teach all ages, from beginner level to advanced
---
Bio
Charlotte grew up in Brisbane and began learning violin and piano from the age of five, studying violin with Elizabeth Morgan, John Willison and John Curro, and piano with Joyce Bennett and Diane Selmon. In New Zealand she completed her BMus (Hons) with Stephen Larsen at the University of Auckland.
She has taught for the Marama Strings Project (University of Otago),  Pettman National Junior Academy, International Akaroa Music festival and as assistant teacher to Stephen Larsen (University of Auckland) and internationally renowned violinist and teacher, Takako Nishizaki. Charlotte has received extensive teacher training from renowned violin teachers such as Takako Nishizaki, Stephen Larsen (University of Auckland) and Kevin Lefohn (University of Portland, USA) and participated in masterclasses and lessons with Elisabeth Kufferath, Charles Castleman, Donald Armstrong, Nikki Chooi, and Ida Kavafian.
Her students have achieved success in exams competitions around New Zealand as well as participated in the New Zealand National Youth Orchestra, New Zealand Chamber contest, and continued to study music at tertiary level.
---
Teaching Info
Welcome to my Violin Studio based in Auckland, New Zealand. I have a passion for teaching and have extensive experience teaching violin from beginner to advanced levels throughout New Zealand.
As your teacher I will treat you as an individual.  I will nurture your musical talents and help you to set and realise your musical goals.  I will tailor my teaching skills to suit your age, ability and learning style to best develop your potential.  I will impart to you a sound technique and a love of music!
Performance is an essential part of learning violin and I provide opportunities in the form of concerts, competitions and examinations.
I also help students develop their ensemble skills, from duets to orchestras. Chamber music is a valuable and enjoyable experience for violinists of all ages and levels.
"Charlotte is a caring, respectful, intelligent teacher with an eye for detail. I am particularly impressed by her ability to thoughtfully choose music to match William's growing abilities, supported by carefully chosen scales, studies and bow techniques, ensuring a holistic approach to learning and teaching. She has high expectations and work ethics. I would love to thank Charlotte for encouraging, supporting and inspiring William into a successful, confident violinist. William has completed NCEA music in levels 1, 2 and 3 with excellence. He has completed his ATCL and won numerous performance competitions over the years, under Charlotte's teaching."
Jenny Brundell