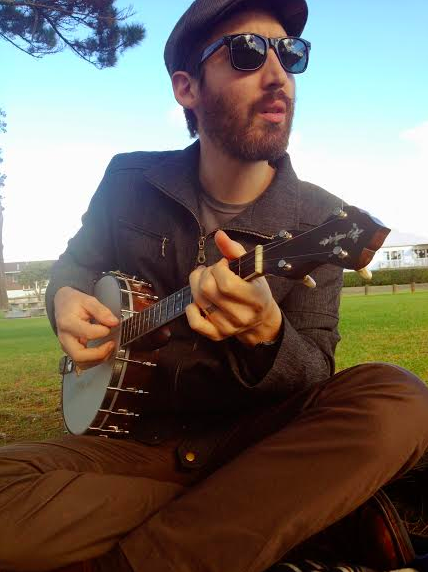 Auckland

Banjo Lessons, Guitar Lessons | Artist development, Aural Lessons, Ensemble Coaching, Song Writing Workshops, Theory Lessons, Composition Lessons, Jazz Improvisation Lessons
Qualifications: Bachelor Of Music (Jazz Performance)
Pricing: $40 - half hour / $70 full hour
Styles: Rock, Blues, Country, Jazz, Pop, Folk, Funk,
Suitability: All ages and levels of experience
---
Bio
David is a diversely creative guitarist and banjo player who composes for theatre and original projects. He has performed in numerous musical settings, touring extensively
in NZ, Singapore, Australia, India, Germany and the U.S.A.
He is perhaps best known as Composer, Musical Director and character from all of INDIAN INK THEATRE COMPANY'S productions of the last 11 years: KRISHNAN'S DAIRY, THE CANDLESTICKMAKER, KISS THE FISH, GURU OF CHAI, THE ELEPHANT THIEF and THE DENTIST'S CHAIR. For his work with this company he has twice won the CHAPMAN TRIPP THEATRE AWARD (2010 and 2014) for ​ "Most Outstanding Composer."
David writes and performs in his original Jazz ensembles such as ONOMATOPOEIA and RUCKUS, Old-Time, Folk and Blues projects such as WHEEL OF EXPERIENCE and SHINDIG, as well as numerous roles performing as collaborator and sideman with many of New Zealand's most talented artists. He was a member of the popular Country/Rock N' Roll group THE BROADSIDES and other country artists such as
TAMI NEILSON, winner of multiple NZ Music Awards.
For the past 15 years he has taught Guitar, Banjo and Music Theory.
Student Testimonials:
​​"I've been having lessons with David for over a year now. We have covered a diverse range of musical styles and techniques: clawhammer, bluegrass, contemporary, fusions; pretty much whatever I want to do, David will find a way to help me get there. The improvement in my playing I've seen over this time has been fantastic, now I can really enjoy playing the banjo at home and singing badly to my favourite tunes. The lessons I have had have been the key to unlocking the instrument for me, providing for me the knowledge I needed to push myself further with the banjo. David has been a supportive, friendly and patient teacher who has encouraged me to view the banjo in expansive ways. It has been an enriching process working with him." – Thomas
"I have played for more than 10 years, but found myself stuck. after a few months I feel that I am making really good progress and am finally starting to unlock this mysterious but fantastic instrument. I couldn't recommend David more. He is patient, easy to get on with and is not judgmental. In short, go and see David and become the guitar player you want to be!" -Nathan
"David is enthusiastic, attentive, extremely knowledgable and adaptable." – Craig
"David has taught both myself and my daughter guitar, always patient, he tailors the class to your ability. ​His lessons are fun, and he introduces new genres for you to play around with." – Fred and Holly
"Highly recommend! A great teacher who really knows and understands his music
( he teachers me both guitar and banjo) and a hell of a nice guy" – James
I've been taking weekly guitar lessons with David since late 2013, after many years of trying to teach myself and being very dissatisfied with lack of progress. Through David's teaching I've accomplished more than I hoped for, especially in the area of fingerstyle blues. I've learned to play songs by Mississippi John Hurt, Doc Watson, and other blues guitar greats, songs that I'd thought would be far too complex and difficult, until David broke them down into manageable sections and patiently showed me how to play each bar, slowly at first, over and over, until I got each one under my fingers and the whole song took shape. Along the way, I've picked up new techniques and some musical theory, so both my playing and knowledge are improving all the time. This has given me the confidence, for the first time ever, to start playing with other people. David is not only a superb musician, he's also an excellent teacher. He teaches at my speed and provides helpful support material in the form of tabs and video clips. The commitment to a weekly lesson has also been important. Because I'm making progress, I'm more motivated to practise – usually every day – and the practice sessions have more direction and purpose. – Tom
---
Teaching Info
BANJO LESSONS​
David teaches Clawhammer, Oldtime Fingerpicking, Bluegrass and Contemporary banjo styles.
​
GUITAR LESSONS​
An accomplished guitarist who has performed in a wide array of musical settings, David teaches the styles and tunes YOU want to learn: Rock, Pop, Classical, Blues, Country, Funk, Folk, Jazz…​
MUSIC THEORY​
With a music degree in Jazz Performance, and an eclectic career putting theory into creative and professional practice, lessons with David will help you to demystify : Technique, Scales, Modes, Harmony, Improvisation and "How it all fits together". Unlock that fretboard!
"I bring a wealth of creative and practical performance experience from my career in music to my work as a music tutor. I have been teaching both privately as well as teaching institutions for the past 15 years and I get great satisfaction helping students grow musically.
As a teacher I encourage my students to play whatever music they love, while underpinning my lessons with a solid foundation of knowledge and practice. I try to instil in the student a desire to explore their instrument, to see the fundamentals as windows into making music. I have experience teaching people of all ages, levels of accomplishment, and musical styles.
As a person I am friendly, calm, genuine and creative."