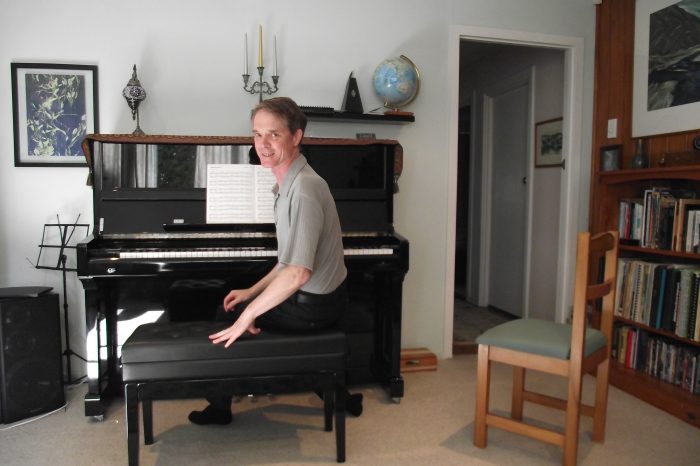 Auckland
Piano Lessons | Guitar Lessons | Theory Lessons
---
Qualifications:

LTCL LRSL ATCL AMusTCL AIRMT

Pricing:

$34 per 30 minute lesson

Styles:

Classical and Pop

Suitability:

6 years and older including adults of all ages
---
Bio
I've been teaching music lessons for over 25 years and before that I performed in competitions and professionally in both classical and modern styles. I have composed music in a range of styles and performed this music in Europe and the USA and toured New Zealand. I have a wide interest in all aspects of music including ethnic, folk, classical, jazz, pop, new age and rock and have lectured courses on some of these in evening adult classes. I have 4 diplomas including practical and teaching at Licentiate level. I'm a member of the New Zealand Institute of Registered Music Teachers
Hear recent recordings of my playing:

My teachers:
Wallace Woodley QSO (Chch) c. 4 years
Rosemary Miller Stott QSM (Chch) c. 3 years
Maurice Till MBE CNZM (Chch) 1985
Vivienne McLean MNZM (Dunedin) occasional influential lessons
---
Teaching Info
I provide a course of teaching to accommodate each student, their goals, wishes and age. I provide basic note reading training and exam preparation for those who choose that path. Satisfaction and enjoyment is key to attaining ability on any instrument so finding ways for students to be engaged is quite important. Experience has been a great teacher for me and I also know how it's important to relate to students well.
I also teach theory and chord theory to those who wish to make this part of their practical playing.
Saturday, 27 February 2021 Don is very approachable, patient, encouraging able to relate to our daughter on her level, He would help our daughter to work out where she was going wrong and why in terms of technique and theory. He has a relaxed attitude towards the lessons - so they were not in any way stressful. Don guided & supported my daughter through what she needed to achieve for her grade exams. We feel really lucky to have had Don as our daughter's piano teacher. We have no reservations in recommending him.
S Boyack
Wednesday, 20 February 2019 Don has been the piano teacher for my three girls for over 3 years. Each child has a completely different personality yet Don manages to connect with each of them. Don is patient and kind with each child. I frequently overhear laughter and see smiles from the kids during their lessons. Don manages to encourage their love of music . I would highly recommended Don as a Piano teacher.
J Wallace
Monday, 4 February 2019 Don has taught my daughter piano for 3.5 years. I've been so impressed with his individualised approach -he has supported and encouraged my daughter's love of music as well as imparting the technical skills needed for her to pass exams. Don is very authentic, natural and gentle in his interactions and instruction. I would highly recommend him to anyone looking for skilful and student-centred music lessons.
Pearl
Wednesday, 18 January 2017 Don teaches both my children, aged 12 and 15 years. I am extremely happy with the progress they have made over the years and have been particularly impressed with Don's ability to adapt his teaching method to suit their different learning styles; one inclined to want to learn by ear, the other more analytical and reading manuscript seems to come more naturally. They very much enjoy being taught by Don who is very patient, fun and encouraging. I would not hesitate to recommend him. Tania
Tania
Thursday, 11 September 2014 Don has taught my daughters the piano for four years. They both love him and really look forward to their lessons. He relates to them on their level and is super at reading how they're feeling to get the most out of them at each lesson. He has a gentle, relaxed manner that makes the learning fun and easy. Last year they also took up the guitar with Don. We're thrilled with their progress and would heartily recommend Don to anyone considering a music teacher.
M Rooney
Sunday, 9 March 2014 Don taught my children piano over a period of 7 years. My children absolutely loved working with him and were always successful in their exams. Don's teaching style is gentle and inspiring and my children have developed a deep love of music and playing music as a result. I would highly recommend Don Brough as a music teacher. Don is also an accomplished professional musician.
R McDonnell
tmariann Wednesday, 14 September 2022 Don has been teaching my daughter to play the piano for the past 6 years+. Don is always relaxed and patient, and has a good sense of humour keeping the lessons fun. My daughter has progressed to an advanced level with Don and has been extremely successful with her exams with Don's support. Don is also a very accomplished musician and has a gentle and natural style in imparting his knowledge. He is also very reliable. I highly recommend Don to anyone considering a music teacher. Mariann
M Treiber