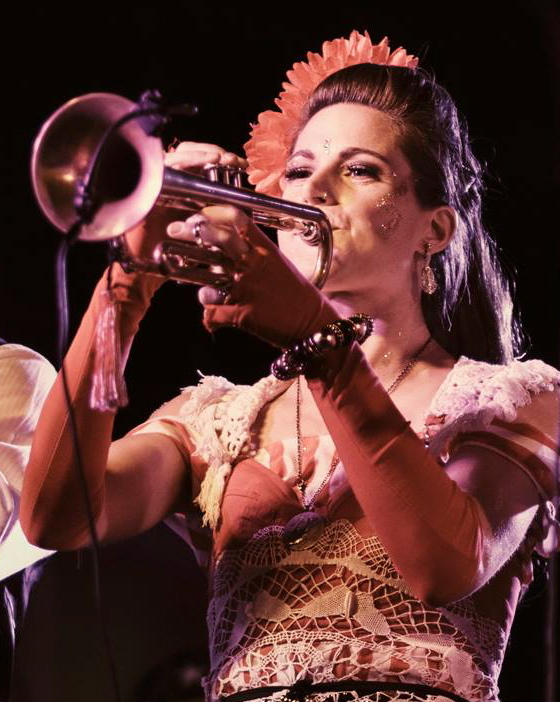 Wellington
Trumpet Lessons | Cornet Lessons, Drum Lessons, Guitar Lessons, Recorder Lessons, Singing Lessons, Ukulele Lessons, Violin Lessons | Artist development, Aural Lessons, Drama Lessons, Music And Movement For Under Fives, Online Lessons, Theory Lessons
---
Pricing:

$40 per half hour, $80 per hour.

Styles:

Folk, Celtic, Ska, Classical, Rock

Suitability:

all ages and abilities.
---
Bio
Multi instrumentalist Emily Clemett is best known for her diverse engagement in the arts scene.  Clemett has been teaching music for 12 years in NZ and the UK, privately, in schools, boutiques, festivals and camps. From 2005-2009 Clemett established her music school in Auckland before moving overseas where she spent the next four years teaching, touring and performing throughout the UK and Europe. Residing in Wellington, Clemett works as a music tutor, musician and artist, currently working with with The Wooden Box Band, SkaPai and Charlotte Yates.
Drama / Art Bio
Multi media artist Emily Clemett, (Show Pony) creates art and performance through transformative or interactive costumes, objects, film and music. Taking inspiration from Tiki Modernism and New Zealand culture, her artistic work is likened to childhood remembrance using bold colours and images. Influenced by Noel Fielding, Judith Supine, Damien Hirst and Gilbert & George, her work is also a practice of sourcing and collecting a wide range of discarded and recycled materials to be repurposed.  Recent works include Toi Taniwha Arts Project, Shabby Salon and Bicycle Festival of Lights and Motion.  The work of Clemett's interactive Shabby Salon, transforms hairstyles into "wonderlands of colour and mayhem in an exuberant performance of pandemonium"  Clemett has exhibited work throughout the UK and Europe as well as NZ and also works as a musician and educator.
---
Teaching Info
A creative, nurturing and stimulating learning environment is an essential platform for learning and appreciating the arts.
Interest and motivation are key and there are different ways to assist the students learning. I am enthusiastic to teach music that inspires the student, and also to provide appropriate written music, songs and learning resources. Lessons will also cover musicianship and theory.
Developing my own programs tailored to suit each individual student means lessons are carefully planned with different strategies to keep lessons interesting and fun.
I teach private lessons as well as running workshops for children, adults, groups and community projects.
Lessons can be tailored to include mindfulness, yoga, art and games.
All ages welcome.
Toi Taniwha Arts Project is a creative community hub where students can explore and extend their creative horizons in a fun and nurturing environment. Share a mindful space of community, creativity, self expression and fun, through games, art, music, drama, circus and yoga. Thursdays throughout term time 2017.
Age 5-8yo 3.15-4.15pm. Age 9-13yo 4.15-5.15pm
Toi Taniwha Arts Project on Facebook   
https://enrolmy.com/toi-taniwha-arts-project
For more information or questions, please drop me a line.