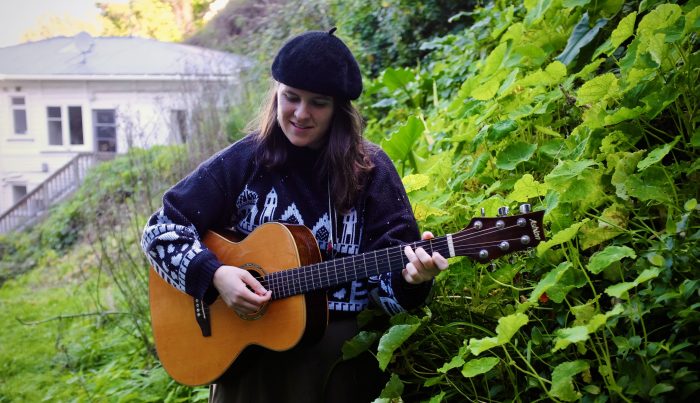 Wellington
Ukulele Lessons | Guitar Lessons, Keyboard Lessons, Piano Lessons | Artist development, Song Writing Workshops, Theory Lessons, Composition Lessons, Drama Lessons, NCEA Music Tutoring, Online Lessons
---
Qualifications:

Bachelor of Music in Composition with First Class Honours

Pricing:

For mobile lessons $40 for 30 minutes, $70 for an hour

Styles:

Indie, Classical, Rock, Pop, Musical Theatre, Jazz

Suitability:

Beginners to Advanced for 5 year olds and above for Ukulele. Beginners to Intermediate from 5 years and above for Piano and Guitar
---
Bio
Evangelina completed her Honours in Musical Composition at the New Zealand School of Music and has been composing for over 12 years. She has had her pieces performed by various ensembles including the SMP Ensemble and the NZSO Todd Readings. She composes for both theatre and film.  She has worked on several productions that have been performed at BATS Theatre.
Evangelina did her ABRSM Theory grades and completed Advanced Theory studies during her Music degree.
Evangelina has been playing the Ukulele for over a decade. She started teaching ukulele in high school as the leader of the Wellington East Girls' Ukulele Orchestra. Since then she taught Ukulele at Wellington Music Centre for four years and has been teaching ukulele privately for several years.
Evangelina has been playing Piano for 15 years and did her Trinity Grades while in high school. She taught Guitar, Piano and Ukulele at Goodtime Music Academy for two years and has been teaching music privately for over five years.
---
Teaching Info
All lessons are tailored to the needs of the student while also trying to find new areas of interest so that students engage in a wide variety of musical knowledge that feeds their creative appetite.
Composition lessons begin with a brief overlook of music history and styles before moving onto learning about how to write for each musical instrument. The lessons also focus on writing small ensemble compositions and working up to writing for orchestra.
Evangelina has a relaxed and knowledgeable and passionate approach to teaching. She makes you comfortable in your progress, to make mistakes and learn together. Her approach to watching how you play and tweaking your technique as you grow into using your instrument (mine is guitar), combined with her skill, deep level of music technique and reading I find really beneficial. It really comes to its fore if you actually do the work yourself at home to be prepped for your lessons, coming to the session with questions from when you practice alone and what you have found hard/easy you can see she lights up (aka teacher passion) and offers help and advice when she can see your efforts put into it - best thing you could ask from a teacher.
Jodi
If you want a good music teacher go to EVANGELINA TELFAR, STATE OF THE ARTS TEACHER!! She knows all types of instruments including Piano, Guitar, and Keyboard, ( I searched it up so I know ) and the lessons teach you a lot and she is very professional.
Yasia, 8 years old