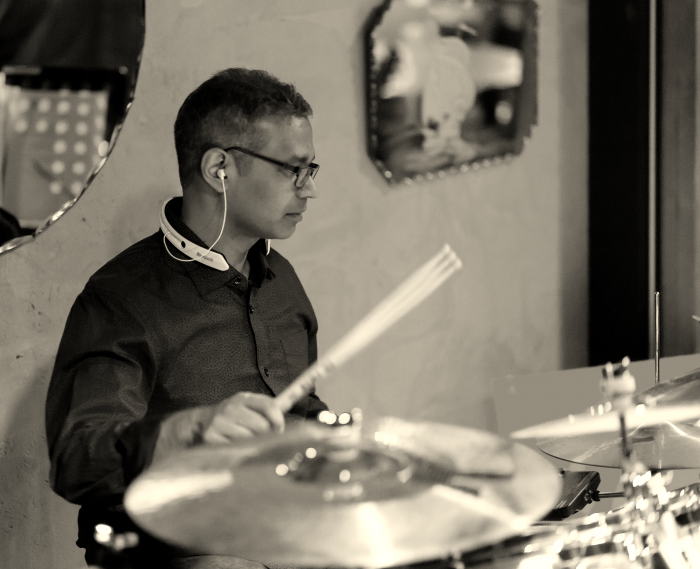 Wellington
Drum Lessons | Theory Lessons
---
Qualifications:

Grade 8 Drum Kit (Dist) Trinity; LTCL Tchg Flute; IRMTNZ (Associate)

Pricing:

$30 + GST for 30 minutes

Styles:

All styles and rudiments; Trinity College Drum Kit exam preparation

Suitability:

8 years and above
---
Bio
Ajit Rasiah is a keen musician with an interest in all musical styles, in particular Jazz, Jazz Rock (Fusion), and Funk. He has played the drum kit since 1979, having first learned the instrument at Palmerston North Boys' High School. He went on to play in various musical productions in Manawatu, the Rose City Big Band, and for the covers band "Metro Sound".
​In Wellington, Ajit received private lessons from Matt Collier and Lance Philip. He played for 25 years in Wellington city worship teams with the Abundant Life Church and Elim Church Wellington.  He also played for an originals band "Hottie", and for "Noir", a svelte four-piece light jazz band.
Ajit is a registered music teacher with the New Zealand Institute of Registered Music Teachers (IRMTNZ) and has completed Grade 8 Drum Kit (with Distinction) from Trinity College of Music, Licentiate Diploma in Flute Teaching (LTCL) from Trinity College of Music, MBA from Victoria University, M.Tech (Hons) and B.Tech from Massey University.
---
Teaching Info
At Flam Tap Drumming Academy, we teach music. Through drum kit and rhythm instruction, we open minds to the possibilities of what can be, as we help each student in his or her own aspirations to engage with music, with awareness and insight.
Our learning aims for our students are:
1/ Increase Musicality
When students learn the drum kit, we develop their musicality.  We believe that in the right environment, anyone can learn music.  Anyone can cultivate his or her talent, through a systematic process of: listening (to the great musicians of past and present); internalizing (what they hear); memorization (including muscle memory); and a persistent commitment to practice.  Repetition is the seed of ability, indeed good environmental conditions the source of superior abilities.
2/ Gain Musical Literacy
Musical literacy opens many doors in the world of music, so we believe in incorporating music theory and sight-reading into the drum kit curriculum to prepare our students for stepping into greatness.
3/ Master Technical Skills
In our drum studio environment, every student leaves his or her lesson with a sense of accomplishment and a desire to return.  We provide a learning environment where the student is encouraged in their development, where technique is gently corrected, where complex ideas are simply explained, and where achievements are celebrated.  No learning challenge is too big to overcome – we will find a way to help. We understand everyone has a preferred learning style, and we will adapt our teaching to increase your musicality and technical skills behind the drum kit.
4/ Grow In Character
Learning music develops the soul. A noble heart is the result of sensitivity, discipline and endurance.  We recognize that humility is necessary, to learn music from others who have accomplished great things on the drum kit.  Success in music transfers to other areas of our lives, and through music education, we can improve ourselves and grow our relationships with others.