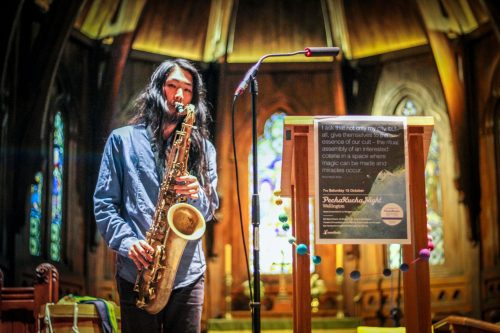 Wellington

Saxophone Lessons | Bass Guitar Lessons, Flute Lessons, Guitar Lessons, Keyboard Lessons, Piano Lessons | Artist development, Aural Lessons, Ensemble Coaching, Song Writing Workshops, Theory Lessons, Composition Lessons, Jazz Improvisation Lessons, NCEA Music Tutoring, Skype Lessons
Qualifications: Certificate in Contemporary Music Performance at EIT, BMus in Jazz Performance at NZ School Of Music
Pricing: $30 per 30 minutes
Styles: Jazz, classical, funk, pop, rock, hiphop, soul, reggae, Latin, African, Brazilian music, etc
Suitability: all age, all level
---
Bio
Hello,
I am a professional musician based in Wellington, originally from Korea, playing various gigs and events and teaching private classes full time. I started playing and taking classical lessons on piano from when I was 6. I started playing bass, guitar and saxophone from when I was a teenager. I studied Contemporary Music at EIT(certificate) and Jazz Performance at NZ School of Music(BMus) on saxophone, piano as a second instrument. Although saxophone is the instrument I play the most, I play bass, guitar, flute and piano in different bands and musical projects.
---
Teaching Info
-Any ages welcome. I have experience teaching children as young as 4. I keep my classes positive and interesting so children can focus and get to genuinely like music.
-Any level of musicians are welcome. I have taught people who have never touched the instruments to more experienced musicians.
-People with physical or mental limitations are welcome.
I make sure my lessons are positive and caring.
-I have played/play in many different bands such as Wellington Mingus Ensemble(jazz big band), Balkanistas(Balkan music), Clube Do Choro(traditional Brazilian music), New Vintage Manouche, Culture Embassy(African music), Zillionz(hip hop), my own jazz trio(weekly residency at Logan Brown) and gypsy jazz duo, etc.
Jazz, rock, funk, pop, hiphop, soul, reggae, gypsy jazz, African music, Brazilian music(bossa nova, samba, Forró), Latin music etc,  we can study any kind of music you would like to.
-I learnt music using "solfège(Do Re Mi…system)", which isn't common in New Zealand. If you are interested in learning solfège, you found the right guy.
-As well as developing skills on the instruments, I provide lessons on ear training, theory, improvisation, ideas development(creative thinking), harmonies, rhythm, composition, arranging, ensemble leading, NCEA or preparation for specific auditions.
-I customise lessons to suit individuals. If you have a specific thing you want to learn/study, I will prioritise that(such as learning specific songs, preparing for the auditions)
-I teach piano, guitar and bass as well.
Lessons can be arranged at my home studio in Wellington CBD 5/14 Alpha St, Te Aro or depends on your location, I can visit.