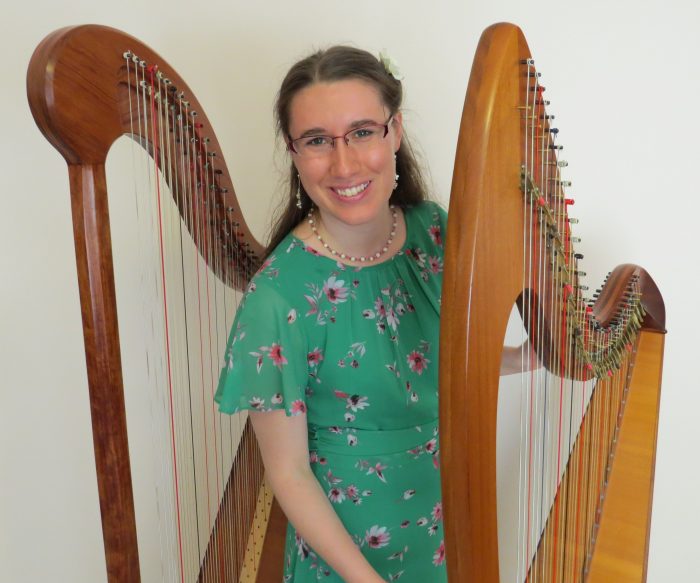 Wellington
Harp Lessons | Theory Lessons, Music And Movement For Under Fives, Online Lessons
---
Qualifications:

Trinity College of London - Advanced Performance Certificate (with distinction)

Pricing:

Please get in touch to enquire!

Styles:

Classical and a variety of other genres.

Suitability:

Ages 7 - 100! Beginner and more!
---
Bio
Tiffany Baker, a New Zealand harpist, has been playing harp since 1999, and now plays both the triple harp and the lever harp. She is a very experienced teacher for students of all ages.
She is based in Wellington and is available to play for special occasions as a soloist or with other instruments, using several different instrumental combinations. ​To find out more, go to Special Occasions.
​
​​To hear a sample of Tiffany playing harp, go to Video Samples
---
Teaching Info
Harpeggio Studio
Tiffany teaches lever harp and triple harp to students of all ages. She also teaches general music skills to pre-schoolers.
Individual Harp Lessons
​Tiffany teaches both lever harp and triple harp to students of all ages and stages. She sometimes has a hire harp available (for people who have lessons with her). This gives students the opportunity to 'taste and explore' the harp before they invest in their own instrument.
Harp Purchase
After getting to know people, she can help guide them in the purchase of their own harp.
Harp Group
When students have been learning for some time, Tiffany places them in a harp group with other students at a similar level of playing ability. This is a great way to discover the joy of playing in harp ensembles. Harpeggio students make long-term music friends through these classes.
Concerts
Harpeggio Students particapte in concerts, playing solos, and harp group items.  It is fun to be part of the 'Melody of Harps' – a big harp group in which all Harpeggio students participate. At the end-of-year recital, they usually share a favourite Christmas Carol!
'Tiffany is a very professional, competent teacher who is able to relate to students of all ages. I started learning the harp from her in 2010 when I was in my late 60's. I had no previous musical experience, but she was very patient and soon put me at ease. She provides opportunities to play in groups of adult and school age students and also organizes concerts twice a year when all her pupils can meet and play solos and in groups. Tiffany is a very caring person and her lessons are a lot of fun.'
-Ian, Harpeggio Student
'I have watched my daughter's confidence and playing skills grow. I really appreciate the effort Tiffany put into stretching her by involving her in chamber music, competitions, and exams.'
-Brenda, Harpeggio Parent
'Tiffany is very positive and encouraging in her teaching. She pays attention to detail and celebrates students' achievements. She also selects pieces according to students' requests where possible.'
-Sharyn, Harpeggio Student
"Tiffany uses a fun rhythm curriculum to help students think more in musical beats."
-Emma, Harpeggio Parent