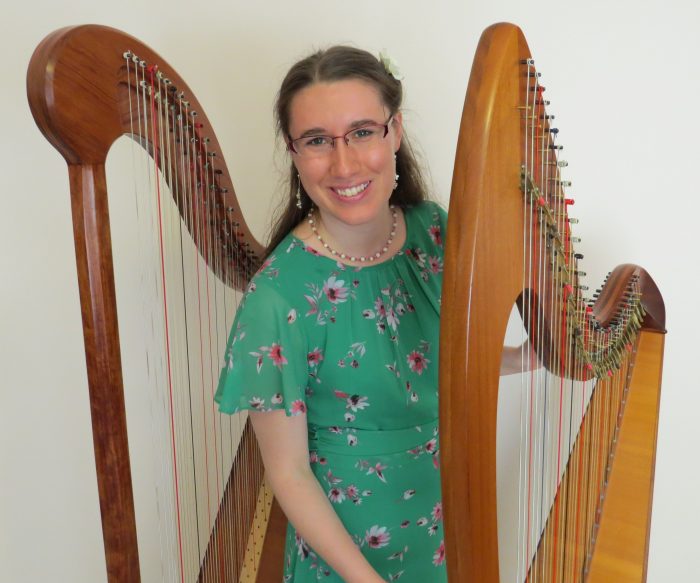 Wellington
Harp Lessons | Theory Lessons, Music And Movement For Under Fives, Online Lessons
---
Qualifications:

Trinity College of London - Advanced Performance Certificate (with distinction)

Pricing:

Please get in touch to enquire!

Styles:

Classical and a variety of other genres.

Suitability:

Ages 7 - 100! Beginner and more!
---
Bio
Tiffany Baker, a New Zealand harpist, has been playing harp since 1999, and now plays both the triple harp and the lever harp. She is a very experienced teacher for students of all ages.
She is based in Wellington and is available to play for special occasions as a soloist or with other instruments, using several different instrumental combinations. ​To find out more, go to Special Occasions.
​
​​To hear a sample of Tiffany playing harp, go to Video Samples
---
Teaching Info
Harpeggio Studio
Tiffany teaches lever harp and triple harp to students of all ages. She also teaches general music skills to pre-schoolers.
Individual Harp Lessons
​Tiffany teaches both lever harp and triple harp to students of all ages and stages. She sometimes has a hire harp available (for people who have lessons with her). This gives students the opportunity to 'taste and explore' the harp before they invest in their own instrument.
Harp Purchase
After getting to know people, she can help guide them in the purchase of their own harp.
Harp Group
When students have been learning for some time, Tiffany places them in a harp group with other students at a similar level of playing ability. This is a great way to discover the joy of playing in harp ensembles. Harpeggio students make long-term music friends through these classes.
Harp Encounters
Are perfect for trying out a possible new hobby / instrument. A 'Harp Encounter' could be a present for someone special in your life, for a birthday party or other such special occasion! To read more about these: https://tiffanybakerharp.weebly.com/harp-encounters.html
Concerts
Harpeggio Students participate in concerts, playing solos, and harp group items.  It is fun to be part of the 'Melody of Harps' – a big harp group in which all Harpeggio students participate. At the end-of-year recital, they usually share a favourite Christmas Carol!
'Tiffany is a very professional, competent teacher who is able to relate to students of all ages. I started learning the harp from her in 2010 when I was in my late 60's. I had no previous musical experience, but she was very patient and soon put me at ease. She provides opportunities to play in groups of adult and school age students and also organizes concerts twice a year when all her pupils can meet and play solos and in groups. Tiffany is a very caring person and her lessons are a lot of fun.'
-Ian, Harpeggio Student
'I have watched my daughter's confidence and playing skills grow. I really appreciate the effort Tiffany put into stretching her by involving her in chamber music, competitions, and exams.'
-Brenda, Harpeggio Parent
'Tiffany is very positive and encouraging in her teaching. She pays attention to detail and celebrates students' achievements. She also selects pieces according to students' requests where possible.'
-Sharyn, Harpeggio Student
"Tiffany uses a fun rhythm curriculum to help students think more in musical beats."
-Emma, Harpeggio Parent
"Tiffany is a wonderful teacher. She always has a positive attitude and gives you great instructions on how to improve your playing."
-Sam, Harpeggio Teenage Student
"I started harp lessons in February of 2020 pre lock down. Tiffany is such a dedicated and committed teacher to students in motivating them to reach their potential. I never imagined in my 40s that in the space of a year I would go from a few basic songs to learning whole pieces of music and learning to read Music. Tiffany is such an asset, during lockdown Tiffany went as far as helping with harp hire so I could practice at home. Each week it really got me through lockdown knowing Tiffany's bubbling face and quirks (eccentric hat collection) can make anyone smile."
Paula, Harpeggio Student
"For the past couple of months, I had such pleasure of learning the harp from Tiffany. Tiffany has been wonderful - she's a fantastic musician and teacher, and her friendly warm spirit always greets you with a smile! I have enjoyed playing and sharing from her therapeutic harp music during my studies. Thank you again Tiffany :-)"
Esther, Harpeggio Student
"We have really enjoyed harp lessons with 'Harpeggio Studio' and the progress made so far. Thank you for the endless work you have put into Catie and Abby's learning and love of music, especially Catie's exam and the School Production."
-Martin, 'Harpeggio Studio Parent'
"My 'Harp Encounter' with Tiffany was a wonderful and warm introduction to the harp. It was great to learn proper hand technique and have the experience playing one of her beautiful harps. My 'Harp Encounter' with Tiffany motivated me to continue my harp journey in the future."
- Julia, (Adult) Harp Encounter
"Thank you, Tiffany for being so welcoming to Stella and I for our 'Harp Encounter' experience. Stella was delighted with it and enjoyed very much having a try with an instrument she has been dreaming to touch for a long time! On the drive home Stella said "I need to stop smiling now, my face hurts! I loved it that much!"
-Sirma, Mum of Stella age 9 – Harp Encounter
"Thank you, Tiffany for an amazing 'Harp Encounter!' Finally trying out the instrument of my dreams felt amazing! It meant so much, thank you:)"
-Esther – (Adult) Harp Encounter
"I really enjoyed my 'Harp Encounter' and I hope to do it again sometime soon."
-Mary (Adult) Harp Encounter
"I really enjoyed my 'Harp Encounter' with Tiffany yesterday. I felt very comfortable and at ease in her presence :) I loved the way Tiffany would ensure my thumb, fingers, angle of my wrist and elbow were in the correct comfortable position to avoid any strain. Tiffany is gentle, fun and approachable. l am seriously considering hiring one of her harps and having lessons. Probably a mixture of zoom and coming in for 1:1 lessons as I live outside of Wellington."
-Anna-Marie – (Adult) Harp Encounter
"What a wonderful idea to offer 'Harp Encounter' to novices like myself that have always dreamed of playing the harp. I loved every moment of my lesson with Tiffany and found her really patient and understanding. As soon as my employment becomes less hectic, I am going to enroll for lessons and turn a fantasy into a reality. Thank you, Tiffany.'
-Jo – (Adult) Harp Encounter
Tara's 'Harp Encounter' left her buzzing with joy. She enjoyed improvising her own piece from the notes she had learnt, listened to harp music all the way home and was inspired to write lyrics to match. Tiffany had a lovely manner, setting her at ease quickly and providing clear instructions in accessible ways.
-Kylie, Mum of Tara – Harp Encounter
"I had so much fun, I was happy to be able to get a sneak peek into how to play the harp, it's a lovely musical instrument. Tiffany was very patient and helpful."
-Anya, Teenage – Harp Encounter
"Tiffany was very pleasant and patient. She's a very good teacher."
-Julie, Mum of Anya – Harpeggio Parent
"A few days ago Cassandra had her first 'Harp Encounter.' Tiffany was friendly and positive, and Cassandra immediately related well to her. Tiffany was thorough in previously assessing Cassandra's current level of musical knowledge, so she tailored the lesson effectively to the level Cassandra was at. Cassandra's favourite part was playing a composition by Tiffany and was quite fascinated by the levers."
-Andrea, Mum of Cassandra – Harp Encounter
"The Harp Encounter' was a great introduction to the instrument. Even with no musical background, Tiffany makes the first interaction with the harp comfortable, non-intimidating and exciting."
-Hazel, Harp Encounter