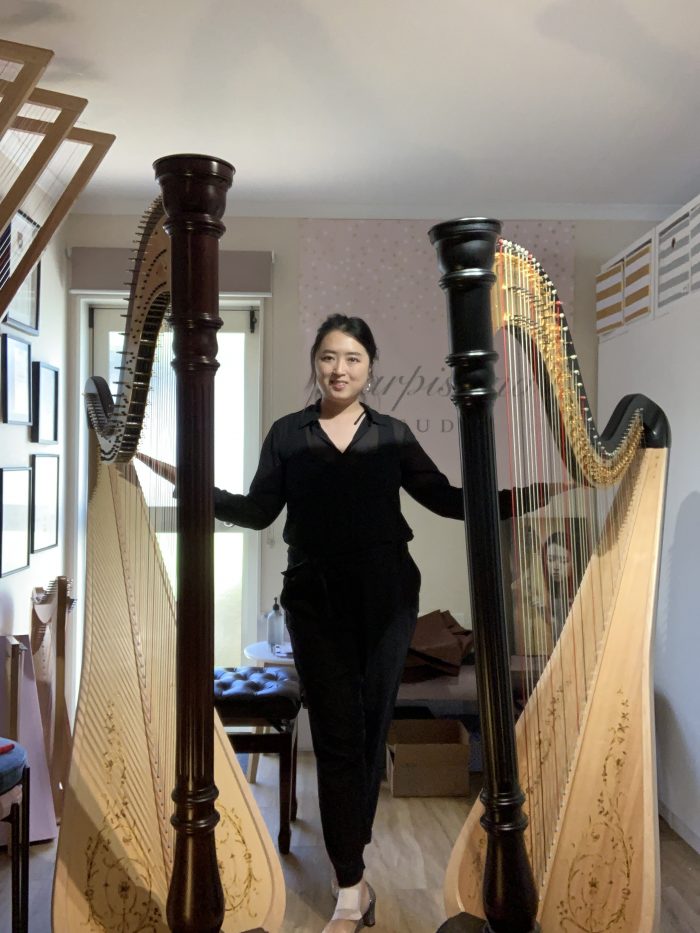 Auckland
Harp Lessons | Keyboard Lessons, Piano Lessons | Alexander Technique Lessons, Artist development, Aural Lessons, Ensemble Coaching, Theory Lessons, Online Lessons, Suzuki Music Lessons
---
Qualifications:

University of Auckland Graduate Diploma in Classical Music Performance - Harp Major, Diploma ABRSM

Pricing:

Enquire

Styles:

Classical, Alexander Technique, Suzuki Method, Lever Harp, Pedal Harp, Beginner to advanced level

Suitability:

Lever Harp, Pedal Harp, Any Age, Beginner to Advanced, Adult group class, keyboard, piano for beginners
---
Bio
Welcome to Harpistina Studio.
Harpistina studio is run by a Harpistina (Harpist, Ina Yoon) who is one of the most actively working harpists and harp tutors around Auckland area. The main studio is based in Dannemora (East Auckland) but Harpistina offers lessons at various location during the week.
Harpistina is a classically trained harpist more than 17 years, recently graduated from the University of Auckland with Graduate Diploma in Music, holds Diploma ABRSM, completed NZSO mentorship programme, and won the second prize at New York International Music Competition. She was taught from world's renown harpists including Ann Young (University of Illinois), Louise Johnson (Sydney Symphony Orchestra) and Maria Luisa Rayan (USA), and Carolyn Mills (NZSO).
Ina is an enthusiastic harp tutor who uses various teaching methods including Salzedo Method, Alexander Techniques, Suzuki Training Method, and theory teaching with unique Music Mind Games.
Although previous music experience and knowledge is helpful, all students without music background are welcome. Students can learn basic music theory while they enjoy harp playing.
Students age from 5 can start harp and music lesson.
---
Teaching Info
Available Harp Lessons
Private Harp lesson
Any age from 5+
No previous musical experience is needed although it would be beneficial
Easy and fun way to learn the harp
ABRSM and Trinity Exam preparation (100% pass rate)
Private lessons in 30 mins, 45 mins and 60 mins
Students must hire or purchase a harp to practice at home
Usually at the studio (Dannemora), but limited spots available in Mt Eden/Sandringham area
2. Adult Mini Harp Course
No previous music experience is needed
No need to hire or purchase a harp
learn and play the harp in a small group setting (3-5 pp/group)
Easy and fun way to learn the harp
Course starting date is depends on the requests. Register your interest today
3. School Programme
In School and after school programme is available at;
Edendale Primary School (Sandringham) – In school hours, Tuesday
4. Beginner Keyboard/Piano Lesson
Beginner keyboard lessons available. Harpistina uses Piano Adventure books, help young kids and beginner adults to learn the basic music and keyboard.
Lesson Location & Day
Tuesday – Mt Albert (Modals)
Wednesday – Remuera (St Mark's Church)
Thursday – Dannemora (Harpistina Studio)
Saturday – Dannemora (Harpistina Studio)
*Other locations, please make an enquiry*
Harp Purchase/Hire
Hire a harp; $50~/month
Various harp purchasing options available ($1350~ ) www.harpitree.com
Consult with Ina for a harp purchase/hire option.
www.harpistina.com
harpistina@gmail.com
More about Harpistina >> www.harpistina.com
More about Harp purchasing >> www.harpitree.com