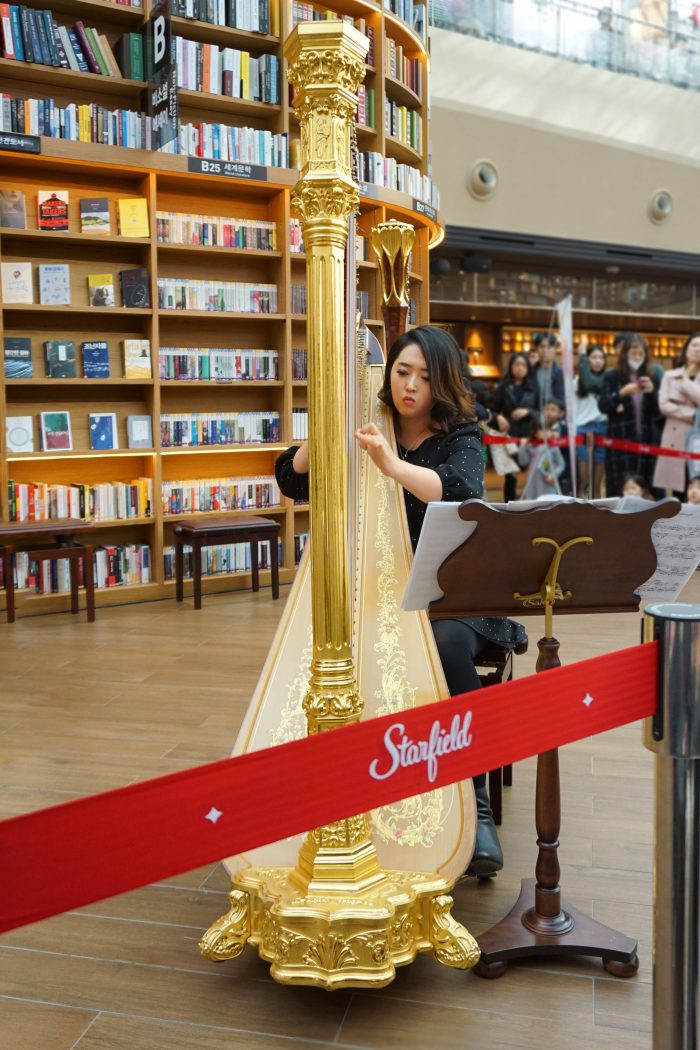 Auckland
Harp Lessons | Alexander Technique Lessons, Aural Lessons, Ensemble Coaching, Theory Lessons, Skype Lessons
---
Qualifications:

University of Auckland Graduate Diploma 2019

Pricing:

from $30~

Styles:

Classical, Alexander Technique, Suzuki Method

Suitability:

Lever Harp, Pedal Harp, Any Age, Beginner to Advanced
---
Bio
Harpist Ina Yoon (Harpistina) is an Auckland based harpist and tutor.
She is one of the most actively working harpists around Auckland area.
She works with numerous orchestras and music groups including Auckland Symphony Orchestra, Auckland Youth Choir, Aorangi Symphony Orchestra, Blackbird Ensemble, and Ley's Orchestra.
Ina is also a recognised solo harpist who won a second prize at the Golden Classical Music Award (New York), was nominated as a NZSO mentorship programme in 2018, was invited to play at 4th Korea International Harp Competition & Festival in 2018, and appeared as a soloist at Auckland Heritage Festival in 2016.
She is currently working towards her Graduate Diploma in Classical Performance – Harp at the University of Auckland with Yi Jin. Her previous teachers include Carolyn Mills (NZSO), Maria Luisa Rayan (USA), Ann Yeung (University of Illinois), and Louise Johnson (SSO).
Ina is an enthusiastic harp tutor who uses various teaching methods including Alexander Techniques, Suzuki Training Method, and theory teaching with unique Music Mind Games.
Weekly lessons are available at her private studio in Dannemora, Auckland.
Lessons at a different place may be negotiable.
---
Teaching Info
Teaching Techniques/Style
Alexander Technique
Suzuki Training Method (optional)
Music Mind Games by Michiko Yurko (Music Theory taught with Games)
Open for all ages
Lesson Plan
Individual Harp Lesson – (30 mins / 45 mins / 60 mins)
Individual/Group Music Theory
ABRSM Examination Preparation
Aural Training (ABRSM)
Performance opportunity available throughout the year
Pre-requisite
It is always better if you have 2-3 years of piano learning experience but this is not a compulsory.
Younger students can choose to start with Suzuki Training Method or/and music theory combined lessons.
Harp Purchase/Hire
Ina runs Harpitree NZ – a distributor who has the widest range of harp brands.
Various harp purchasing options available ($1300~ ), and limited number of harps are available for hire.
Consult with Ina for a harp purchase/hire option.
www.harpitree.com