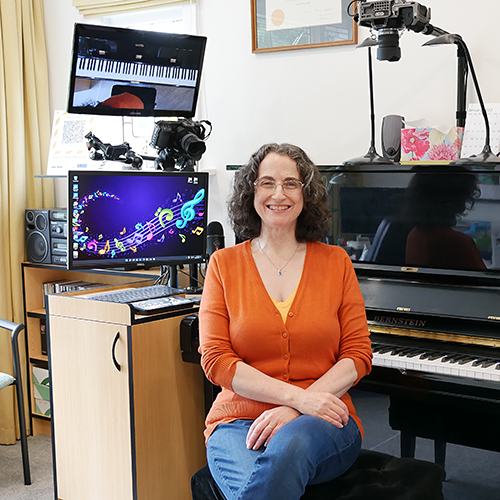 Dunedin
Piano Lessons | Theory Lessons, Online Lessons
---
Qualifications:

BA MusB DipArts LTCL LRSM AIRMT APSNZ

Pricing:

Free, no obligation 30 minute introductory lesson

Styles:

Classical and Contemporary/Jazz

Suitability:

Students of all ages and abilities welcome, including adult students
---
Bio
Jane Trotter is a professional music teacher providing in-person and online piano lessons. With over 30 years of specialist knowledge and expertise, she teaches students ranging from beginners to diploma level.  Her experience of working with younger students inspired her to compose several educational children's piano scores which are published by Hal Leonard, one of the world's largest music print publishers.
Jane graduated from Otago University with a BA in English, a Bachelor of Music (majoring in Piano Performance) and a Post Graduate Diploma. In 1991 she completed her LTCL Performer's Diploma and in 1996, was awarded a Royal Schools of Music Centenary Travel Grant Scholarship to further her studies in London at the Royal College of Music. During this Scholarship she gained her LRSM Teaching Diploma.
Actively involved in Dunedin's community music environment, Jane has adjudicated local competitions and provided seminars on teaching methods and business practices to local teachers. She also taught beginner recorder, clarinet and theory with the Saturday Morning Music Classes and has served extensively on the committees of the SMMC and local branch of the Institute of Registered Music Teachers (IRMT) of New Zealand.
"I know I've done my job when my students have the skills and ability to read and explore music on their own and ultimately, function as capable, independent musicians." Jane
---
Teaching Info
Please visit www.trottermusic.com for further information.
If you'd like to get a feel for Jane's style of teaching and see what a lesson would be like, you can check out her video on the homepage of the website. Additionally, if you visit the Online Lessons page, you'll find a short 'sneak peek' video of Jane demonstrating what an online lesson would look like.
Mindful of being a facilitator of her students' musical growth, Jane encourages her pupils to develop technically, musically and personally with confidence, pleasure and at their own pace.
Her piano lessons are not just about learning to play the piano, but develop and nurture the whole musician.
Jane provides personalised tuition tailored to your, or your child's, individual needs and abilities. Lessons are given both in-person and online.
Learn in a relaxed, supportive and friendly environment, and at your own pace
Play music that's enjoyable and fun, and appeals to you
Professional Studio Equipment and Gigabit Internet to broadcast top quality online piano lessons
Experience the benefits of online learning, no matter where you live
Learn music just for your own pleasure, or prepare for practical and theory exams if you like
Enjoy creative and imaginative teaching techniques which will keep you engaged and ensure your musical education is of the highest quality
Explore a wide range of styles from Classical to Jazz influenced and Contemporary music
Experience the benefits of learning from a professional piano teacher with over 30 years' experience
Students of all ages are welcome, including adult students with no previous background in music
If you're not sure about music lessons or whether the piano is the right instrument for you or your children, Jane offers a free, no obligation 30 minute introductory lesson to find out what it's all about.
All enquiries are welcome – no matter whether you or your children are complete beginners or seasoned players.
ACCELERANDO PIANO:
Jane has also created a You Tube channel https://www.youtube.com/@AccelerandoPiano and companion website called 'Accelerando Piano' https://accelerandopiano.com/
'Accelerando Piano' is designed to help fast-track students' piano playing skills, and broaden their musical knowledge, by providing tips and tricks in a collection of short tutorials. Each video focuses on a particular aspect of learning to play, whether it be establishing the fundamentals of note reading, exploring elements of technique or introducing basic theory concepts.
As a professional teacher, Jane has seen the many and varied challenges students face, and these videos contain some of the insights and guidance she's shared with her pupils over the years.
TESTIMONIALS:
Please click on the different coloured treble clefs to read a selection of testimonials from Jane's students and their parents.
If you'd like to look at a few more examples, you can visit the Testimonials page on Jane's website.
I have been having lessons with Jane via Skype since May 2020. Before then it was 20 years since I had taken piano lessons. As a working mum, I chose Skype lessons because there's no travel time involved. Having lessons at home has made piano lessons possible for me, when they otherwise wouldn't have been. I have been really surprised by how much I have enjoyed the lessons and how much progress I have made. Jane's camera set up is ideal for remote teaching. Jane is able to demonstrate using a camera above her own piano, and seems to have no difficulty critiquing me, by watching me play remotely. The lessons flow just as well as if they were happening in person, and I look forward to them each week. Jane has a knack for choosing a variety of new music in different styles that I like, and her lessons are genuinely fun – low stress and tailored to what I want to get out of them. At the end of every lesson I know I've learned something, and have something specific to work on during my practice. As a result, I've been able to feel real progress week by week. What started as a resurrected hobby to pass the time during lockdown has become a really enjoyable part of my week and something I hope to be able to keep up for a long time to come.
Claire Murray
Jane taught me piano for nearly ten years. During this time, Jane saw me through many music exams, including ABRSM Grade 7 piano and Grade 5 music theory, which I attained with high marks. I always immensely enjoyed my piano lessons — in large part due to Jane. Jane is friendly, supportive, and professional. She brings out the best in her students by encouraging them in their goals, being patient, and calmly helping them to apply corrections. Jane always made my lessons fun, gave me plenty of choice in what I wanted to play, and helped ensure that these pieces reached a polished level. I learnt and improved a lot under Jane's guidance and gained a love and appreciation for piano and music in general. Three of the years I learnt from Jane were during the time of the Covid pandemic. During the lockdowns Jane offered lessons via 'Skype'. Since then, Jane has been committed to upgrading her tech system so students can enjoy lessons 'online', 'in person', or a mixture of both. Jane's tech system is now super high-tech (including an overhead camera to demonstrate fingerings and being able to display and draw on sheet music digitally)! While away at University, I did lessons with Jane online during the year. This offered me many advantages, particularly as I did not have to worry about transport. Skype lessons were a great alternative, and I felt I learnt just as much due to Jane's commitment to providing high-quality online lessons. I recommend Jane to anyone looking to play the piano. Jane is great with people at all stages of learning the piano, and all ages. She is so kind, friendly, and an excellent teacher.
Laura Canton
I've really enjoyed my time getting lessons from Jane. Having played guitar for a few years, I had always been keen to learn Piano. I'd kept putting it off due to being worried I was already too old and had no Piano or music theory knowledge . I found Jane online and after doing an introductory lesson with her I enjoyed it so much I decided to finally buy a piano and begin lessons. Jane was super patient and reassuring even when I made mistakes or played slowly, which made me feel very comfortable. She is very easy to get on with and I couldn't have asked for a better teacher to begin learning with! I also think the tips and lessons she gives have been invaluable and feel I would have not progressed nearly as well without coming to her. Thanks Jane!
Kadin
Jane has been my piano teacher for the last seven years. Every session is relaxing and fun. Jane has taught me many skills and techniques, and has given me confidence to play the piano in public. She takes the time to find interesting pieces of music for me to play, and then patiently goes through the pieces with me. Through her teaching I have achieved 'Distinction' passes in both my music practical and theory ABRSM exams. I am very lucky to have Jane as my piano teacher.
Amelia
I've been learning with Jane for almost 3 years from a complete beginner to music. Jane has gone at the pace that suits me and makes sure I'm engaged with the piece we're doing. The lessons are fun and relaxed with no pressure, making them approachable even if I've had a busy week. Moving to online lessons since COVID, I can hardly tell the difference between an online lesson to one in person, and Jane has got an extensive set up now to make it really easy to learn remotely.
Daniel Paterson
Would highly recommend those considering lessons to reach out to Jane. I started as an adult student without any prior experience – Jane's approach, knowledge and experience has meant a thoroughly enjoyable 3 years (and counting) of progress. Additionally, I find online lessons with Jane are just as good as in the studio – Jane's eye and ear for quality of touch, position, tone and depth means nothing is lost, and continued growth despite not being face to face!
Talis Liepins
Music performance and music teaching are both arts that Jane has mastered. Not all great performers make great teachers and it takes a lot of skill and thought to communicate to the students how exactly to achieve the sound required or the sound picture that you are wanting to produce. Intrinsic motivation for practice and playing comes from enjoyable materials that match the student's playing level and style. Jane is great at motivating her students by picking out pieces of music that do just that. She's not stuck in a mode of strictly following a method book series, or slotting the students into a grade and only doing pieces that are grade-appropriate, and she's not stuck in only teaching classical or pop music. Jane is also very organised with her materials and time. Having an experienced and knowledgeable teacher guide you through music that inspires and excites you makes the learning process quicker and easier than learning on your own.
Mandy
I started piano lessons with Jane when I was eight years old. She is a very organised and professional teacher and makes learning interesting and enjoyable. With difficult pieces Jane is able to explain concepts in a way that I can relate to, and has a lot of patience and is always positive and encouraging. Jane is a very good piano teacher and she brings the best out of her students like she has with me.
Benjamin
Piano lessons with Jane are the highlight of our son's week! He began at the start of this year and we have been amazed at how he has progressed in his comprehension of music. There never seems to be a need to push him to practice as Jane seems to inspire him with her passion for music.
Deborah Body
During the lockdown last year I found myself with a lot more time to practise piano, but wasn't progressing as quickly as I would have liked through YouTube videos alone. Jane offered lessons through Skype, which is extremely helpful as I'm only in Dunedin during university semesters. Despite doing a lot of the learning through a computer screen, the lessons were still extremely personable, and Jane is a very patient teacher who has advanced my playing further than I thought possible in a year. I'm feeling a lot more confident reading sheet music, and playing pieces I thought it would take me years of practise to attempt. I highly recommend Jane to anyone in Dunedin, or otherwise, as the lessons through Skype are equally as helpful and rewarding as those in person.
James Nicholls