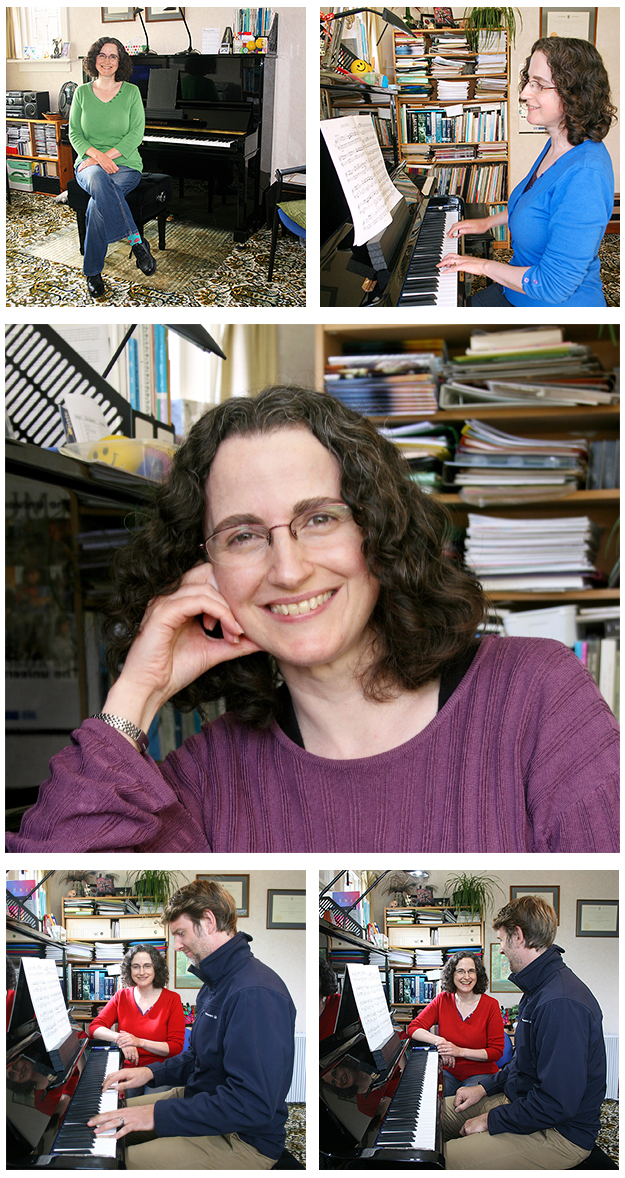 Dunedin
Piano Lessons | Theory Lessons, Online Lessons
---
Qualifications:

BA MusB DipArts LTCL LRSM AIRMT APSNZ

Pricing:

Free, no obligation 30 minute introductory lesson

Styles:

Classical and Contemporary/Jazz

Suitability:

Students of all ages and abilities welcome, including adult students
---
Bio
Dear Prospective Student…
I'm currently fully booked with a long waiting list and do not have any lesson times available for new students at present. You are still very welcome to go on my waiting list, and I will be happy to provide an introductory lesson for you or your child.
Best Wishes – Jane
Jane Trotter is a professional piano teacher based in Dunedin. With over 25 years of specialist knowledge and expertise, she teaches students ranging from beginners to diploma level.  Her experience of working with younger students inspired her to compose several educational children's piano scores which are published by Hal Leonard, one of the world's largest music print publishers.
Jane graduated from Otago University with a BA in English, a Bachelor of Music (majoring in Piano Performance) and a Post Graduate Diploma. In 1991 she completed her LTCL Performer's Diploma and in 1996, was awarded a Royal Schools of Music Centenary Travel Grant Scholarship to further her studies in London at the Royal College of Music. During this Scholarship she gained her LRSM Teaching Diploma.
Actively involved in Dunedin's community music environment, Jane has adjudicated local competitions and provided seminars on teaching methods and business practices to local teachers. She also taught beginner recorder, clarinet and theory with the Saturday Morning Music Classes and has served extensively on the committees of the SMMC and local branch of the Institute of Registered Music Teachers (IRMT) of New Zealand.
---
Teaching Info
Please visit www.trottermusic.com for further information.
Mindful of being a facilitator of her students' musical growth, Jane encourages her pupils to develop technically, musically and personally with confidence, pleasure and at their own pace.
Her piano lessons are not just about learning to play the piano, but develop and nurture the whole musician.
Jane provides personalised tuition from her Studio in Waverley, Dunedin, both 'in person' and online.
•    Individual tuition tailored to students' needs and abilities
•    Students learn in a relaxed, supportive and friendly environment
•    Play music that's enjoyable and fun
•    Experience a wide range of styles from Classical to Jazz and Contemporary music
•    Instruction and preparation for practical and theory examinations offered
•    Students of all ages are welcome, including adult students with no previous background in music
If you're not sure about music lessons or whether the piano is the right instrument for you or your children, Jane offers a free, no obligation 30 minute introductory lesson to find out what it's all about.
All enquiries are welcome – no matter whether you or your children are complete beginners or seasoned players.
TESTIMONIALS:
Please click on the different coloured treble clefs to read a selection of testimonials from Jane's students and their parents.
If you'd like to look at a few more examples, you can visit the Testimonials page on Jane's website.
All three of my girls took piano lessons with Jane – each with their own interests and learning styles and we found Jane was able to adapt and motivate them in different ways. My girls relayed that they always felt so comfortable with Jane. She felt more like a 'friend' helping you rather than a 'piano teacher'. She was very patient, kind and understanding and they loved going to her house as her piano was 'really nice' and the house, warm, quiet and calm. They also really liked how she tailored their music selection by trialling songs for them to pick. This strategy helped with motivating them through each week of practice. All of my girls bounced out of their music lesson with Jane and thoroughly enjoyed seeing her each week. We felt very fortunate to have found her!
Lisa Houghton
Jane has been a wonderful piano teacher for both myself and two daughters. Piano lessons are a weekly event that we as a family really look forward to. Her teaching style is structured yet relaxed and her real skill is that she is able to tailor her classes to the individual person learning, and level that they are at. As a "Mature" student (over 40 years old), Jane has listened to my request for less theory based teaching and more relevant Jazz/Blues type piano music. As a result I am learning musical pieces that I love to listen to, learn, and play. I would thoroughly recommend Jane to all those people thinking of taking up piano lessons!
Dean Bell
I have been learning piano from Jane for the past year. Jane is an amazing piano teacher. Her understanding and patience help me to learn. She is kind, friendly and very approachable. Jane selects music that she knows I will enjoy learning. This year I have been able to expand my repertoire of tunes. One of my favourite things about Jane is that she encourages me to do my utmost best with every piece of music that she gives to me.
Annika Marriner
Jane has been my piano teacher for the last seven years. Every session is relaxing and fun. Jane has taught me many skills and techniques, and has given me confidence to play the piano in public. She takes the time to find interesting pieces of music for me to play, and then patiently goes through the pieces with me. Through her teaching I have achieved 'Distinction' passes in both my music practical and theory ABRSM exams. I am very lucky to have Jane as my piano teacher.
Amelia
Jane was a wonderful music teacher to me throughout the four years I was lucky enough to be taught by her. She always made sure to take my opinion into consideration when picking out music and has been very patient in her teaching style. She also ensured I was well prepared to take my piano exams, making the whole experience a lot less stressful. Not only did my music skills improve immensely, but I also really enjoyed attending the piano lessons. It was a great opportunity to do something a bit different from my everyday activities.
Emma Crampton
Jane creates a relaxed learning environment. I find she is great at picking the areas where I can improve technically and providing useful tools to do so. Jane chooses great pieces that are enjoyable to play and really help extend my capabilities. She is also happy to work on various pieces I am practising at any given time and provides great insight even when I spring them on her without any notice. Jane also teaches my two children, Freddy and Lucy. They both feel very relaxed with her and have a great time. Lucy (8) - She's funny and smiley and we love our lessons. Jane is awesome and fun and super! Freddy (5) - I like that she gives us stickers and lollies at the end of the lesson and I like doing the flash cards with her.
Tom Mulder
Music performance and music teaching are both arts that Jane has mastered. Not all great performers make great teachers and it takes a lot of skill and thought to communicate to the students how exactly to achieve the sound required or the sound picture that you are wanting to produce. Intrinsic motivation for practice and playing comes from enjoyable materials that match the student's playing level and style. Jane is great at motivating her students by picking out pieces of music that do just that. She's not stuck in a mode of strictly following a method book series, or slotting the students into a grade and only doing pieces that are grade-appropriate, and she's not stuck in only teaching classical or pop music. Jane is also very organised with her materials and time. Having an experienced and knowledgeable teacher guide you through music that inspires and excites you makes the learning process quicker and easier than learning on your own.
Mandy
Learning how to play piano was always on the top of my bucket list. However, I hesitated to learn from a teacher because English is not my first language. After teaching myself piano for the first two years, my progress hit a dead-end. So finally I decided to take lessons and found Jane online and she was very knowledgeable, friendly, and patient. Her advice is very helpful and consistently accelerates my learning. It has been less than one year with Jane, but I have progressed more than I have done in two years. Thank you Jane!
Mayuko Liguori
Piano lessons with Jane are the highlight of our son's week! He began at the start of this year and we have been amazed at how he has progressed in his comprehension of music. There never seems to be a need to push him to practice as Jane seems to inspire him with her passion for music.
Deborah Body
Jane has taught my daughter Holly since she was seven. She has allowed Holly to develop her skills at her own pace and tailored her style to fit Holly's nature. As a person who went through all the Grades at school, I have found it easy to step back and not interfere with Holly's learning as I am very confident with Jane as her teacher. Holly is growing in confidence too and Jane is fostering a life-long love of music for her too.
Kate Hesson