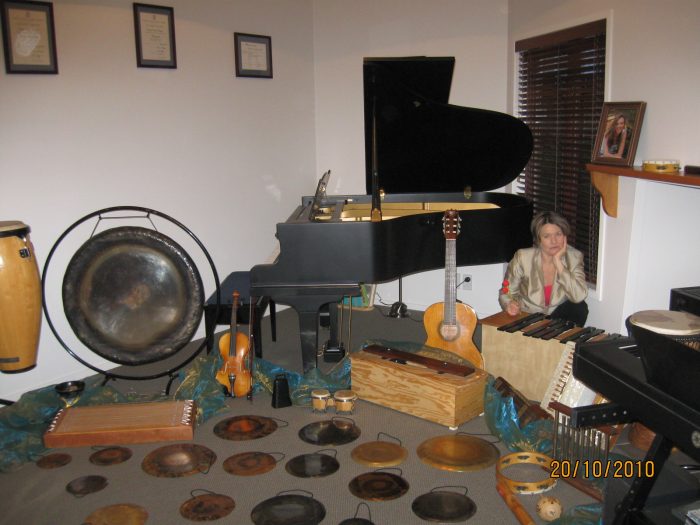 Auckland
Piano Lessons | Singing Lessons
---
Qualifications:

ATCL; LTCLGMT (London); Dip. Executant Music (NZ);Dip. Teaching (NZ); Dip. Education (USA)

Suitability:

All ages
---
Bio
Greetings.   I have opened a new stand-alone music studio in Taupaki,  28kms from Auckland's CBD.   The studio offers an opportunity for students of all ages to enjoy and study music in a quiet, refreshing country setting.
I began playing the piano at four years of age.  The sounds of music and nature were my constant companions throughout childhood.  In 1972 I graduated from North Shore Teachers College with Distinction, specializing in music.   After three years of general class teaching I moved to Wellington to pursue full-time music study.  During this period I also graduated with an ATCL and LTCLGMT from Trinity College of Music, London.
In my mid-twenties,  I travelled to England to further my studies in piano and voice.  While teaching in London, I received a scholarship to study in Detroit.  This significant move resulted in my living in America for thirty years as a parent, music teacher/director and performer.   I returned to NZ in December 2009.   As a music teacher,  I offer a wealth of experience in addition to a creative approach to music education in general.   As one of my colleagues very generously wrote:
"Janet is simply amazing.  She possesses a unique way of reaching to the heart of things and leading others to do the same.  As a Music Teacher she inspires students to give their utmost, to reach into themselves and become the music, to share the pathos or joy, the rhythm and energy, the beauty and precision that brings the piece to life.  I have seen no one else able to take students to this place of total immersion, total commitment." – Gary Griffith
---
Teaching Info
My teaching approach provides students with a respectful and non-judgmental space to be themselves, which helps to cultivate joy in addition to authenticity, confidence, creativity and musicality.
As a practitioner of holistic music education, I embrace the medium of music ~ sound and silence.  Children enjoy exploring the various sound and musical instruments I have collected from around the world.  In doing so, they develop knowledge of the power and beauty of sound, while at the same time improving their focus and concentration, awareness, listening, connection, creativity and fine motor skills.  Some students, especially young children, benefit greatly spending more time in the realm of creative play and exploration.
Students and parents alike have reported that the benefits of this holistic approach to music education extend far beyond the music lessons.  In addition to research that shows the health benefits of sound and music,  students state that the lessons help them to integrate their inner and outer worlds for improved physical, emotional, mental and spiritual well-being.  In an age when people are experiencing increasing disconnection and heightened levels of sensory overload, this holistic approach to music has significant value, as indicated in the following student testimonials:-
"The sessions made me feel hope and made me feel like I was part of the world."  – Matt
"Everything that I was thinking went away.   I just wanted to play.   It was wonderful.   I had no worries, no sadness."  – Tessa       
"Sound Play is really fun!!!! You get to build sound sculptures and see, feel and hear things that you've never heard before."  – Sam
"What I love is that I can hear myself think.  Sometimes I need silence to be inspired and I found that here." – Chloe
"When I take the creative aspects from sound exploration into my musical life, I open up.   My perception of music has completely changed.   Now I am inventive with my music, making me an individual.   The creative play is truly a gift.   Thanks!"                –Matisse
"The sessions showed me a different way to see,  feel and listen to things.   They welcomed me into understanding that there is not just one right way, but that there can be many.   This experience helped me use a different side of my mind and being and make it into a whole other precious gift.   It can be helpful in so many ways if someone is stuck, and shows so many paths to understanding nature and oneself."    – Julia
"I think that I have learned more here in a year than I have with regular music classes my whole life.   I also enjoy it a whole lot more.  I like playing music a lot more. – Tessa
And from a NZ parent whose children attended some sound exploration sessions:-
Exploring sound has been a wonderful opportunity for my kids. I love the enthusiasm and enjoyment that they have got from the sessions and the improved listening skills.  They have had an opportunity to play and create soundscapes with some amazing instruments.   I believe that they have benefited greatly from this course.   This course is beneficial, not only for those playing a musical instrument but for everyone, because it develops a greater understanding of sound and a greater awareness, especially in relation to listening skills.   Janet is an amazing facilitator and creates a wonderful energy and learning space for the children.                               –Kim Vendt
My 2 son's (8 and 6 years old) have been taking lessons from Janet for almost a year now. Both my boys are inspired to love music after each lesson. Janet's approach to teaching music is holistic and fun. We currently live on the North Shore, and have followed Janet to her new studio, as I was finding it difficult to find a teacher with same music values and enthusiasm locally. A very special teacher, one in a million.
Sharon Ng
Our daughter, Jes (10 years old), has been taking piano lessons with Janet for some two to three years now. During this time we have been thrilled to see Jes's progress on the piano and how much she enjoys her lessons with Janet. We live on the North Shore and until just recently were very close to Janet's studio. When we heard that Janet was moving to Taupaki, there was no question that we would follow her there. Janet is an exceptional music teacher. What we find truly special about her is her authenticity in really getting to know Jes, what makes her tick and exactly what she needs so as to create her own unique and special music journey. Janet is patient and encouraging with Jes. Janet recognises Jes's creative side and nurtures her desire to experiment while at the same time encouraging her to keep up her skills practice. Jes wouldn't miss her lessons with Janet for the world.
Tony and Sarah Wright
Janet has been nothing but amazing throughout the several years I've had her as my teacher. She has pushed me to the best of my abilities and has always treated me with such kindness and patience. She's helped me grow not only as a musician but also as a person, and I wouldn't be where I am without her.
Alice - 13 years
Janet is a wonderful teacher. She has a rare ability to tap into exactly what speaks to each of her students, individualising her lessons while never omitting the more formal aspects of musicianship. A consummate professional who is also endlessly patient, good-humoured and kind, she never loses sight of the bigger picture, ensuring that music will never be a chore for her students, but will instead remain a life-long joy. I am so grateful for what she has given my daughter. - Sally Sutton
Sally Sutton
Starting to learn the piano as a 32-year-old was quite daunting. After researching thoroughly for a good teacher and guide, I was lucky to find Janet. With her, I was able to receive the inspiration, encouragement and a sense of responsibility for learning. Janet is patient, creative and knowledgeable. She has a lovely attitude and an uplifting personality. These are really helpful and stimulated me to learn, practice and push myself to be better. I am really thankful to Janet for her time and patience with me.
Nivisha
It is with great pleasure that I write this letter of recommendation for Janet Dudney. She is a natural teacher with a remarkable ability to win respect and cooperation from all kinds of children. They follow her lead because they want to, and where she leads them is invariably to higher ground. One may ask how she does it. I believe the answer to that is to be found in who she is as a person - her character, her love of her subject, and her love and respect for her students.
Lee Pope, parent of a student and class teacher, 2008.
I never thought that I would ever be a singer until I entered your class in 6th grade. Then, all of a sudden, I could sing! Over the past 3 years you have helped me find my voice in both song and soul. You were the best voice teacher that I could have had. You rarely told me if I did something wrong...you simply helped me make it better. You let me sing what I wanted, respected my wishes and always had ideas and encouragement...along with inspiration and patience. Thank you!
Hannah (8th grade)