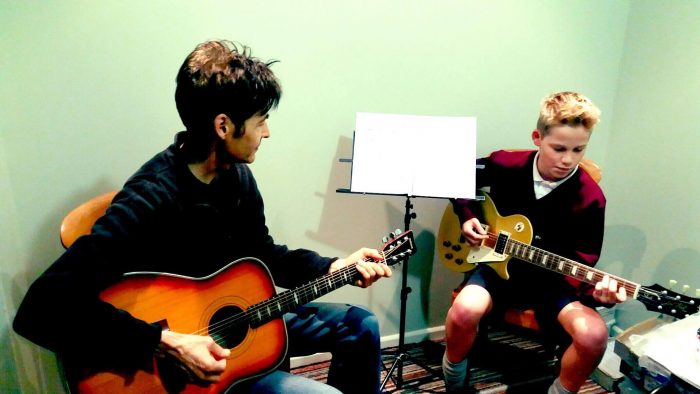 Auckland
Guitar Lessons
---
Qualifications:

Over 20 years teaching experience, BSc

Pricing:

$30 for either Skype lessons or lessons at your home in the Warkworth area.

Styles:

Acoustic, Folk, Pop, Light rock, Modern

Suitability:

8+ years
---
Bio
Over 20 Years Experience
I have always had a great interest in music and started playing guitar at an early age, learning from Clarry Light, Graham Wardrop and various teachers over the years. I explored different instruments including drums, saxophone, piano and bass. I decided my true passion is guitar and over 20 years ago I started teaching. My greatest inspiration comes from David Bowie, Cat Stevens, Simon & Garfunkel and Jimmy Page of Led Zeppelin. I also enjoy playing and singing at open mic venues.
---
Teaching Info
* To make my lessons more enjoyable and fun.
* To impart my passion to all my students.
* I am a very patient person and persevere till my students can play and fully  understand music in the lessons.
​

Teaching Style

​* The majority of my teaching is from transcriptions. So from the first lesson my students play real songs.

* I teach in a progressive sequence with strumming songs gradually adding more complex rhythms and chords. This is followed by fingerpicking. After a certain number of songs I give my students more choice and tailor the teaching to suit the artists they like.

* Artists that I teach include the Beatles, James Blunt, David Bowie, Michelle Branch, Fleetwood Mac, Kasey Chambers, Dido, Green Day, Jewel, Avril Lavigne, Led Zeppelin, Ed Sheeran, Simon & Garfunkel, Cat Stevens, Taylor Swift, Shania Twain, and many others.

* For more advanced students I identify and target the artists that inspire them and if I don't have the transcriptions, I find what is available and teach these.

* If people want to learn a particular style I will find what is available and teach in addition to transcriptions.

* Lessons are 30 minutes (or slightly longer) for school students and 40 minutes for adults.

John is a master guitar player, he has an incredible ability to play and thanks to his patience and cool, calm approach towards teaching he is able to pass much of this skill onto his students. I have been having lessons with John for around five years now, he teaches in such a way that you pick up the basics, and as you begin to develop your own tastes in what you like to play he accommodates to those very well, whether that being transcribing songs you have asked for to make them easier to learn, suggesting songs you may like, or giving you new genres of music to learn in order to see if they appeal to you. He goes above and beyond, giving advice on the best ways to practice, the best guitar to buy to suit your ability and price range; he taught me how to restring my guitar, he always has a spare pick when you inevitably forget to bring yours, and he is always keen to answer your questions, or engage in discussion about music. John really does take a personal interest in his students, and his teaching will further your passion and skill on the guitar. Lachlan Stark
Lachlan Stark
"I'd like to recommend John Blackmore as an acoustic guitar and bass teacher. He was a very conscientious teacher of both instruments to my son Innes over six years. John always gave very generously of his time, and was well resourced with funky, well-known music by much-loved musicians. Learning both of these instruments has been an incredible boon to my son, as it will be to other pupils of John's. He began lessons with John at age 11. Innes always thoroughly enjoyed his lessons and looked forward to them. Since then he has 'picked up' the ability to play drums also. This is no doubt come to him easily as a result of John's foundational training in the importance of timing; his emphasis on rhythm and varieties of beats. I see John as a successful music teacher who relates well to children and teenagers, and who would always be encouraging rather than condescending." Liesl Johnstone BA, ATCL (Teacher's) (Previously itinerant keyboard/piano teacher at Waiaraki School
"John has taught both of my sons guitar, they enjoyed the experience very much and were always keen to go to their lessons. The skills they learnt have enabled them to play in school productions and bands formed with friends. I would recommend John to anyone interested in learning or enhancing their skills with the guitar." Mike Parsons
Mike Parsons
"I highly recommend John Blackmore as a guitar teacher. I've only been learning for one year and already I can confidently play a set of songs to my friends and family. He is a very patient teacher and understands my tastes and needs in guitar playing. I have learned so much from him and I am thoroughly enjoying my lessons and the confidence I now have when I pick up a guitar. " Nadia Marinelli
Nadia Marinelli
​"I have known John Blackmore for approximately 18 months in his capacity as a guitar teacher for my teenage son. In this time I have found him to always be punctual, polite and a good communicator. He developed a good rapport with my son. As a guitar teacher I was impressed with his methodical teaching programme, and how he communicated his teaching approach to my husband and I. He had a step-wise progression of songs that my son was able to learn, but also gave him a choice of current music that interested him. He gave our son clear advice about practice expectations, and communicated his progress to us after each lesson. We found it really convenient that he was able to teach in our own home, at a mutually suitable time. His fees were very good value. I would have no hesitation in recommending him as a guitar teacher." Caroline Morrison
Caroline Morrison