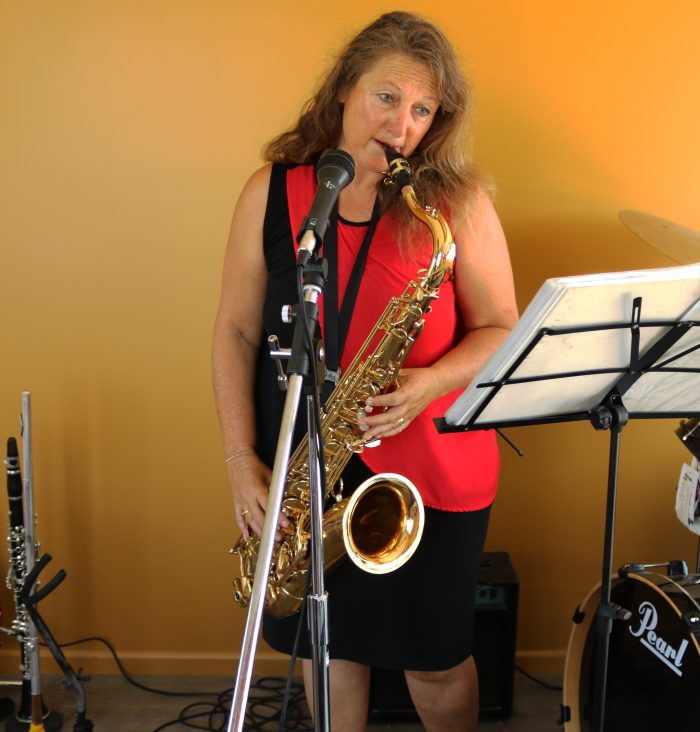 Christchurch
Saxophone Lessons | Clarinet Lessons, Flute Lessons, Keyboard Lessons, Piano Lessons, Recorder Lessons, Singing Lessons | Artist development, Aural Lessons, Ensemble Coaching, Theory Lessons, Jazz Improvisation Lessons, Music And Movement For Under Fives, NCEA Music Tutoring
---
Qualifications:

BA(HONS), LLCM(TD), ALCM, Dip Teach (Sec), AIRMT

Pricing:

Priced Per Term (Spaces Available)

Styles:

Classical, Jazz / Improvisation, Pop / Rock, Theory and NCEA

Suitability:

Beginners to Diploma, All Ages Welcome
---
Bio
Julia graduated in Cambridge, England and her qualifications include: BA (HONS), LLCM(TD), ALCM, AIRMT, Dip Teach (Sec). She is therefore  
a registered and fully qualified music specialist / teacher on Flute, Saxophone, Clarinet, Recorder and Music Theory to Diploma level. Julia 
also teaches Beginner Voice and Keyboard and can help with NCEA Assistance in Music. 
Styles taught include Classical, Jazz, Rock and Pop.
Julia has more than 30 years experience teaching which consists of Itinerant Tuition in schools 
(directing and performing with students, in various Ensembles, Jazz Bands, Orchestras and Concerts) and specialist one on one private tuition in her music studio. Past students have successfully gained Scholarships both within New Zealand and in England (one being to Eaton College, London). 

Students have the opportunity to sit various practical  / theory exams in Associated Board and Trinity College of London Exams: Initial – Diploma Level. 
In addition to teaching, Julia is also a professional performer and has performed in various bands, ensembles, choirs, shows and orchestras over the years.

Julia was the principle piccolo player in the Basingstoke Symphony Orchestra and played in various shows around outer London before returning to New Zealand. 

Julia has also been involved with session work for various bands recordings in both New Zealand and England. She is also available for hire to perform as a solo musician at
 weddings and private functions.

 
---
Teaching Info
Get more out of your lessons and learn individually at your pace, without the distractions of group tuition.
Why take many years to learn, what can be taught in a single year.
Option to perform at a private end of year concert with other musicians.
Get your musical success underway and become one of New Zealand's future musicians.
Julia's passion is teaching and performing music, both within her music studio and in the many schools she works with, as a music specialist.
Julia would welcome the opportunity to pass on her exceptional talents to perspective New Zealand Students and members of the local community.
Julia looks forward to hearing and guiding you to success in your musical career or interest.
I've been studying with Julia for almost two years, she's a great tutor who really understands her students and is very adaptive to differing learning styles and needs Julia has a high knowledge of music and is just so easy to learn from. If you are looking for a music tutor look no further, Julia is the best around.
Blair H, Rangiora
Julia is a kind hearted, very talented lady who is very good at what she does.She has tutored both my sons in saxophone and they both have done well in their Trinity exams.Josh passed level 5 with distinction after only learning for just over a year.
Jenny U, West Eyreton
My daughter has studied with Julia for 5 years. She plays jazz saxophone and recorder and has remained committed and inspired due in large part to Julia's guidance, expertise and enthusiasm. She is an awesome tutor and now my second daughter is having flute lessons and loving them! To top it off I have just fulfilled a long time dream to have singing lessons with the aim of joining a choir. Julia does it all!!! I cannot recommend Julia highly enough.
Kate G Cust