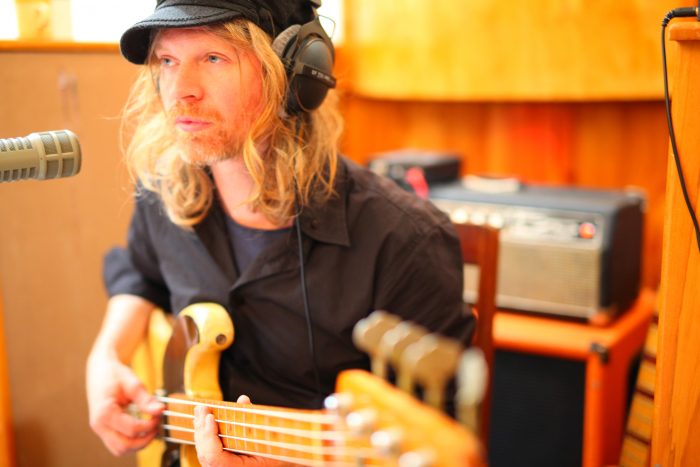 Wellington
Guitar Lessons | Banjo Lessons, Bass Guitar Lessons, Ukulele Lessons | Aural Lessons, Ensemble Coaching, Song Writing Workshops, Theory Lessons, Composition Lessons, Jazz Improvisation Lessons, Mixing and Mastering Lessons, Online Lessons
---
Qualifications:

Masters in Music - composition (Victoria University), Post-Graduate Diploma - orchestration and composition (Victoria University), Bachelor of Jazz Performance - guitar (New Zealand School of Music), Advanced Diploma in Jazz guitar (Wellington Conservatory of Music)

Pricing:

$70 for an hour. ($35 for half hour, $52.50 for 45 minutes)

Styles:

Specialising in classical and jazz guitar, as well as traditional folk music, blues, rock and "shred" guitar. Justin has a vast array of experience in numerous styles with an added passion for World music, in particular music from the Balkans, India as well as some contemporary African guitar styles.

Suitability:

Beginner to Expert
---
Bio
Justin is a professional musician with a Music Master's Degree in classical composition (specialising in film) from The New Zealand School of Music, and a Performance Jazz Guitar Degree from Massey University. Amongst attending numerous masterclasses with renowned jazz artists, he has studied classical guitar under the tutorage of legendary Matthew Marshall. As an artist he specialises in performance jazz guitar, film composition, songwriting and has performed all over the world winning awards at festivals in Europe and collaborated with world-class performers from all over the globe. Locally he is known for being a key collaborator in Congress of Animals, Bret Mckenzie, The Woolshed Sessions and Jess Chambers as well as featuring with Fly My Pretties, Fat Freddy's Drop, and with The Muppet Show with The New Zealand Symphony Orchestra.
---
Teaching Info
Lessons with Justin Clarke specialise in guitar. He also teaches ukulele, composition, music theory, banjo, bass, computer production (Logic and Ableton) and general piano/keyboard. His lessons cater to all students and begin by covering basic chords, simple songs, and learning to read notation. Justin also teaches advanced students and has many years music teaching experience including teaching guitar in Germany and at the jazz department of Massey University. He brings a broad understanding of music to the student while catering to their individual learning styles.
"I feel very lucky to have the opportunity to learn from such an accomplished and profound musical genius! I only wish I could have lessons with Justin every day! His guitar knowledge runs deep, but his teaching manner is down to earth; he makes complex concepts easy to comprehend and put to practice with a positive and professional approach. He's helped me map out a practice plan and he tracks my progress every lesson, adding new songs and techniques so guitar practice always stays interesting. Justin's virtuosic capabilities means he can work with any level of student. I've really enjoyed working on Travis Picking style with Justin, he has also given me lessons on the mandolin. Thanks Justin! I look forward to our next lesson!"
Elysia, 32 years old
"Justin has taught our teenage daughter electric guitar for about 2 years. He has the perfect mix of amazing technical ability, artistry, and emotional intelligence to work with teenagers and kids. Ava is motivated, plays music she loves, and wows us everyday with her skill. She has a life-long passion. Thanks Justin!"
Ava, 16 years old
"I would recommend Justin as a guitar teacher to any level of an aspiring musician who wants to have the best possible learning experience. I have been very privileged to have guitar lessons with Justin for the past 18 months. He is an all-round guitarist and catered extremely well in teaching me metal music. When learning songs, Justin takes me through sections at slower speeds, before speeding them up and eventually combining them into the full song. I find this method of learning new songs to be highly effective, in that Justin has allowed me to master songs as efficiently as possible. As a result, all of the advanced technical music that Justin teaches me becomes attainable to play at a quicker speed. While learning different material, Justin always has a good practice plan for me as to what I should work on until the next lesson. Although the world of music theory is vast, Justin teaches it in such a way that makes it so much easier to understand. He always caters to my needs in each lesson. We typically start with practicing scales and other dexterity exercises before moving onto harder material. Instead of simply going up and down scales on the guitar, Justin has come up with some unique ways of playing different scales to make it more fun. For example, we often play a scale with string-skipping (i.e. where we would play strings 1, 3, 2, and 4, rather than play 1, 2, 3, 4 in order). More recently, we have started working on some shred material. Justin takes it slow and walks me through the best techniques and ways to play different motifs. He is a very versatile musician and has experience in a vast range of genres."
Ben, 18 years old
"When I first discussed Ukulele with Rachel, she was reluctant. But after the first class with Justin, she told me happily that the teacher was very cool and the class was very interesting. We also love many of Justin's songs, and we sing along when our daughter practices. Now Rachel doesn't need me to urge her to practice. She likes it very much and makes rapid progress. Thanks to Justin."
Rachel, 9 years old
"I like how he let's me play the drums and piano and make sounds together. It is fun because he plays on the ukelele very fast"
Ross, 7 years old
"We're so happy that our daughter has the opportunity to take guitar lessons with Justin. She likes the music she's learning and comes home every week with new things she wants to play for us. It's been great to see her looking forward to her weekly lessons and growing more confident and enthusiastic in her playing."
Katie, 12 years old
"My daughter Mia has been learning guitar with Justin since she was 8. She is now 11 and has enjoyed three years of great guitar lessons. Justin makes learning an instrument fun. He is an excellent teacher."
Mia, 11 years old
"Our son Ben is experiencing his first formal foray into music under Justin's watch. We've been impressed with the care and attention he's shown towards our sometimes reluctant seven year old. Recently he picked up on and addressed Ben's issues with his instrument (which are basically that it's acoustic, rather than electric) with a clever reward system specifically tailored and focused towards Ben's interests which seems to have re-energised his attention and got him back on track with enthusiasm. I'd highly recommend Justin's teaching."
Ben, 7 years old