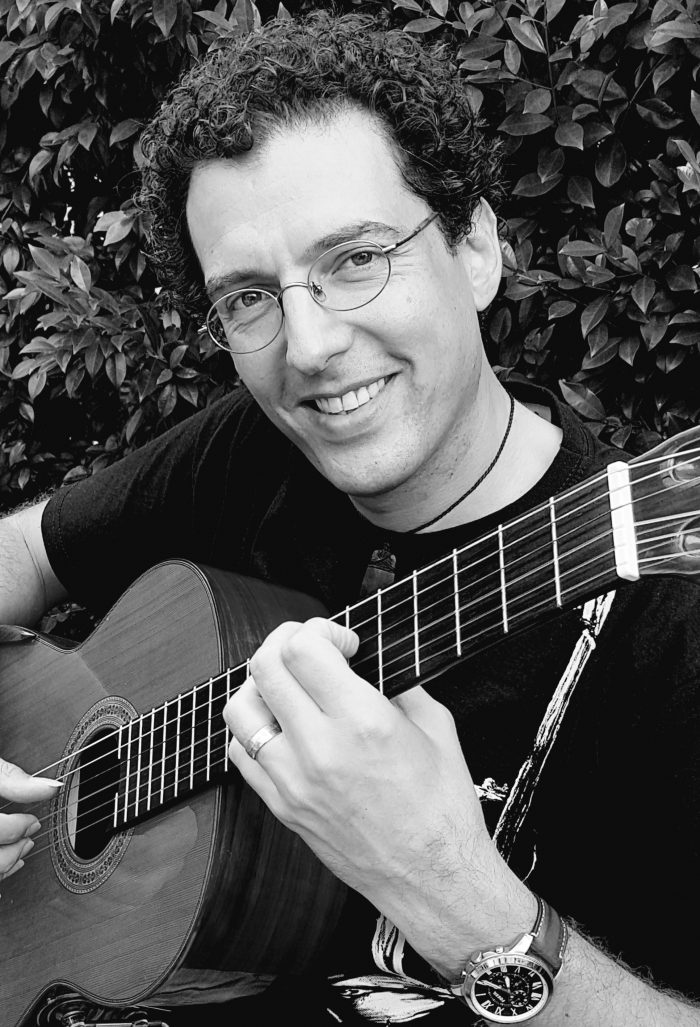 Auckland
Guitar Lessons | Theory Lessons, Online Lessons, Suzuki Music Lessons
---
Qualifications:

Registered Music Teacher (classical guitar & music theory, IRMTNZ); Diploma in Music Performance (classical guitar, distinction, TCL); Teacher Entrance Exam (music theory, distinction, NZMSM); Suzuki Guitar School (all volumes, w. Suzuki teacher); Doctorate (PhD, distinction, Paris-Sorbonne University); Master's (Arts, distinction, Paris-Sorbonne University)

Styles:

CLASSICAL/SPANISH & FINGERSTYLE

Suitability:

All ages & abilities
---
Bio
A trained classical guitarist and professionally registered music teacher, I offer lessons in both CLASSICAL/SPANISH & FINGERSTYLE guitar (face-to-face in Devonport or online). More here, through videos & testimonials: KEVINTHECLASSICALGUITARIST.COM
---
Teaching Info
Lessons, whether in person from my Devonport home-studio in Auckland or online via Zoom, are: customized and flexible to suit individual music goals; structured and progressive to ensure optimal learning outcomes; engaging and relaxed to keep the fun going!
I welcome students of all ages/abilities and am only one click away, so please don't hesitate to contact me: I will be back in touch with you in a hemidemisemiquaver!
"The online classical guitar lessons that I've done with Kevin via Zoom have helped me improve my technique and musicianship much more than I expected. His balance between structural and flexible teaching has been perfect for someone like me who has a messy knowledge of guitar. With a professional yet friendly approach, Kevin is top notch!"
Alan, Hastings
"Kevin has been teaching guitar to both my son and me for the last six months. Kevin has been such a patient and kind teacher, and my son and I have enjoyed every lesson. His approach to learning is full of fun and laughter. I look forward to our lesson every week! Kevin truly loves what he does and he is an amazing teacher and guitar player himself."
Olivia, Devonport
"My son Shawn is learning classical guitar with Kevin. He is a great teacher and very friendly to deal with. Shawn is a quiet boy and Kevin always encourages him, finding new ways to help him improve his natural abilities but also expecting him to exceed his past limitations. We're so happy and definitely recommend Kevin to everyone!"
Shawn, Hauraki
"I've been learning classical guitar online from Kevin for 3 terms now and can say that he truly is a fantastic teacher! I really enjoy my Zoom learning with Kevin: he is very patient and encouraging, always well prepared for lessons, and he plans out our learning for the term ahead. I feel I've made great improvement in terms of both rhythm and technique. Thanks Kevin!"
Christine, Birkenhead
"I'm very lucky to have had Kevin as a coach for my Trinity guitar exam: he is very keen to give the appropriate technique for each piece! I have just done several coaching sessions and now my playing is more solid than before with the better techniques learned. Having him as my coach is a great way to improve my classical guitar playing as I move up to higher grades."
Toberts, Birkdale
"I am so happy to get taught by Kevin! He motivates and demands in a very positive way. Without having any pressure, I recognize my weekly progress while showing him what I practiced over the week. No single lesson gets boring, cause he always comes up with a new exercise or idea on how to improve my skills: his knowledge of classical guitar music is impressive!"
Cornelius, Hamburg (Germany)
"A former student of classical guitar I hadn't picked up an instrument for 20+ years and was delighted to find Kevin. A more patient and knowledgeable teacher you couldn't hope to find. In just 6 short months my confidence has grown and I've rediscovered my love of playing. Many thanks Kevin!"
Jane, Devonport
"I have now done a few guitar lessons online with Kevin and I have found him really good, encouraging, and positive. Loving it so much that I am learning more and doing more lessons! I wish every music teacher was like Kevin, very experienced and easy to get along with. Thank you, Kevin, looking forward to our weekly lessons online."
George, Rotorua
"Dr Kevin Mendousse is an excellent and enthusiastic teacher. His lessons are well planned to gradually allow the student to increase their skills. He gives positive advice and encouragement at every stage. I highly recommend Kevin as an inspiring guitar teacher."
Sylvia, Takapuna
"Kevin is a very professional, talented and even-tempered teacher. He also has a very structural teaching approach, where basic skills are constantly being worked on. Adding to that, he found time in his tight schedule to accommodate my online class at 7:25am, which shows he has passion, aha! I have been learning fingerstyle with Kevin for the last four months, and I can already see my improvement: my motor skills, hand position and strumming patterns are more comfortable and accurate. All my teaching was through Zoom, and even though I was skeptical at the beginning of the course, I am very satisfied with the first outcome of my training with Kevin. Because I decided to learn something not easy (finger-picking), I am absolutely stoked with Kevin's understanding of all the complexities of that style, and most important how to overcome my fear of learning fingerstyle: I am coming back next year, thanks Kevin!"
Renato, Pukekohe
"Kevin is a fantastic teacher! His optimism is contagious and he has constantly kept me motivated. We have tackled quite large finger-picking pieces this year, none of which I would ever have been able to accomplish without the help of Kevin, who took my guitar playing to the next level! He helped me improve my technique, which in turn greatly improved my overall playing. Kevin is an excellent and enthusiastic teacher, and I wouldn't hesitate to recommend him as a teacher for someone of any level."
Georgia, Herne Bay
"Great way to learn guitar. Kevin's passion and optimism are contagious, making you want to do an extra effort to learn. His deep knowledge allows him to explain things in a very simple way while keeping the lessons interesting."
Gaston, Auckland CBD
"Kevin is a great guitar teacher. He is patient, can note all the details, and teaches little tricks that can give a big improvement to your performance. We finished 10 lessons and we can already play some beautiful pieces. We highly recommend him :-)"
Catherine & co, Auckland CBD
I found Kevin on a web search when looking for some help with my playing. There were quite a few gaps in my technique and understanding, despite having several other teachers and a period of self learning. Kevin's approach was a new experience. He discussed my journey so far and adjusted his teaching to fill gaps and extend my understanding of basic principles. Clearly, learning to play the Classical guitar is a journey: there are many plateaus which are comfortable for a while, but at some stage, we all want more; by working on basic skills Kevin prepares players for the way forward. Complex pieces require sound technique and while it can be tiresome and challenging to work on establishing good habits, it results in music people want to hear. The Covid lockdown in 2020 has caused many interruptions to work and schooling but Kevin handled this admirably by switching to online learning over Zoom. Face-to-face teaching is certainly better but online learning is an excellent alternative. One of my complaints when I joined Kevin was the lack of information provided in sheet music. After several months of training and coaching I am pleased to discover what it takes to turn notes into music. I have no hesitation in recommending Kevin for players at any level. He uses patience and empathy to move students forward at a steady pace. Careful not to push too hard but progressive enough to challenge.
Calvin, St Heliers
I have never thought that learning classical guitar can be so fun and peaceful at the same time. Kevin's teaching is patient, interesting and energetic. Starting lessons with Kevin was one of the best decisions I made last year. Highly recommended!
Vicky, Glenfield
"Lessons with Kevin have reignited our daughter's enthusiasm for guitar and for music in general. Keira had been playing for a while but was keen for a new challenge. Although a big pop/rock music fan, when she heard examples of classical guitar she was really enthusiastic and wanted to give it a try. Kevin's kind, patient approach had her flying from the very first lesson. She can now read sheet music, not just chords, practices without reminders and takes huge pride in her playing. We can't recommend Kevin highly enough!"
Sarah & Keira, Devonport
"I started taking lessons from Kevin as a beginner. It is not easy as an adult to learn guitar, especially classical guitar. However, Kevin has been very patient and very nice to me, although I struggled at the beginning. He is very professional and very skillful in his teaching approach, from right and left hand technique exercise to the intricate technique of fingerpicking and strumming. He has motivated me to continue with guitar lessons: that's why I still come back every term!"
Winston, Albany
"I am lucky enough to live locally, so have been able to have face-to-face lessons with Kevin in his studio. As an older adult beginner I had fairly low expectations with what I might be able to achieve on the guitar but have been delighted with my progress after only half a term! Kevin has helped me to see that, although classical guitar was not my initial interest, it's a great way to build a solid foundation for playing all types of music. He's been able to demonstrate clearly, key technical aspects that I would never have been able to pick up via other methods of instruction such as YouTube - and I've watched a lot! Weekly lessons have also been a great motivator. I'm convinced I'm making better progress at a faster pace than I could have without Kevin and so have already signed up for another term!"
Rod, Bayswater
"It's been a great pleasure taking my classical guitar journey with Kevin. He is always ready with a new way for me to sharpen a technique or a clever strategy for practicing more efficiently, and as a result I have been delighted and surprised at how far I've come as a new student with no background in classical guitar. Kevin is a natural teacher, friendly and relaxed, who seems to take great pleasure in the progress I'm making. He knows how much I can handle each week and is always supportive, reminding me how far I've come. I always look forward to my weekly lesson and am excited about the progress to come."
Bryan, Devonport
"I can highly recommend Dr Kevin Mendousse to anyone wishing to improve their guitar playing, his teaching is transformative. He quickly diagnoses the issues that have stalled your progress and gives you the tools to rapidly remedy them, all while keeping lessons enjoyable. I take lessons via Zoom which works brilliantly, saving time and the stress of travel in unpredictable Auckland traffic. For those of us who are performance shy, Zoom lessons somehow reduces the anxiety of playing while taking nothing away from the quality of the teaching. Kevin is a wonderfully organised teacher so there is no wasted time and this balanced with his enthusiasm and approachable manner is a complete winner. I have had many teachers on and off over the years and no one comes close to the calibre of Dr Kevin Mendousse. My only complaint is not having discovered him earlier!"
Cyril, Orewa
"This is my second term of online lessons with Kevin, who truly is an excellent teacher. Even though I am a beginner, he is able to balance technique with musicality in every lesson, which has really helped me with rhythm and phrasing. Kevin is extremely astute and able to pinpoint my mistakes. He is also extremely kind, supportive, and patient. I highly recommend his classes!"
Italo, Kunchan (China)
"I'm a 50 year old average guitar player wanting to learn a few rock songs with finger picking. I have only done zoom lessons with Kevin. Never met him. There are a number of things which amaze me in our lessons. Firstly, he is extremely organized and prepared for each lesson. Secondly even when I haven't practiced much he encourages me supportingly - I'm not afraid he will get annoyed. Thirdly his technical knowledge around fingering and options for both hands is incredible. Fourthly he really cares about your improvement and he gets very excited when you master a particular piece. Finally he is a very nice soft man with a natural gift for teaching and I absolutely love how much I learn each week. One of the best teachers I have ever had by far. I'm very happy to have found someone to teach me guitar who doesn't feel like he's just doing it for the money."
Rob, Birkenhead
"After a 30+ year break from playing guitar I picked up my guitar again at 62. After a few days I realised I needed help and I signed up for classical guitar lessons with Kevin. The lessons are held online, over Zoom, which has turned out to be an excellent way to learn. Kevin took the time to get to know me, my playing ability, and goals before we decided on the way to proceed. Kevin is a fantastic teacher, patient and encouraging. Able to quickly see/hear where improvements can be made, and always with methods/techniques to help me make those improvements. I am very fortunate to have found Kevin and I highly recommend him as a classical guitar teacher. Finally, don't be put off by online lessons. My experience learning from Kevin has shown me that online lessons can be as good as learning in person."
Geoff, Glenbrook Beach
"Kevin is a fantastic teacher. I look forward to our lessons each week. I never feel like we are moving too slow or too fast. Picking him was one of the best decisions I have made."
Tapiwa, New Windsor
"I came to Kevin as an experienced guitarist who was stuck in my playing and unsure of how to move forward and progress. Since starting lessons, I have noticed a substantial difference in my playing and a marked improvement. Kevin perfectly balances technical improvement and with fun and enjoyment, making lessons something I look forward to every week. Lessons both online and offline have been wonderful and I feel like I am making huge progress towards my playing goals, something that wouldn't have happened without his help. Kevin is a truly gifted teacher and I can't recommend him enough."
Madeline, Newmarket