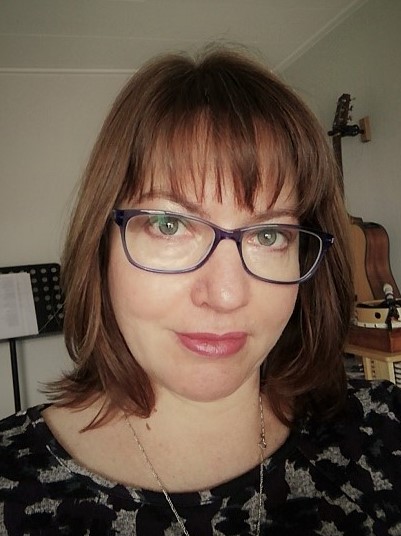 Dunedin
Singing Lessons | Choirs | Artist development, Aural Lessons, Posture for Singers and Instrumentalists
---
Qualifications:

Vocal coach & vocal technique instructor - over 35 years singing experience & 9 years teaching experience.

Pricing:

$25 - $50 (please enquire for details)

Styles:

Contemporary, modern, pop, rock, r&b, Gospel, country, jazz

Suitability:

Children and adults - no age limit
---
Bio
As a vocal coach & vocal technique instructor with over 35 years' singing experience and 9 years teaching singing, my life's passion has been learning about the voice.
Over the years I have developed a love for the voice and how it works, specifically with regards to singing in contemporary styles.
I am passionate about helping people overcome singing difficulties, especially those discouraged from singing because they "sing out of tune, have a bad sounding voice, their voice breaks, they can't sing high, they were told they don't have any talent, etc."
I believe we are all born with the same basic physical instrument and that singing is a skill that anyone can learn.  I believe if you can talk then you can learn to sing.
I would encourage anyone with a desire to learn to sing, to take lessons.
---
Teaching Info
I teach healthy vocal techniques that help balance and develop the voice to achieve a clear and even tone throughout the entire vocal range.  I ensure each student has the necessary basic foundation to achieve a healthy singing technique.
I offer practical lessons in a relaxed and respectful atmosphere where students are encouraged to explore their artistry and unlock the full beauty and functionality of their voice.
Whether you're wanting to learn to "sing around the campfire" or you want to be the next Beyoncè, the same basic foundational principles apply.  You can choose the skill-level you'd like to achieve.
A typical lesson could consist of:
vocal scales and exercises
ear training exercises and listening techniques
rhythm and timing exercises (basic musicality)
vocal pedagogy (teaching how the voice works) including posture, breathing, articulation, diction, tone, resonance, vocal dynamics and much more
practical singing skills and implementation of techniques learned i.e. singing songs
vocal recordings
microphone and performance techniques
songwriting techniques and help with lyrical content, style and composition
building self confidence and resilience
working on performances and songs to implement stylistic aspects and singing techniques
working towards a specific goal e.g. an audition
perfecting advanced techniques like "belting"
upkeep of your voice and vocal health
analysing and working through vocal problems.
All ability levels welcome (children and adults – no age limit).  From absolute beginners who don't know how to sing, to seasoned professionals just wanting healthy upkeep or to work on specific goals.
Letitia Lindeque Vocal Coach, not only is she a beautiful person, she also has a very beautiful soul. Tayne has been with Letitia just over a year and she has done so much for him. Her style of coaching is very professional, her approach to the person learning is very patient, kind and caring. She can also cater for both genders, which is marvellous. She is honest and we just love her. Tayne will not miss a day of coaching with Letitia, and has not. So take mine and Tayne's word, she is the most experienced vocal coach I have come across, she knows her work and if you persevere with her way of teaching, you will never look back. Thank you Letitia, we appreciate all that you have done, hope you can put up with us for many more years.
Patricia/Tayne
Singing is a way to express myself and to have fun. Letitia taught me how to sing freely, she encouraged me not to be shy but to trust myself and my voice. To me it was really important to find the right techniques so that I won't damage my voice and Letitia definitely taught me that. She is an amazing teacher! She always believed that I could do it and showed me how I should practice to achieve my goals. She made singing so much more fun!
Miranda
Letitia is an amazing teacher! Her techniques are very unique yet effective. She makes sure you understand how your voice works and how to get the best out of it. Also, she keeps up to date with today's songs! I have really enjoyed all my lessons with her.
Gabrielle
Letitia is a methodical, diligent and professional person. She is able to provide structured guidance and motivate others to achieve their goals. She has been a huge support and inspiration for me and I am very pleased to recommend her.
Christine
Thank you very much, you are an amazing teacher. I never would have believed that I would be able to get to even half my singing ability that I am at today! I feel a lot more confident with my music and you gave me skills that I'll treasure for life.
Khaled