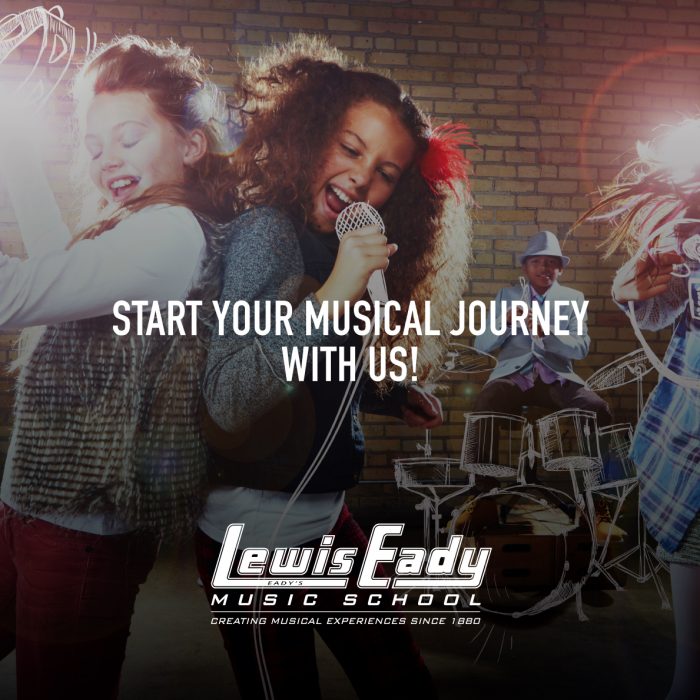 Auckland
Piano Lessons | Bass Guitar Lessons, Cello Lessons, Clarinet Lessons, Drum Lessons, Flute Lessons, Guitar Lessons, Keyboard Lessons, Oboe Lessons, Saxophone Lessons, Singing Lessons, Trombone Lessons, Trumpet Lessons, Ukulele Lessons, Violin Lessons, Viola Lessons | Aural Lessons, Ensemble Coaching, Song Writing Workshops, Theory Lessons, Online Lessons
---
Pricing:

Enquire within or email musicschool@lewiseady.co.nz

Styles:

Classical Music, Pop, Rock, Jazz, Contemporary

Suitability:

All ages and all levels
---
Bio
Whether you are five or seventy-five, we believe everyone is musical!
Lewis Eady Music School is one of New Zealand's largest independent music educator, teaching instrumental music to students of all ages and levels of progress.
We believe that there is no 'one size fits all' approach to learning so tuition is tailored to each individual.  We teach all genres of music – classical, pop, rock, contemporary and we recognise that each student has different aspirations for their musical journey.
Our tutors are motivated, committed, musically qualified and love sharing their knowledge – musicians teaching music!  Together with our efficient support team, you can be sure you will be welcomed and looked after.
ENROL TODAY to start your musical journey with New Zealand's leading Music School Lewis Eady Music School.
---
INDIVIDUAL INSTRUMENTAL LESSONS
Whether you are looking to enrol your child in music lessons or take up an instrument yourself for the first time, to improve your current playing level, or to re-discover a hidden talent, the dedicated tutors at Lewis Eady Music School are here to help!
Our Music School is located at 75 Great South Road, Epsom. Lessons take place on weekdays (after school) and Saturdays.
We also teach music at St Paul's College, Richmond Road, Ponsonby (Saturdays only).
ALL AGES AND STAGES WELCOME!
We offer individual tuition in a wide range of instruments and teach all styles – classical, jazz, pop and contemporary music and offer a full range of instruments including those listed below:
No minimum age to learn music at our Music School located on 75 Great South Road, Epsom. However, students aged 5 or under must be supervised by an adult (e.g. parent or caregiver) at all lessons.
Guitar
Ukulele
Piano / Keyboard
Drum Kit
Singing
Violin
Viola
Bass Guitar
Music Theory
Clarinet
Flute
Saxophone
Trumpet
Trombone
TERM FEES: Individual (one-on-one) $400 based on a 10 week term
LESSON DURATION: 30 minutes
---
We have something on offer for every budding musician. Watch this space!
---
---
Teaching Info
Up to 300 students (adults and children) have their music lessons each week at our Music School (situated above our Steinway Showroom on 75 Great South Road). All lessons are one-on-one.
Once your lesson time has been confirmed, it remains your exclusive reserved lesson time for the rest of the year unless you advise us in writing that you no longer wish to have music lessons. Your lessons are tailored to suit your requirements so we recommend that you take the time to discuss the 'desired outcome' of your music lessons with your tutor at your first lesson.
Mid-year self assessment certificates are completed by each student (except adult students) with guidance from their music tutor in Terms 2 and 3.  A full student report will be completed by your tutor at the last lesson in Term 4. Parents are welcome to observe their child's lesson from time to time.
Read more Frequently Asked Questions on our website.
---
We are very proud of our teaching team! Each tutor is a talented and committed musician who loves sharing their musical knowledge. You'll find a bio and photo of every tutor (returning faces and new faces) on our website.
"I have loved going back to piano lessons after thirty years! I learned piano as a child and although I only learned for a couple of years it was amazing how much I remembered as an adult when I took up lessons again. I enjoy working on new pieces every week and look forward to my lesson. With two young children around I find that playing the piano in the home brings a lot of joy and fun. It also provides me with a different and creative focus. I would highly recommend taking up any instrument as an adult!"
Fiona Mogridge (piano student)
"I just wanted to tell you how much my son has improved this year with you as his teacher. He is really inspired to learn and practice - probably because he is learning songs that he likes! It has made a huge difference to his enthusiasm for guitar and it is great to see him practicing just because he wants to. So thank you for your wonderful teaching skills."
Christine Broderick (parent)