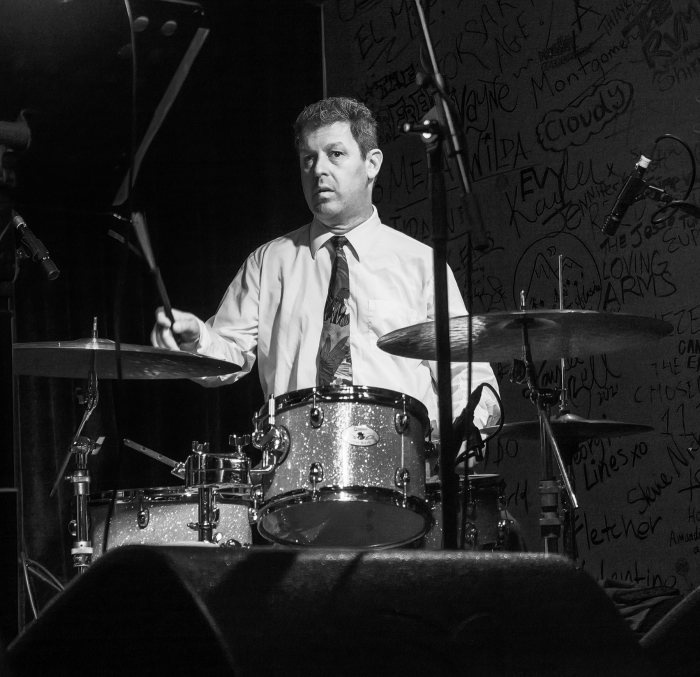 Wellington
Drum Lessons | Percussion Lessons | Artist development, Aural Lessons, Ensemble Coaching, Theory Lessons, Composition Lessons, Jazz Improvisation Lessons, NCEA Music Tutoring, Online Lessons
---
Qualifications:

B Mus, Dip Mus

Pricing:

$80/hr, $40/half hr, special price for prepaid block lessons

Styles:

All styles

Suitability:

Beginners to advanced
---
Bio
Mark graduated from Massey University in 2001 with a bachelor's degree in Jazz performance. He has studied with known international performers and educators such as Henry Cole,  Joe Morello, Ari Hoenig, John Riley, Jim Black, Andrew Gander, Felix Bloxman, Ben Vanderwal, Graham Morgan, Changuito to name a few.
From an early age Mark has been sharing his love of music. He is the author of the drum method book "The Drum Recipe" and has taught 2000+ students in over 30 schools in New Zealand, Australia and USA. His online lessons are available on teachable.com
As a musician Mark formed the "Mark Lockett Trio" and "Mark Lockett and friends". He has played with some of the finest American, New Zealand, and Australian musicians such as George Garzone, Roy Hargrove, Joe Cohn, Joel Frahm, Orlando le Fleming, Danny Walsh, Ratzo Harris, Roger Manins, Phil Broadhurst, Paul Dyne, Colin Hemmingson, Jonathan Grayford, Jeff Henderson, Richard Nunns, Michelle Nicole, Emma Gilmartin, Alison Wedding, Geoff Hughes, Mark Fitzgibbon and Jamie Oehlers.
In 2004 Mark released his debut CD "About Time" on Move Records. This CD features special arrangements by Jordan Murray and Eugene Ball. Early in 2005 Mark released a joint project with saxophonist  Paul Van Ross, titled "Mark Lockett + Paul Van Ross live at Spleen". A series of regular weekly gigs were recorded at Spleen Bar and the highlights were released on New Market Records. Mark has also released 'Now and Then' and 'Sneaking Out After Midnight' (recorded NYC) which includes some of his original compositions. Marks latest release 'Redaction' (Rattle Records, 2015) is a collaboration with photographic artist Veronica Hodgkinson, taonga puoro expert Dr. Richard Nunns and free music improviser Jeff Henderson.
---
Teaching Info
As a drummer, I have two roles: as a teacher and as a performing artist. I consider my playing vital to my success as a teacher and my teaching an inspiration for my playing.
My students are taught in a professional environment with an emphasis on having fun. Lessons are a combination of structured exercises from various teaching books, play-along CD's and discussion around individual musical and creative development.
Musical styles include Hip-Hop, Rock, Funk, R&B, Blues, small and medium combo jazz, Latin, Brazilian, and Afro-Cuban to name a few.
Areas covered in lessons include:
Coordination and technique
Beats and fills
Sticking patterns
Brush and mallet technique
Drumming rudiments
Reading skills (syncopation and chart reading)
Soloing styles
Dynamic control
Creativity and musicianship
Accuracy in time and rhythm
Rhythmic studies (rock, funk, Latin, jazz, odd meters)
Band playing skills including the possibility of a live performance
Lessons are available online or in-person at my studio. Information on online lessons are available on my website Drumlab
Fortnightly in-person lessons: Suitable for student's who are serious about their drumming. Lessons are tailored to student's skill level and their desired outcome.
Half hour in-person weekly lessons: One-on-one weekly lessons tailored to student's individual skill level and desired outcome.
Programs
Online program: available on teachable.com via my Drumlab website. Students may also subscribe to my Youtube channel Drumlab with Mark Lockett. Please click on the words "drum fills" for a link to a sample of a lesson on creating drum fills available on my Youtube channel.
Buddies program: This program is suitable for two students to learn together and will be based on a set syllabus. Lessons are weekly 30 minute lessons for the duration of the school term. Students will have the opportunity to perform at an end of semester concert. Suitable for students between ages 9 to 15 years.
NCEA booster program:  Lessons will focus specifically on skills, technique and repertoire required to successfully complete NCEA course requirements. Lessons are weekly for 45 minute for the duration of the school term. Students will have the opportunity to perform with a live band in two concerts per year.
Youth initiative program: This is a wonderful opportunity for drum students attending high school to apply for a scholarship to attend this course. Lessons will be scheduled for 3 days during the mid year school holidays and numbers will be limited to 3 students per program. This will be an intensive course tailored to student's individual skill level and musical aspirations. Students are to apply through their high school for this program.
Drumming circle: Sessions will be scheduled on a weekly basis and will be one hour in duration. Classes will be limited to 10 students. No previous drumming experience required
Join a Jazz Band: This is your chance to join a jazz band that will rehearse for two hours once a week. Repertoire covered will be jazz standards from the great American songbook.