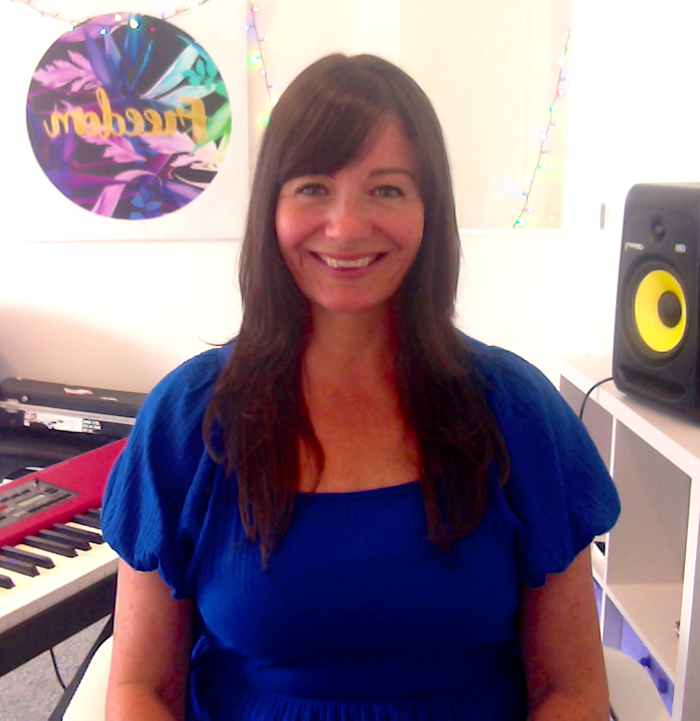 Christchurch
Singing Lessons | Artist development, Online Lessons
---
Qualifications:

BMusArts, 12 Years Teaching Experience, 30 Years Performance experience, NCEA Preparation, NZOnAir Grant recipient for New Recording Artist and Video, Songwriter

Pricing:

30 minutes $45, 45 minutes $65, 60 minutes $85

Styles:

Vocal Coaching, Technical Training, Emotional Process Work, Personal Development, Music Therapy

Suitability:

For best results, age 14 and above
---
Bio
Why Intuitive Voice?
To provide you with practical and sound vocal techniques to access more clarity, power and range. To provide you with the tools to be able to heal past and/or present performance or life challenges.
I draw on my reserves of experience with different coaches and my life experience as a singer, musician and songwriter to guide you to your goals. I am committed to my own growth and development and empathise with the challenges we can face when singing and/or expressing ourselves authentically.
---
Teaching Info
I will show you how to breathe and how to produce sound. We will start with an easy scale that applies this. Then we try relevant techniques or tips to strengthen or make the voice production more smooth. From there we will move into working with a song of your choice (nothing too ambitious is required if complete beginner) while I guide you in applying the breathwork and other tips as you are singing. If any blocks come up, we can pause and process. 
I will work with you to find the best way in. We can train you primarily with technique first, or we can work with adding technique to feeling.
I came across a gem when I discovered Natalie. Her knowledge and mastery of the voice has been truly invaluable to me. I have learnt more from Natalie from the mere 6 weeks I have been with her than I have under any other tutelage. Natalie will work on your technical ability if that's what needs to be done. However the thing that sets her apart from others is her ability to work with the whole performer: the confidence to perform, bringing your whole self to a performance, her acute understanding of the individual barriers and blocks and her ability to work on these through integration work in a safe and nurturing space. Natalie pushes you and champions you in equal measure. There is not anyone else out there doing what Natalie does to the standard that she does it. Cannot recommend her highly enough.
Marianne McLoughlin - Actor and Producer
Natalie is a teacher that goes above and beyond what most teachers are capable of. She excels with technical teaching, but what truly makes her stand out is her ability to understand the student's patterns of thinking works. She helps them overcome even their  most unconquerable mental barriers. As an aspiring musician with the greatest insecurity and lack of natural ability with his singing voice, and having gone through various other singing tutors in the past to little success, I was able to bring out the singing capabilities I had always wanted along with the confidence to perform live. All thanks to her ability to empathise and inspire even those who believe in themselves the least. I could not recommend Natalie enough to anyone who wants to overcome their mental blocks to achieve their ambitions - she will not only help you get far as a singer/musician - I was surprised to see other personal aspects of my life improve through her teaching.
Richard Han - Full stack web developer
Natalie is more than a singing coach - she is my music "therapist" who has helped tremendously in shifting underlying emotional blocks that have kept me from realising my singing potential and confidence. Natalie respectfully gets to the heart of who you are and who you could possibly be as a performer and creates a safe space to learn how to sing correctly while making (many) mistakes along the way. Natalie's holistic teaching approach has truly helped me embrace my love of music and song-writing - it's never too late! I'm well into my 40s and I was inspired by Natalie's success in transforming my son's NCEA performance results, to give it a go. I look forward to realising my childhood dream of being a spectacular singer and am so happy to be on this journey with Natalie. 
Ana