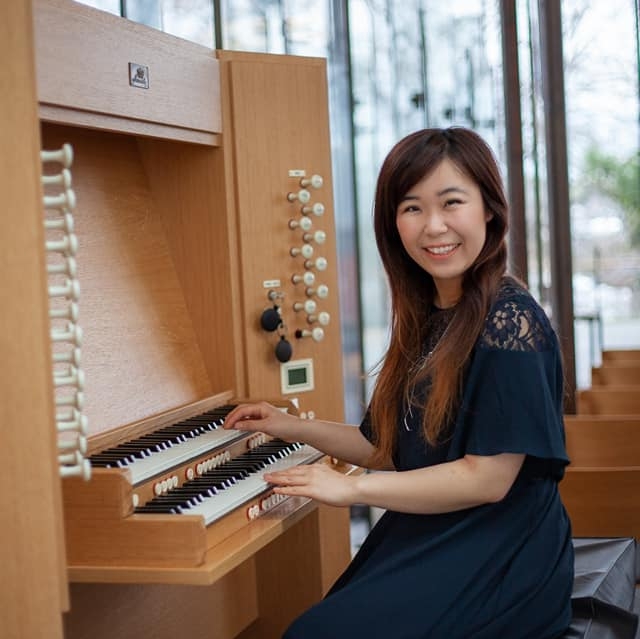 Auckland
Keyboard Lessons, Piano Lessons | Theory Lessons, Online Lessons, Suzuki Music Lessons
---
Qualifications:

ABRSM Grade 8, NZMEB Grade 8, Teaching License both Intermediate and Highschool

Pricing:

30 minute lesson $33, For in-home lessons +$7-20 traveling fee

Styles:

Classical, Pop, Suzuki, Folk, Robert, Waldorf Steiner, Kodaly

Suitability:

From 6 years old
---
Bio
I have been teaching piano since 2016 both privately and public schools. I have been living in Auckland since 2016 after moving here from Osaka, Japan. I am a strong advocate of music education and currently teach students ranging from 3 to 70 years old.
I have taught more than 200 students since then, and I have enjoyed teaching them all, especially complete beginners and intermediate level to build a strong foundation.
I am also enjoying mentoring and training new piano teachers since 2021 as a senior teacher.
I believe the potential of music has a great effect on the learning of all subjects, and has many influences on personal growth and well-being. My hope for all my students is that music will enrich their life, and will be a wonderful way for them to express themselves.
I have a background in classical piano, singing and the Robert Pace Method. Pace is conceived under the philosophy that "Music is the core of all subjects", and part of a holistic education.
Music is a universal language.
I feel my mission is teaching music to contribute to world peace.
​
---
Teaching Info
My teaching philosophy is not just about teaching how to play the piano according to the score, but also understanding the composition of the music.
I would like to help people get to know music which enriches their lives.
The piano is like a small orchestra, it is the basis of all music. So even if people stop piano lessons, they can still enjoy music throughout their lives.
I started piano at the age of 4 and it has been my best friend throughout my life so far.
Music is universal. It is a language which connects people across the world and through time. The piano can help people to express their feelings, and it can also help people when they have a hard time.
So the goal of my music lessons is to show my students how music is full of joy, how it encourages and connects people, and how a life-long love of music helps people's well-being in many ways.
LESSONS
Lessons are held 30 minutes, 45 minutes, and 60 minutes long.
45 and 60 minute lessons are available to be shared between siblings.
Fees are as follows:
30 minute lesson $33
45 minute lesson $50
60 minute lesson $66
20 minute lesson $22
Trial Lesson Fee including consultation:
20minute lesson + around 10 minutes consultation $30
Trial Lesson Fee at your home $40 ($30+$10 traveling fee)
​
LOCATIONS
-Glenfield
– Student's Home
Traveling fee is up to 60 minutes +$7-20(Max)
SUITABILITY
Have ranged from ages 6 to 80+
Students aged 5 and under must be supported by parents and be able to sit in front of the piano for 20 minute periods.
With beginners, I focus on building a strong foundation and understanding, so students can begin to teach themselves.
Students who want to try ABRSM, Trinity Grade exams are welcome.
My students' passing rate is 100%, merit or above.
​Holding Christmas Piano Concert for my private students once a year.
​All lessons are individual and private, and taught in either English or Japanese.
Visit Natsuki Piano Lessons for the further information
https://natsukipianolessons.wixsite.com/website
Natsuki is a wonderful teacher. She always brings kindness and enthusiasm to her lessons, motivating her students and making them feel comfortable, praising little steps and always lifting the mood. Natsuki has a great knowledge of not only classical piano repertoire, but also Celtic folk, Japanese and Western pop, and film soundtracks. It's not often you find someone comfortable in teaching music in two languages at levels from beginner to advanced, but Natsuki brings her kindness and expertise when she teaches in both Japanese and English. Natsuki is a big proponent of holistic education, and she brings her own spin on teaching students technique, reading, theory, listening, singing, being comfortable with different keys, rhythms and styles, all while enjoying and absorbing the music. She brings not only her own Pace Method training but what she has learned from so many teachers, musicians and students together in harmony. I had some great lessons with Natsuki where she taught me more advanced classical musicianship - how to balance phrases, restrain but still pull emotionally with dynamics, and the importance of circular movements in technique. For anyone starting out or continuing to learn at the piano with an interest in Mozart, Altan, Joe Hisaishi or with any pop requests, I thoroughly recommend Natsuki, and I hope many others continue to benefit from her teaching.
C.T,
Thank you for teaching us from May. My daughter learned with another teacher during term 1, but she was crying each time she went to her lesson and wish I stopped those lessons earlier. ​ Thank you for being so kind and diligent throughout your lessons.
M.K.
Thank you for all the efforts to accommodate our daughters during lockdown. Natsuki has been tremendous in catering to the needs of my kids in an online learning environment.
T.W.
Natsuki is a kind and conscientious person with a genuine passion for music education. You can trust Natsuki to be thoroughly ready for her lessons, approach each situation with a positive attitude, and always be willing to go the extra mile for the customer.
From Music School's Manger
I am very satisfied with the lessons. My 8 year old son already knows many things I didn't, and can play with both hands already. His progression was really quick, different from traditional teaching page-by-page. My hope is that my children will enjoy music their whole lives
K.M.
Thank you for making my daughter progress so much despite the lockdown, I am very impressed! Thank you again.
N.S.
Thank you Natsuki! I really appreciate you being there today and helping me. I have a lot to learn from you with how you are so organised!
Trainee teacher after mentoring session
Thank you so much Natsuki!! You have been a wonderful teacher to both kids!!
S.H.
Thank you so much for this and for your help in our zoom meeting. I am excited to see what this year brings and applying the new things I learnt today.
Trainee teacher after mentoring session