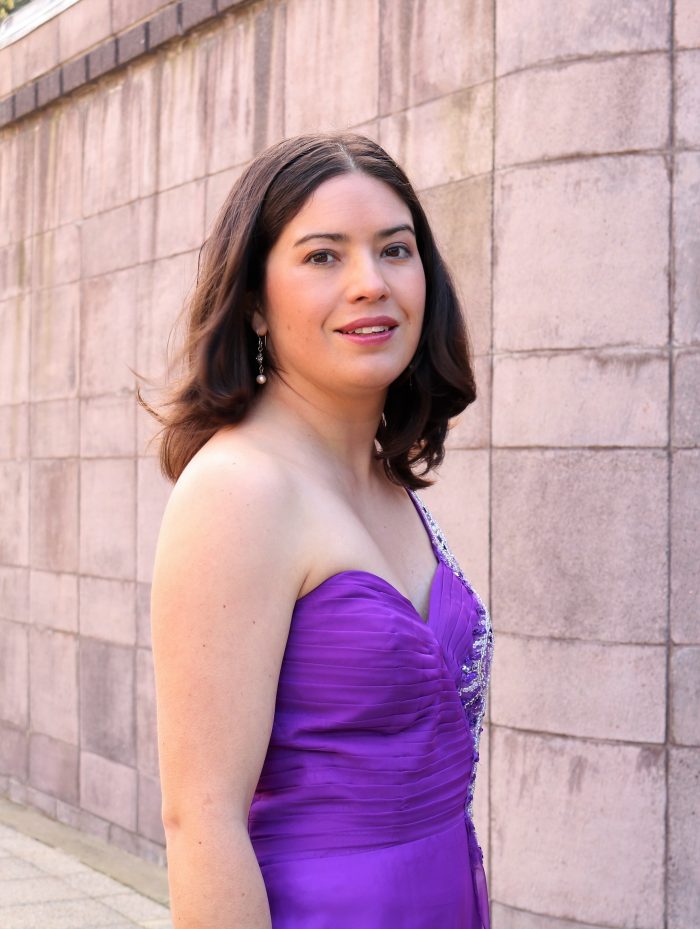 Wellington
Singing Lessons
---
Qualifications:

BMus (Hons) in Performance Voice - Victoria University of Wellington

Pricing:

Consultation lessons: 1 hour - $90; 45 minutes - $75; Student prices: 1 hour - $85; 45 minutes - $70; 30 minutes - $50. Regular pupils paying termly receive a discount.

Styles:

Paloma teaches singers who sing opera/classical music, musical theatre, choral music, folk music, jazz, their own songwriting, indie music, pop and rock.

Suitability:

Paloma teaches both male and female singers from the ages of 12-99 but occasionally takes younger pupils that are especially keen.
---
Bio
Paloma Bruce is a lyric coloratura soprano who teaches in her Brooklyn studio, Wellington, New Zealand. She is a passionate teacher of singing who after many years as a professional singer in NZ and the UK realised her biggest passion was for teaching. Paloma ran The Paloma Bruce Singing Studio in London and The Bristol Voice Studio in Bristol (United Kingdom) where she taught professional recording artists, touring artists, film and television actors, music theatre performers and opera singers, as well as absolute beginners of all ages. Paloma also taught singing at various schools including the prestigious Colston's School in Bristol. Paloma has taken vocal technique and performance workshops at St. Andrews on the Terrace, the Rata Studios School of Music at Scots College Creative & Performing Arts Centre and at the Bristol Acoustic Music Festival at Colston Hall in Bristol, UK.
Paloma has performed leading roles in operas and operettas in both New Zealand and the UK. She has extensive performance experience, having performed solo to audiences of over 100,000, recorded for radio and television, performed pre-match entertainment for international rugby matches and performed solo with world-class orchestras, choirs and even a dixie band! Although initially specialising in classical music/opera, Paloma enjoys singing and teaching a wide variety of music. She regularly attends webinars and researches classical technique and Contemporary Commercial Music (CCM) technique from teachers and pedagogues such as David Jones, Jeannette LoVetri and Dr. Shannon Coates. Paloma is a full member of NEWZATS (NZ Association of Teachers of Singing) and NATS (National Association of Teachers of Singing) in the USA.
---
Teaching Info
The Paloma Bruce Singing Studio offers private singing lessons to professional/experienced singers and absolute beginners. Students study classical vocal technique inspired by the Italian-Swedish school and/or contemporary vocal technique which is adjusted to suit their style of Contemporary Commercial Music.
The PBSS is currently booking singers in for Term 1 2021.
Paloma specialises in helping singers that have technical problems or who have hit a plateau in their development as a singer. Having studied with a variety of teachers and having experienced different techniques and methods of teaching, Paloma is passionate about sharing her knowledge in a way that will help the singer long term. Paloma focuses on teaching her pupils to become masters of their own voices and vocal development. She is interested in helping pupils to feel what they are doing technically and physically, rather than just imitating what they hear, so that they can learn to develop a strong and reliable technique that they trust and enjoy.
Paloma has studied voice with many different teachers and has a compilation of knowledge that encompasses many different styles of teaching. She is passionate about passing on her knowledge, and especially about helping people who have vocal problems. Paloma often helps singers prepare for professional auditions, conservatoire/university auditions and school exams. She has coached many professional singers including opera singers and professional recording artists.
Common problems that Paloma helps singers with include: tongue and jaw tension, confusion over correct posture while singing, confusion over different breathing techniques, problems with clarity of diction, lack of resonance and voice projection. Paloma is very successful in helping people who can't sing in tune, as well as helping experienced singers to use their voice with less tension and more control.  Paloma has successfully helped singers recover from and overcome former technical and health problems such as vocal nodules, polyps and paresis. Paloma helps singers going through hormonal changes including transgender voices.
I can't recommend Paloma [and the BVS] highly enough to anyone who is serious about learning to sing, whatever your level. She has done wonders for my singing technique and confidence; her lessons are relaxed yet informative and positive and I always come away feeling I'm improving. With a little under 2 years of tuition I'm singing things I never dared dream I could sing and have discovered a completely different side to my voice. I'm now attending a coaching course for professional opera singers and have been told (on very high authority) that I must have a great teacher!
Abigail Carpenter, a Soprano accepted to study at the Wales International Academy of Voice
Paloma Bruce is a wonderful teacher whose passion for music is only rivaled by her passion for teaching. Her lessons are always the highlight of my week, and during our time together she has helped me to reach vocal achievements far beyond anything I could have hoped for when I first started singing. Paloma's contagious enthusiasm and extraordinary teaching has taken what was at best a nice hobby and transformed it into a very real chance at a singing career. Lessons with Paloma are always a joy; her warm and friendly nature will put even the most timid students at ease. I full-heartedly recommend Paloma to anyone wanting to learn safe and healthy vocal technique, or anyone wanting to take their current technique to the next level. Start taking lessons from Paloma; I guarantee you wont regret it!
Daniel Upchurch, a tenor who was accepted to study at the Royal Northern College of Music in the UK
Paloma is a class act. I have known her for about thirteen years now, and I have watched her transform from a top singer and performer with a world-class career and voice into a wonderful teacher. We kiwis are now very fortunate to have her back on our shores, where we can benefit from her knowledge and years of experience. She has also gained an international perspective and had the opportunity to work with top coaches during her time in the UK and US and she can bring that perspective back to New Zealand. She comes highly qualified, having studied with Honours at the New Zealand School of Music and then going on to train at the Royal College of Music in London. I consider myself extremely fortunate to know Paloma. She made me feel welcome in her studio and her home. I had just arrived back in New Zealand after some time overseas, and she displayed a genuine interest in me as a person and performer. I was offered a scholarship, which made such a difference as a poor student at the time. I had a serious vocal injury, and after working with Paloma on breathing and release, I found the situation improved after the first lesson. From that point, every experience in her studio was a delight, and a wonderful learning experience. She helped me to discover my true, free instrument. It's not an understatement to say I would not be singing today without her. Even as I have moved cities now, she continues to take an active interest in my career and performing, offering input and encouragement. She is a wonderful teacher and exceptional person.
Rosel - who is chasing her dreams in New York City.