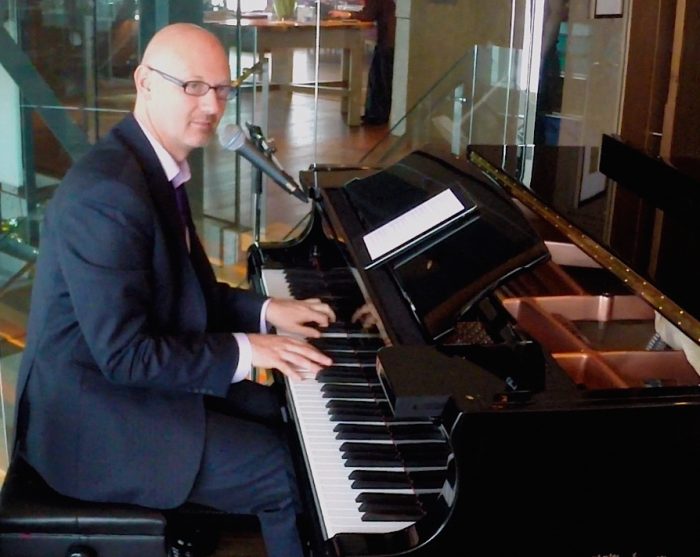 Hamilton
Piano Lessons | Keyboard Lessons | Artist development, Aural Lessons, Ensemble Coaching, Song Writing Workshops, Theory Lessons, Composition Lessons, Jazz Improvisation Lessons, NCEA Music Tutoring, Online Lessons
---
Qualifications:

Dip.Teach, B.Mus, B.Sc, Dip. ABRSM (Jazz Teach), IRMTNZ.

Pricing:

$45/Half hr. Jazz/Improv: $100/100mins, Discount for booking 6hr 'block'; schedule as req!

Styles:

ALL! Pop/Rock, Funk, Classical, Latin, Blues, Exam Prep (Trinity & NCEA), Uni Entr. Prep. JAZZ SPECIALIST.

Suitability:

7+ ALL LEVELS: Pno, Keyboards, Pno/Vocal, Jazz, Exam Prep .
---
Bio
HI!     Now Based in Hamilton! Relocated! Taking on only few students!

  In 2016, after performing abroad for 14 years, I returned to Wellington to develop my earlier teaching career (1996 – 2002).  With 13 years teaching experience & 20+ years performance experience, it is great to be reconnected in Wellington & its creative music community!
FUN FUN FUN!      All music leaning must be Fun! – and cater to students individual needs. Be it playing a few songs, OR, following a long-term path to understanding melody, harmony and rhythm well;  – I aim to encourage students to direct and develop their own musical journey, while foster good technical skills and habits that promote creative musical enquiry.
LOCATED   HAMILTON CENTRAL I have a passion teaching music and have over 20 years developed skills to teach most styles at my home studio:   This includes:  1. Beginners keyboards & piano. (Parents always welcome!)  2. All popular music style lessons, 3. Trinity classical exam preparation.  3. Jazz piano, theory & improvisation specialist. 4. Singing & Piano Playing Lessons, 5. NCEA preparation & Massey & Victoria University music entrance preparation. Secondary teacher training, has also given proficiency in structuring lessons & in unit planning, Furthermore, necessary skills in determining & achieving the specific learning needs of each student.
In addition to my private teaching practice; I also currently teach at:  1.  St Patrick's & Taita Colleges. (Piano, Keyboard & Band ensembles).   2. Wellington Music Centre. (Saturday children's beginners keyboard lessons).  3. Adult Community Education (WHSCEC).   (References & Referees Available).
SCHEDULE  LESSONS  AS  YOU  LIKE!       Everyone's requirements and busy life schedules are different!   Young students often prefer regular weekly half hour lessons, whilst adults may prefer "flexible" fortnightly lessons for an hour or more. Happy to discuss your requirements and specific musical goals. Discounted first lesson to see how you find it!   Block bookings recommended thereafter. (Eg 12 x 30min OR 6 x 1 hr OR 4 X 1.5 hr lessons). Please call or email to chat about your specific musical requirements!
For 2021 enquiries:  Please email if inquiring prior to 28 Jan – as overseas prior.
TEACHING  & PERFORMANCE  EXPERIENCE      From 1996 – 2002 – Pieter built a strong reputation as both a performer & teacher in Wellington. Teaching included itinerant music at various secondary schools, high schools jazz workshops tutor, tutor for technics music academy, and keyboard tutor at Raroa music centre. (See Website for further earlier teaching detail).  During these early years; – Pieter also performed regularly in the Wellington scene, with many past & current members from now well established NZ bands. (Shapeshifter, Trinity Roots, Fat Freddys Drop, Black Seeds, Phoenix Foundation).
In 2002 Pieter headed abroad for further performance experience in the cruise and hotel industry. Here he gained skills performing many musical genres in large & small ensembles; and as a solo pianist/vocalist.  This included residencies with Hyatt, Sheraton and Shilla Hotels – in Asia & South America.  From 2011 – 2015  Pieter performed as piano/vocal entertainer for Hyatt Hotels in South Korea.
Pieter's broad experience, coupled with strong technique and theory knowledge of harmony & improvisation, has allowed a unique versatile performance ability. This has given Pieter competency to teach a range of styles – Popular, Rock, Jazz, Blues, Funk,  to Easy Listening & Classical Music to all ages with lads of enthusiasm!
QUALIFICATIONS
Classical Piano to Grade 7; Commenced Jazz Studies age 17.
2000:   B.Mus. (Jazz Piano Perf).              B.Sc  (1996)
2001:    Post Graduate Diploma Teaching  (Secondary Music Teaching).
2000:   ABRSM Dip. Jazz Teach. (Scholarship, London) Jazz teaching.
2016:    Seconday Teachers Refresher Cert. (NZ Teachers Council. 205899).
---
Teaching Info
LESSONS CONTAIN:   Fun Repertoire! (Chosen by students), Ear Training, Sight Reading & Musicianship. All students learn fundamental technical aspects & theoretical principles (ie harmonic, chord-scale relationships) using classical and/or jazz principles.  Subsequent lessons build on these, for music reading interpretation, theory & music for use in composition &  improvisation.
Beginners  &  Children:  Often require a little more guidance and direction. My primary goal is to foster a lifetime of musical enjoyment in young students! I believe the key to teaching music to children is loads of enthusiasm & energy!  Individual piano & keyboard classes start around 7 upward and are interactive parents welcome.  Along with learning fun, personally chosen songs, children & beginners develop strong reading & listening skills and some basic creative skills
Specialty Jazz, Blues, Pop lessons:  Focus on different musical styles, history and advanced harmony, (chord-scale relationship for reading & improvisation).  You will learn to compose & improvise simple tunes & ideas; and, interpret & play from 'leadsheets' (chords, bass & melody). These classes are often for those with a few years of understanding of piano.  After a series of lessons students gain the skills to play, interpret  popular & jazz tunes on their own.     All enquiries welcome!

Please call or email to chat about your specific musical requirements!  
Ph: 021 2056473   pjbosman@hotmail.com      www.pieterbosmusic.co.nz
For 2021 enquiries:  Please email if inquiring prior to 28 Jan – as overseas prior.
Thanks for reading.    
Please see attached Testimonial from Parents
"I have learnt lots in the last two years. Pieter teaches me in a way that is easy for me to understand and I look forward to and enjoy my lessons. Pieter teaches with humour. He teaches me hard things that he makes easy to learn and I love learning new pieces". Arabella Marks, aged 11 Pieter Bos has been teaching my daughter Arabella (11) for 2 years & Fergus (8yrs) for over 1 year. In this time both have made great progress. Pieter chooses pieces that not only challenge our children but also have enormous appeal to there differing ages. Pieter is very patient, good fun and always encouraging. He is easy to communicate with and can be flexible when we need to make changes to lesson times. Pieter always conveys any assessment information and intended outcomes clearly to us. Louisa Marks louandgus@gmail.com
Arabella Marks & Parents
Please see attached Testimonial below.
Olivia & Jane Knackstedt