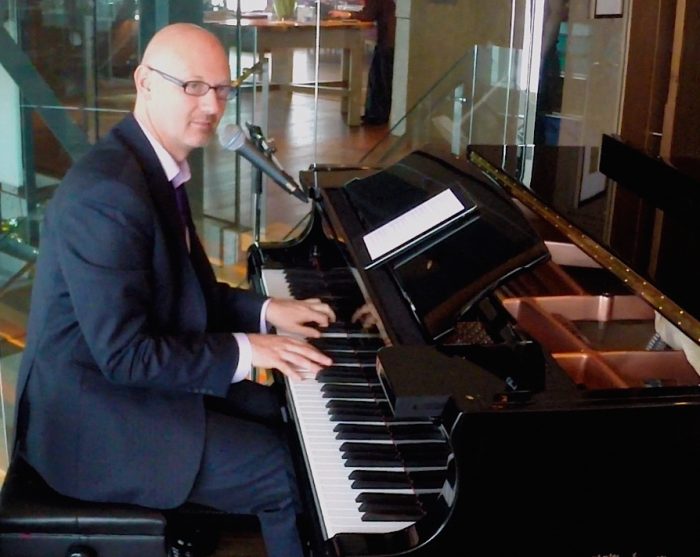 Wellington
Piano Lessons | Keyboard Lessons | Artist development, Aural Lessons, Ensemble Coaching, Song Writing Workshops, Theory Lessons, Composition Lessons, Jazz Improvisation Lessons, NCEA Music Tutoring, Online Lessons
---
Qualifications:

P.G.Dip.Teach, B.Mus; Adv. Dip Jazz; Dip.ABRSM; B.Sc, IRMT(Member).

Pricing:

Beginners / Intermediate 10 x 30min - $350. Jazz & Improv Lessons: $70/hr OR 6 Hrs: $400.(sched as desired); OR 1.5hrs (intensive) $90.

Styles:

ALL STYLES! Classical, Pop. Jazz, Blues, Pop, Rock. Specialist in Jazz & Improv/Creative Music.

Suitability:

All Ages, Levels, Styles! Children & Adults Welcome! Keyboard, Piano, Jazz, NCEA. Call to discuss your specific needs! (NB Please email, commencing after 6 Feb 2020, Abroad prior)
---
Bio
KIA  ORA!    In late 2015, I returned to Wellington, after living abroad performing & traveling with music for 12 years prior! Now, having re-established my earlier 8 year teaching career (from 1996 – 2004) – it is fantastic to be reconnected these last three years in Wellington & its creative music community! I am eager & passionate to continue sharing my 13 years teaching experience & over 20 years performance experience! – in Piano Keyboard Jazz & Music.! Based in Mt Cook, Wellington, I specialize in piano/keyboard, jazz/improvisation & popular music education – for ALL ages & abilities.  I have secondary teachers music training so also familiar with NCEA, lesson/unit planning and structure; & understanding the differing needs of each student.  Currently, in addition to my private practice; I teach itinerant piano at secondary schools, saturday morning children's keyboard classes, & continuing adult education music classes. References & Referees Available. Long Term Discount available. Ph:  021 2056473  Also see:   http://www.pieterbosmusic.co.nz/   Email:   pjbosman@hotmail.com
(NB Please email, for 2020 enquiries commencing after 6 Feb 2020, as abroad prior)
FUN FUN FUN!    All music lessons must be FUN! – and meet the individual needs of each student. Be it learning to play a few simple songs, OR, follow a long-term path, – understanding melody, harmony and rhythm fully;  – I aim to encourage students to direct their own learning; – and foster good habits, technical skills that promote creative musical enquiry. I like to go the extra mile to ensure each student can develop musically on their own, and direct their own musical journey!.                        
UP  TO  YOU!  – HOW  YOU'D  LIKE  LESSONS  SCHEDULED!  I understand every-ones requirements (and busy life schedules!) are different! Young students often prefer regular weekly half hour lessons, whilst adults/jazz students may prefer "flexible" fortnightly/monthly lessons for an hour or more. Happy to chat & discuss what you require & requested learning outcomes, specific skills. Please request discounted introductory first lesson with mention of nzmusicteachers website – to see how lessons work!. No obligation to continue. Block bookings preferred thereafter – for total of 5 hours. (Either 10 x 30min lessons OR 5 x 1 hrs lessons) – so I can tailor make your series of lessons – just for you!  Please feel free to call & chat about your musical requirements.  Pieter Bos.  
Ph: 021 2056473   pjbosman@hotmail.com   www.pieterbosmusic.co.nz
QUALIFICATIONS:
Classical Piano from 7 years. -Grade 7; Commenced Jazz Studies age 17.
1999: B.Mus. (Jazz Piano).
2000: Post Graduate Diploma Teaching  (Secondary Music Teaching).
2000: ABRSM Dip. Jazz Teach. (Scholarship, London) Jazz teaching and performance techniques.
2016:  Sec. Teachers Refresher Cert. (NZ Teachers Council # 205899).
1995:  B.Sc  (Psychology, Physiology).
TEACHING EXPERIENCE:  Before heading overseas in 2004 to perform; – from 1995 – 2004, Pieter built a strong reputation as a successful Piano teacher in Wellington. Teaching Itinerant music at over 16 schools; – Pieter taught Piano & Keyboard & specialist Jazz Education; – to individuals & groups of all ages & abilities. Pieter is equally skilled & passionate at teaching beginners keyboards as he is for his specialty of Jazz Piano, advanced theory, improvisation, NCEA and mentoring Jazz & Contemporary Music Bands (References & Referees available)

Children & Beginners:   Currently: Wellington Music Center (Saturday Mornings).  1996 – 2004:  Technics Music Academy, Raroa Music School, Hutt Intermediate Keyboard, Newlands Intermediate, Island Bay Music School, Wellesley Collegiate, Private Practice.
Secondary Schools:  Currently:  St Patricks College, Silverstream (Piano Tutor 2 Days per week). 1996 – 2004:  Scots, Petone, Onlsow, Naenae, Bishop Viard, Porirua, Sacred Heart, Rongotai, St Patricks Colleges.
Tertiary/Adults:  Currently:  Wellington High School – Adult Community Education.  Preparing students for Massey & Victoria University music degrees. 1996 – 2004: National High Schools Jazz Workshop (2000, 2001, 2002, 2008, 2011). 2008: Massey University Tutor: Jazz combos and latin ensembles.
PERFORMANCE  EXPERIENCE:  Since 1997 Pieter has worked extensively as a pianist, keyboardist & vocalist in bands, large ensembles and leading trios & quartets. This, along with strong technique and sound knowledge of theory, harmony & improvisation; – has enabled him to develop a unique creative performance style. This versatility & skill has enabled Pieter to teach all styles of music -Popular, Rock, Jazz, Blues, Funk, – to Easy Listening & Classical Music.  International  Performance Experience includes piano & vocal residencies with Hyatt, Sheraton and Shilla Hotels – in South Korea, Argentina, & Japan. From 2011 – 2014  Pieter lived & performed as piano/vocal entertainer in South Korea. Prior, from 2004 – 2010 – he travelled the globe, performing in most musical genres & capacities, for many cruise lines.
---
Teaching Info
FUN  FUN  FUN!    All music lessons should be Fun! & serve the individual needs of each student. Be it learning to play a few songs of choice, or follow a long-term path;  – I aim to encourage students to direct their own learning; – and foster good habits & technical skills that will encourage further creative musical enquiry.   In all lessons – Repertoire, Ear training, Sight Reading & Musicianship is taught. Irrespective of age & ability, – in all lessons students will learn fundamental technical aspects and theoretical (harmonic, chord-scale relationships) – principles using both classical and jazz teaching methods. These are built upon in subsequent lessons to be used in music reading, theory & understanding & use in improvisation.
Beginners  &  Children:  Of course require a little more guidance and direction. My primary goal is to foster a lifetime of musical enjoyment in young students! I believe the key to teaching music to children is loads! of enthusiasm & energy!  Individual piano & keyboard classes start around age 7 upward and are very interactive. Along with learning fun, personally chosen – songs, children & beginners will develop strong reading & listening skills and some basic creative skills.
Specialty Jazz, Blues, Pop lessons:  Focus on different musical styles, history and more advanced concepts of harmony, (chord-scale relationship for chart reading & improvisation).  You will be able to compose & improvise simple tunes & ideas. As well, & read, interpret & play "leadsheets" of popular or jazz songs (chords & melody). Classes are often for those with a few years of basic understanding of piano. After a series of lessons students will have the  tools to play interpret & self direct their own learning of songs.               Please feel free to call & chat!  Thanks for reading! PieterBos              Ph: 0212056473       www.pieterbosmusic.co.nz
Please see attached Testimonial from Parents
"I have learnt lots in the last two years. Pieter teaches me in a way that is easy for me to understand and I look forward to and enjoy my lessons. Pieter teaches with humour. He teaches me hard things that he makes easy to learn and I love learning new pieces". Arabella Marks, aged 11 Pieter Bos has been teaching my daughter Arabella (11) for 2 years & Fergus (8yrs) for over 1 year. In this time both have made great progress. Pieter chooses pieces that not only challenge our children but also have enormous appeal to there differing ages. Pieter is very patient, good fun and always encouraging. He is easy to communicate with and can be flexible when we need to make changes to lesson times. Pieter always conveys any assessment information and intended outcomes clearly to us. Louisa Marks louandgus@gmail.com
Arabella Marks & Parents
Please see attached Testimonial below.
Olivia & Jane Knackstedt