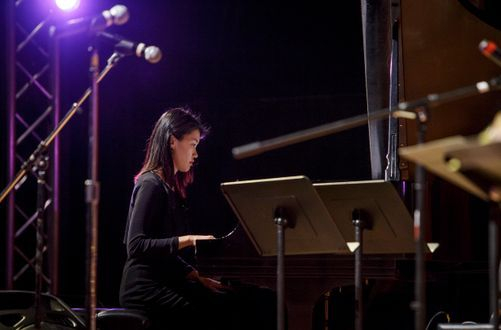 Dunedin
Piano Lessons
---
Qualifications:

New York University, M.M. (Piano performance)

Pricing:

The first lesson is complimentary consultation lesson with no obligation.

Styles:

Classical, Jazz, Pop, Gospel, Music Theory, Ear Training etc

Suitability:

All levels
---
Bio
I received Masters of Music degree in Piano Performance from New York University on scholarship. I worked as Adjunct Professor and Collaborative Pianist in three different Universities for 8 years in the USA.
My students received admissions from University of Victoria, University of Otago in New Zealand and UCO (graduate program as a piano performance major) in America. Also, my students won competitions from Taiwan and American College of Musicians (National Guild of Piano Teachers) in the USA.
There are over 100 performance videos on my website below. Please visit www.rachelcho.webs.com for further information.
---
Teaching Info
I create curricula for individual students according to their interests and goals. My teaching includes the following : Classical Piano, Jazz Piano, Music Theory & Ear Training etc.
I am the Piano Division Head at the UCO. We had the honor of having Rachel Cho on our faculty over the period of 2015 through 2019. Professor Cho served as adjunct professor where she collaborated with three different choirs, couched instrumentalists and singers, taught class piano and gave applied lessons. She proved a valuable, congenial and professional member of our faculty.
Sallie P.
"My children have been taking piano lessons from Rachel Cho for 4 years. I was so inspired by her instructional style that I decided to also take up piano lessons from her. She taught me a whole new way of understanding music that I wished I had learned 30 years ago. She is wonderful with the children and keeps the process of learning fun and fresh. Although she teaches classical style piano lessons, she also emphasizes music composition, memorization of their musical repertoire, ear training of popular music and stage manners. She has a very natural ability to gauge when to push the children to try harder and when to change up the learning style to meet their emotional needs at the time. My children have learned so much from her and she has made learning how to play the piano such a positive experience."
Kahla M.
"When my daughter asked me if she could begin piano lessons again after a 3 years break, I was hesitant and unsure. She was not always eager to practice and I was concerned about re-investing in an activity that was going to be done half-heartedly. How surprised and elated I am with her remarkable progress after only two years of lessons with Rachel. I knew from our very first visit that we had found the right teacher for our daughter. She was flexible in her approach and willing to listen to our daughters' likes and dislikes which meant she was playing pieces that truly resonated with her musical taste. Listening to her play, you would think she has been a pianist all her life. Thank you Rachel for harmoniously putting my daughter on her musical path and for allowing her to express her creativity through the piano."
Hadia M.
"Mrs. Rachel Cho is one of the most accomplished piano teachers and it is such a privilege to be able to train under her. My son and I both take piano lessons from Mrs. Cho and we have continued to progress and develop our skills under her careful guidance. But the most wonderful aspect of our teacher is the joy, kindness and patience she brings to each lesson. Neither of us would ever wish to miss a lesson."
Evelyna S.
"My two children, ages 9 and 11, have been taking piano lessons with Rachel for the past three years. I have been amazed at how much they have learned! Rachel has done a great job motivating them to love playing piano. She is patient and understanding with children, yet firm and encourages them to be disciplined in their practices. Not only is she an amazing pianist, but also a great piano teacher!"
Ana L.
"Rachel Cho is an amazing pianist and instructor. She encouraged me to play the music I loved but also stretched me beyond my comfort zone. I was astounded at the progress I made in only a few months of working with her. I was experienced in classical piano, but she took me to the next level. Plus, she gave me a very firm footing in jazz and composition, two areas where I really wanted to grow. A lesson with Rachel is always time well spent."
Michelle C.
"Rachel Cho's teaching is fantastic because it is clear to understand and she makes sure everything is correct before the end of the lesson. She encourages students to perform in public and build skills like getting over stage fright. She tries to make students feel that they have the chance to be a great musicians and a performers. In two semesters she has taken my piano playing to a new level. She recognized my strengths and was able to build on it. Now I am becoming a really good jazz pianist and I owe it to Mrs. Cho. She is a fantastic pianist and teacher and I can't say enough about her. I'm just glad to have had the opportunity to learn from her."
James J.