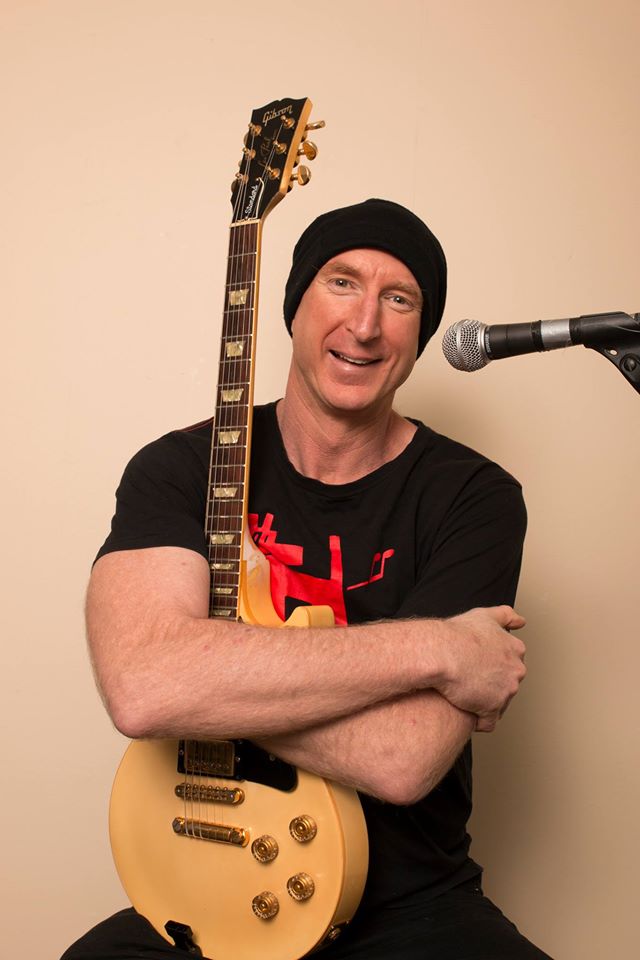 Auckland
Guitar Lessons | Artist development, Aural Lessons, Song Writing Workshops, Theory Lessons, Composition Lessons, Online Lessons
---
Qualifications:

20 years coaching and performing experience. My back ground is in learning and development, and became fascinated with the incredible performance results that can be achieved through using neurological reprogramming techniques. These same NLP type techniques are used by successful athletes and movie stars and musicians to achieve their full performance potential. I was ten years old when i started coaching, my younger sister to develop her goal keeping skills to be selected for her soccer team at primary school. That initial coaching experience has sparked a life long enjoyment of helping other people to achieve their performance skills and realise their guitar playing ambitions!

Pricing:

Refer to my website, www.rapidguitarresults.com

Styles:

Styles, Pop, Rock, Blues, Metal, Country, and more !

Suitability:

All ages children from 12 years old through to adults my oldest student is 65 years young! Any one want to beat that record!!!
---
Bio
Hi my name is Paule.
I am a singer + songwriter + guitar player. With twenty years experience as a music performance coach delivering face to face and online coaching.
I have a back ground in learning and development that has provided me with the opportunity, to create my own unique music coaching version of  Neuro Logical reprogramming tools. My "Rapid Guitar Results" NLP brain training tools, will help reduce the time it takes you to learn how to play guitar and or supercharge your current guitar performance abilities!
I was always drawn to music from a young age.
I have been playing guitar and singing now for over twenty years.
I have performed in America, New Zealand and Australia as a singer songwriter guitarist.
Like most of you that have found my Rapid Guitar Results profile.
I had always wanted to learn how to play guitar.
I was always in awe of how, a great guitar player makes everything they do look so easy, smooth and effortless.
Sadly, that was never my experience!
When i began playing guitar everything felt like it was a struggle, to make my fingers move where i wanted them to go on the guitar neck etc.
It was a mission to remember the chord  progressions from my favourite songs.
I found it difficult to smoothly change between chords, there was a lot of guitar frustration when i was learning to play!
I found i got confused trying to remember the various types of chord shapes, scales and arpeggios.
Initially music theory  made no sense to me!
I kept having to learn the same things again and again but they just wouldn't stick in my mind in a confident permanent way!
I knew i was missing fundamental learning  skills that i had needed to develop correctly at day one that would have made learning to play the guitar so much easier!
These missing fundamental learning skills would have, supercharged my guitar playing abilities and significantly made it easier to memorise and recall the basic music theory, that i needed to follow so i could make rapid musical progress on the guitar.​
I guess you can say I paid a high price, in those early years, trying to save a few bucks by teaching myself Ha,ha.
Now, this part is all about you!  Getting started on guitar is  exciting!
Buying your first guitar is the easy part.
But if you've never played guitar before.
There are some really important basic music theory and guitar motion mechanic co-ordinations, that you need to learn correctly from day one!
​
How you learn is equally as important as what you learn.
But the most important factor in helping you to reduce the time it takes you to become confident on the guitar, is that you must use the brains preferred learning style. Using your brains preferred learning will not only make it faster and easier to learn new guitar motion mechanic co-ordinations and musical theory concepts, it will enable you to be able to effortlessly recall this new learning while your playing guitar!
​
I have a back ground in learning and development and I have researched and mastered some of the worlds most effective memorisation and learning and development techniques to help make it easier for you to remember what you learn and be able to recall the learning when you need to apply it to your guitar playing, to make your guitar playing fun and sound musical from the first day you begin coaching with me.
You also need to understand the importance of executing the correct fretting and strumming co-ordinations from day one!
Practice dosent make perfect it makes Permanent!
I am proud to say that i have developed a complete guitar learning method that has been specially designed with the beginner guitarist in mind.
I can literally help you save days weeks months years of guitar frustration.
My job is to provide the specialist coaching instruction to help you develop the correct guitar motion mechanics and picking and fretting hand co-ordinations, over the first thirty,sixty and ninety days and beyond on  your new learning path.
I will teach you to use highly effective memorisation skills to make it easier to memorise and recall the basic music theory and practical guitar skills, that provide you with the guide lines, to make beautiful music and sound like a confident guitarist.
The most important component to reducing the time it takes you to become a confident guitar player and make it easier for you to be able to play along to your favourite songs or re-create the music ideas you hear in your head (especially if your a potential songwriter) is to learn how to utilize your brains preferred method for learning and use this streamlined method for learning new skills on the guitar from day one!
There are multiple benefits to be gained for any beginner /intermediate /or advanced guitarist that is able to utilise their brains preferred method for learning!
A. Learn at a faster pace.
B. Improved ability to memorise new concepts.
C. Guitar motion mechanic actions picking and fretting hand co-ordinations improve at a faster rate.
D. Improved ability to recall these concepts and apply them through practical application.
How do you learn to utilise the brains preferred learning method to make learning guitar easier?
Answer= understand the importance of choosing the the right kind of guitar coach from day one, thats right I said coach not teacher.
You see i have met loads of guitar teachers (including famous guitar teachers and hot shot players) that know all their music theory but struggle to make it accessible and easy to understand for a beginner.
The difference, between a good coach and any kind of traditional teacher is like night and day. A teachers main responsibility is to pass on the need to know information and or techniques that make up a new skill.
What the student dose with that information is not the teachers concern because the teacher is primarily a human knowledge dispenser.
A coach's first focus is about how to help you improve your ability to master your new skill, because a coaches core objective is to improve your performance ability levels.
Thats where i can literally help save you days weeks, months , even years of guitar frustration.
At Rapid Guitar Results.
I provide customised guitar coaching.
I will adapt to your learning style, the first thirty to sixty to ninety days, etc are the most important time periods in your learning path for any beginner guitarist.
It stands to reason if you develop the correct playing co-ordinations  from day one, your playing will progress rapidly and you will significantly reduce the time it takes to learn the fundamentals of how to play confident guitar.
​
I specialise in coaching students of all ages that may have, diagnosed or previously un-diagnosed learning challenges.
​
ie students that find it hard to train their brains and their bodies to master new skills. Usually experience some kind of cognitive learning challenge.
​
Examples of learning challenges can and include the following:
​
A. Poor physical co-ordination
B. Difficulties with memorising new concepts or information.
C. Maths is the bully and beats you up and steals your lunch money.
D. ADD
(Attention Deficit Disorder) Poor focus or short attention span etc.
E. Aspergers or mild forms of autisim.
F. Depression, or anxiety.
I also coach loads of people that dont have any learning challenges and they are constantly amazed at how fast they learn when they are using the brains preferred learning style, and how using the Rapid Guitar Results, learning method makes it easier to recall newly acquired music knowledge and new motor skill actions with less effort.​
In the first thirty to sixty to ninety days and beyond, I will help you develop effective guitar motion mechanics and playing co-ordinations that will provide you with a life time of guitar playing pleasure. I will introduce you to basic music theory.
Basic music theory, is just a set of handy guide lines to make your playing sound musical from day one! It also lets you play with other musicians because your all following the same set of musical rules and guides.
We will also start training your ear from day one to help you identify and recognize the need to know guide tones in music to help you follow and construct melody and harmony etc.
i can literally help save you, days, weeks, months, years of guitar frustration and help pave the way for you to enjoy, years of confident guitar playing pleasure!
---
Teaching Info
Each session is customised to your current level of guitar playing ability and your coaching needs ie.
Your first coaching session with me is called your Rapid Guitar Results diagnostic session. During this session we quickly identify which guitar co ordinations (motion mechanic movements) you ve developed that produce your current level of guitar playing dexterity both in your picking and fretting hands etc
During this session we will identify any unhealthy fretting or picking motion mechanics that are actually acting as literal handbrakes that are preventing you from been able to move around your guitar more freely and easily. (I can literally save you days ,weeks, months years of guitar playing frustration). and fast track you to experience Rapid Guitar playing improvements!
We will establish your current level of musical understanding (music theory) and fill in the gaps so you can easily understand why certain chords and notes work so well together for soloing or song construction etc.
Ear training, learn how to hear what you play before you play it just like the pros do!
Each session my students receive Session summary mp3 recordings and A4 session pages as appropriate.
Elizsha Watson Auckland, New Zealand I ALWAYS WANTED TO LEARN PLAY GUITAR. BUT WITH ALL THE FREE AND PAID, COACHING CONTENT AVAILABLE ON THE INTERNET I FELT OVER WHELMED. I MEAN WHAT DO I PRACTICE FIRST? PAULE AND HIS RAPID GUITAR RESULTS WAS AWESOME. PAULE CREATED A CUSTOMISED STRUCTURED APPROACH TO LEARNING MUSIC THEORY AND HOW IT RELATES TO THE GUITAR AND THE EAR TRAINING WAS FUN AND I WAS AMAZED THAT I COULD LEARN SO MUCH AND MORE IMPORTANTLY REMEMBER IT AND APPLY IT TO MY GUITAR PLAYING SO QUICKLY. PAULE MADE SURE THAT I HAD A GREAT GRASP OF THE FUNDAMENTALS I LEARNT AT MY OWN PACE AND FELT LIKE EVERY SESSION I MADE A RAPID GUITAR IMPROVEMENT. " THE 90 DAY PROGRAMME WAS EXCELLENT VALUE AND IS WELL WORTH A GO! THANKS PAULE!
Elizsha Watson
MARK WATSON Beginner guitarist Paule makes learning the guitar fun. When i first started taking lessons i was having trouble making smooth changes between chords (i was getting a sore neck all the time from constantly looking down at my fret board), Paule showed me lots of cool exercises to develop the correct muscle memory's for playing rhythm guitar and now after three months of coaching i can sing and play guitar and change chords without having to look down at my guitar all the time. Rapid Guitar Results you bet!
MARK WATSON
MATT SHARP Singer guitarist / (Black Sheep)) covers band. I am a singer song writer, that always wanted to learn to play guitar, i am 40 years old and my band wanted me to play acoustic guitar at our gigs to fatten up our sound. Paule was excellent at been able to teach an absolute beginner like me the basics of how to play guitar and made it easy and fun to learn! Each session felt like i came away with a measurable guitar improvement the 90 day programme was great value! Thanks Paule and Rapid Guitar Results.
MATT SHARP
SARAH PEARCE Singer song writer/ guitarist (solo artist) 17years old I needed a coach that could help me write better songs and brush up on my guitar playing skills. I do a-lot of busking and perform at open mic nights, I was struggling with my songs to find the missing chords to make my song arrangement's sound complete. Paule helped me a lot by helping me to train my ear to recognize the right notes to play over a chord and after three months of ear training i can find the right chords for my sings much more easily. Thanks Rapid Guitar Results!
SARAH PEARCE