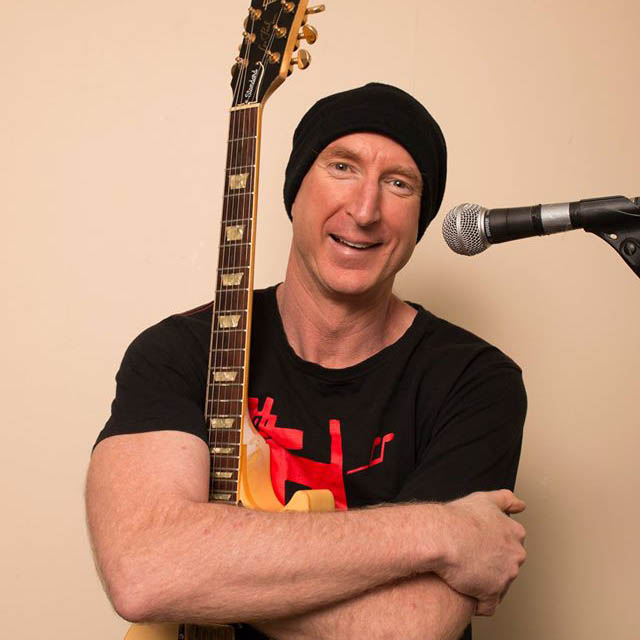 Auckland
Guitar Lessons | Artist development, Aural Lessons, Song Writing Workshops, Theory Lessons, Composition Lessons, NCEA Music Tutoring, Online Lessons, Posture for Singers and Instrumentalists
---
Qualifications: 20+ years coaching and performing experience. It's important that a coach is able to demonstrate what they're trying to teach.

My background is in learning and development, and I was ten years old when I started coaching my younger sister to develop her goalkeeping skills to be selected for her soccer team at primary school.

That initial coaching experience has sparked a lifelong enjoyment of helping other people to achieve their performance goals and realise their guitar-playing ambitions!
Pricing:

I offer a range of coaching options and packages to suit your budget. Please see rapidguitarresults.com for details.

Styles:

Paule coaches all styles, specialising in rock, pop, blues, metal, country, and more for both bands and solo artists.

Suitability:

I teach beginners and intermediate guitar players that want to overcome bad habits or prevent them from happening in the first place. My oldest student is 65 years young! Every coaching session is customised specifically to the needs of my client and their immediate goals.
---
Bio
Hi, I'm Paule
I had always wanted to learn how to play guitar. I was always in awe of how a great guitar player makes everything they do look so easy, smooth and effortless.
That was never my experience! When I began playing guitar everything felt like it was a struggle to make my fingers move, or make them go where I wanted them to on the guitar neck. It was a mission to be able to clearly play the chords from my favourite songs.
I kept having to learn the same things over again and again. I knew I was missing fundamental learning skills that I should have learned on day one.
These missing fundamentals would have supercharged my guitar playing abilities and made it significantly easier to memorise and recall basic music theory that I needed to follow so that I could make rapid musical progress on the guitar.
I have now been playing guitar and singing for over 20 years, and have performed as a singer songwriter guitarist in America, Australia and New Zealand.
I am proud to say that I have developed a complete guitar learning method that has been specifically designed with the beginner guitarist in mind. I can teach you all of the things that I wish I'd known when I started playing the guitar.
I've been through it all and tried everything when it comes to learning guitar. I can literally help save you days, weeks, months and years of guitar frustration!
---
Teaching Info
I have been actively involved in coaching for over twenty years.
I started playing guitar at 15 years old.
I went through a bunch of guitar teachers that just didn't work for me. I found that many guitar teachers are just entirely too serious and way too intellectual in their teaching approach.
I was trying to find that elusive combination of guitar genius, and a coach with a solid understanding of how to make learning fun and effective.
I'm talking about the mythical search for the holy grail of guitar instruction.
Some teachers were good at playing but really lacked the skill at been able to explain what they were doing on the fret board. Others talked about music theory, but weren't great players themselves.
Some teachers acted like it was my job to fit their learning style. I won't even begin to tell you how badly that stunted my learning progress!
I work hard to match my students learning style and learning pace.
I identify my students' unique learning challenges (when they come up) and I adapt my coaching approach accordingly!
In short, I learned how to be a awesome effective guitar coach, mentor and motivator for my students by simply becoming the coach that I had always wanted when I first started to learn how to play guitar.
RGR learning and development
I started coaching at ten years old! I discovered the joys of coaching, literally at ten years of age, when I first started teaching my younger sister how to be a soccer goal keeper (she was trying out for her primary school team).
I discovered that I was born with the skills to develop effective systems and methodologies to make learning effective fast and fun.
More importantly, I have developed the ability over the last twenty years to quickly identify various psychological roadblocks that can act as a metaphorical handbrake. These handbrake's prevent the body and our brain from learning new skills!
Most people are so engaged in the learning process that they completely ignore the psychological roadblock that is making it difficult to master the new skill that they are working on. This is often because they simply assume that the resistance and friction they are experiencing is normal and will magically disappear later on.
It's critical that you deal with and resolve these psychological roadblocks as soon as they come up, so you can resume and enjoy a natural rate of progression in developing your guitar playing skills, and make it easier to understand and remember your basic music theory.
I have developed effective coaching techniques to resolve these handbrakes, and I am still constantly amazed at the rate of progress my clients enjoy once their mind and body are aligned – it becomes much easier to learn new skills!
Learning to play guitar requires a large amount of co-ordinated, fine motor skill activity. Or put simply, lots of information sharing between the right and left sides of your brain.
Some people are just naturally wired from birth the right way to play guitar – people lie Jimi Hendrix, Eddie Van Halen, Slash and Eric Clapton.
The good news is that even if you weren't born with the co-ordinations naturally wired into the right places for guitar greatness, you can learn to develop these fine motor skills. All it requires is patience!
In my experience, the top three rules to follow when learning the guitar are:
Learn things the way the human brain prefers to learn.
Practice the right things in the right order.
Benefit from the right role modeling and guidance from a good coach.
RGR is closing the gaps in the learning circle
I am pleased to announce that I have developed a unique and highly effective learning and development programme. This system helps to close the gaps in your learning and development circle.
When your brain is engaged in the task of learning new skills, or memorising new knowledge, the key to successfully retaining that information and rapidy recalling that information easily is making sure that you engage all the available learning senses at the same time.
I refer to this as my six-dimensional rapid learning method.
In the pursuit of active learning, we create a new learning circle for each new skill or piece of new knowledge that we wish to acquire. We want to be able to upload that knowledge into our central nervous system and conscious brain in the most energy and resource-efficient manner possible.
1. The first step in the rapid learning method is to bolt new knowledge onto existing knowledge.
2. The second step is to present information as simply as possible to your brain in its preferred learning method.
Your brain is more receptive to learning through multi-dimensional learning actions. Learn how to close the gaps in your learning circle – contact me today.
If you struggle to learn new physical skills like guitar licks, riffs or new guitar coordinations, chances are that you don't have a guitar performance coach that is able to show you how to close the gaps in your learning circle.
This is where I come in.
Contact me now to discuss how we can overcome your temporary learning challenges together.
Paule helped me take my guitar playing to the next level.

I had spent a couple of years with other guitar teachers. While I was progressing I found that my progress was haphazard and slow.

Working with Paule, I was impressed with his commitment to my learning and growth. He took the time to ensure that the lessons were appropriate, challenging and stimulating.

I found that my musical knowledge and guitar ability progressed appreciably with Paule. I am grateful for his passion and commitment!

I can recommend Paule to anyone looking to start their guitar journey well, or wanting to take their playing to the next level.

Thanks Paule
Nathan Donaldson
Taking lessons at Rapid Guitar Results helped me figure out where I was going wrong with my technique. I spent years basically driving with the handbrake on, without even realizing that I was using way too much tension and making things more difficult than they needed to be!

It's going to take some time to undo the bad habits I have cemented into my playing technique, but I'm very glad to be heading in the right direction now. Definitely recommend taking lessons through Rapid Guitar Results if you are struggling to play with more ease.

Thanks again, Paule. I really appreciate the knowledge I've gained from you and the warm ups for both hands are now an important part of my practice sessions at home.
Brett Le Mouton
Paule is an excellent Guitar Performance Coach, his method gets straight to the point when it comes to music theory learning, saving you innumerable hours of time researching online or using other traditional learning methods. Totally recommended.
Erif Nogard
I am 66 years old and I have had guitar lessons with Paule for near on a year now. I have had a number of guitar teachers over the years and what I like about Paule is that:
He is well prepared and has lesson plans
He takes the time for me to fully understand what I am learning and shows how to practically apply music theory so that I can rapidly incorporate new ideas into my playing
He structures lessons so that I am always building on previous lessons
He can work within my current level of proficiency, but also believes in my ability to improve and is extremely encouraging in the way he helps me move to the next level
I have improved significantly within a reasonably short amount of time under his coaching
Most importantly, he makes each lesson fun, so I look forward to each coaching session.


I would highly recommend Paule to people from all levels, from beginners through to advanced guitarists.

P.S. I got so excited talking about my guitar performance improvements that my brother is now taking guitar lessons with Paule too!
Mary E
I had some coaching with Paule to kick-start my guitar learning journey and it's been a really valuable experience as Paule takes the time to teach you strong foundational skills that will help speed up the learning journey.

He knows useful shortcuts to make your life easier, which you wouldn't otherwise know if you were trying to self teach. I highly recommend Paule if you're trying to learn for the first time and finding it a struggle doing it alone.
Tania Brown
I needed a coach that could help me write better songs and brush up on my guitar playing skills. I do a-lot of busking and perform at open mic nights. I was struggling to find the missing chords to make my song arrangements sound complete.

Paule helped me a lot by helping me to train my ear to recognize the right notes to play over a chord, and after three months of ear training I can find the right chords for my songs much more easily.

Thanks Rapid Guitar Results!
Sarah Pierce
I am a singer song writer, that always wanted to learn to play guitar. I am 40 years old and my band wanted me to play acoustic guitar at our gigs to fatten up our sound.

Paule was excellent at been able to teach an absolute beginner like me the basics of how to play guitar, and made it easy and fun to learn! Each session felt like i came away with a measurable guitar improvement.

The 90 day programme was great value! Thanks Paule and Rapid Guitar Results.
Matt Sharp
Paule makes learning the guitar fun.

When i first started taking lessons i was having trouble making smooth changes between chords (i was getting a sore neck all the time from constantly looking down at my fret board).

Paule showed me lots of cool exercises to develop the correct muscle memory for playing rhythm guitar, and now after three months of coaching i can sing, play guitar and change chords without having to look down at my guitar all the time!

Rapid Guitar Results, you bet!
Mark Watson
I always wanted to learn the guitar, but with all the free and paid coaching content available on the internet, I felt overwhelmed. I mean, what do I practice first?!

Paule and his Rapid Guitar Results were awesome. Paule created a customised, structured approach to learning music theory and how it relates to the guitar. The ear training was fun, and I was amazed that I could learn so much (and more importantly remember it!) and apply it to my guitar playing so quickly.

Paule made sure that I had a grasp of the fundamentals. I learnt at my own pace and felt like in every session I made a rapid guitar improvement.

The 90 day programme was excellent value and is well worth a go! Thanks Paule!
Elizsha Watson