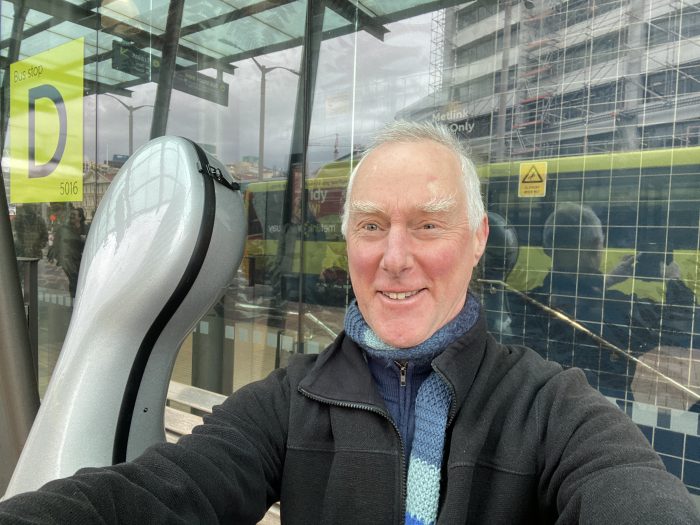 Wellington
Cello Lessons | Double Bass Lessons | Ensemble Coaching, Online Lessons
---
Qualifications:

Bachelor of Education (Honours); Diploma in Teaching

Pricing:

$90/hour

Styles:

Classical

Suitability:

Age 4 to 80+, beginners to advanced
---
Bio
Robert Ibell is an experienced teacher, coach, adjudicator and performer. He is an Associate Member of the Institute of Registered Music Teachers of NZ and has a Bachelor of Education with Honours and a Diploma in Teaching.
Robert was born in Dannevirke and brought up in Palmerston North. While training there as a school teacher he learned cello from Judith Hyatt in Wellington.
From 1986 to 1992 Robert lived in London, studying cello with Tanya Hunt, Derek Simpson and Christopher Bunting. He played at music schools and in masterclasses (where his teachers included Alexander Baillie, Steve Doane, Anner Bylsma and Steven Isserlis), taught, gave recitals and played in professional and amateur orchestras.
Between 1993 and 2020 Robert was a member of the New Zealand Symphony Orchestra. Robert is a member of the Aroha Quartet and square piano/cello duo Hammers & Horsehair. He also plays in the Papaioea Piano Trio and indie/folk/rock band Milkthistle.
---
Teaching Info
I teach in Wellington and Palmerston North. I teach cello to an advanced level and double bass to an intermediate level.
I choose teaching material for each student from a wide range of pieces, studies and technical exercises, depending on their age, level, and personal tastes.
I enjoy helping students solve technical problems but also place a lot of emphasis on developing a student's musical imagination.
I expect students to practice between lessons. I take time in lessons to help students understand how to practice effectively at home.
I encourage parents of younger students to come to lessons with their child and to play an active part in their child's learning.
Most of my students learn face-to-face but I have several adult students I teach online. I prefer not to teach beginners online as I believe it's harder to get the basics sorted properly when student and teacher aren't in the same room.
I like my students to perform and to do ensemble playing as I believe both are important to their musical development.
I try to make all my lessons focused but enjoyable.
Please note that private music tuition is deemed a close contact business under the current Covid-19 settings. Students over the age of 12 years and teachers must provide vaccine passes for face-to-face lessons. I am vaccinated. I am happy to teach unvaccinated students online only.