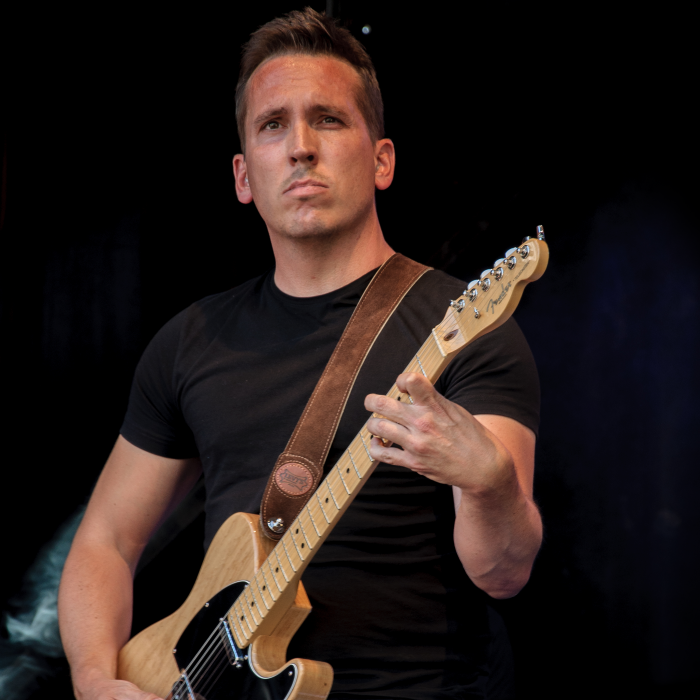 Christchurch
Guitar Lessons | Theory Lessons, Online Lessons
---
Qualifications:

GIT Musicians Institute, Hollywood - Journeyman Certificate

Pricing:

$50 for 45min / $60 for 60min

Styles:

Acoustic, Blues, Rock, Funk, Pop, Hard & Classic Rock, 80's Metal and more...

Suitability:

18+ through to 99, for beginners to advanced (younger only on enquiry)
---
Bio
Born and raised in Switzerland, Sascha started playing the guitar as a teenager. He accumulated over 30 years of experience playing in bands, recording, performing and composing.
He honed his skills at the Musicians Institute in Hollywood in the mid 90's. There he had the chance to learn from some of the greatest guitar teachers in the world! As a result, he has a broad spectrum of styles and applies these into your lessons.
Sascha used to work as an IT Project Manager. But after moving to New Zealand he realised that playing and teaching the guitar is his true passion. His background in both IT and music enables him to give your lessons structure and purpose to unlock your personal goals.
You can listen to of some of my past work on Spotify:
---
Teaching Info
Update COVID-19: During the lockdown all lessons continue and are offered via Skype (FaceTime & Zoom also available). 
The guitar lessons take place either at The Piano: Centre for and Music and the Arts or at our modern home studio in Richmond, Christchurch.
We ensure that you feel safe, comfortable and get the most out of the time!
I specialise in adults and especially enjoy working with people who want to take up the guitar at a later stage in their life.
It does't matter whether you're 20, 40, 60 or even 80…
…you're never too old to rock'n'roll!
About the lessons:
Is this like a standard boring lesson plan that I can get on youtube?
Hell no! Sascha's lessons are tailored to your needs and abilities.
Whether you want to start at the beginning, improve fast, prepare for a specific occasion or just want to jam on a weekly basis.
How long are the lessons?
For adults I recommend a lesson length of 45 to 60 minutes. Above all, having more time allows you to ask me more questions, dive into the exercise and consequently get more out of the lesson. Moreover, with 60 minutes we have enough time to specifically work on your technique and even more actual playing. Other options are available on request and can be discussed in person.
How are the lessons structured?
First of all, we will find out where you are and where you want to go with your guitar playing. Secondly, we'll discuss suitable lesson times. Furthermore, we will define your goals together and create a basic plan to help you achieve them. Finally, we'll start the journey, I will guide you through the necessary steps and help you to focus on the right areas.
So what are the areas I will be focussing on?
This is all part of the process. To give you an idea here are some possible goals, focus areas and combinations:
Mindfulness and stress relief through guitar playing
Learning the basics and filling the gaps
Rhythm guitar
Solos & Improvising (technique and melody)
Funk & Rock guitar techniques
Learn specific songs and approach
Prepare for a Trinity Rock&Pop Grade
How to use online resources to your advantage (Ultimate Guitar, Youtube, etc.)
Songwriting
Writing better guitar parts for your band or song
Recording
Performance
Guitar setup
Getting your tone (finding your voice)
Getting the right equipment and how to use it
What about singing, do you teach that too?
Not my speciality, but my beautiful and extremely talented partner Beatrice does singing lessons. If you're really adventurous, we can hook you up for double lessons, singing and guitar!
Awesome! So, when can I start?
That's the spirit! As soon as possible! There's a convenient contact form on the right to get in touch!