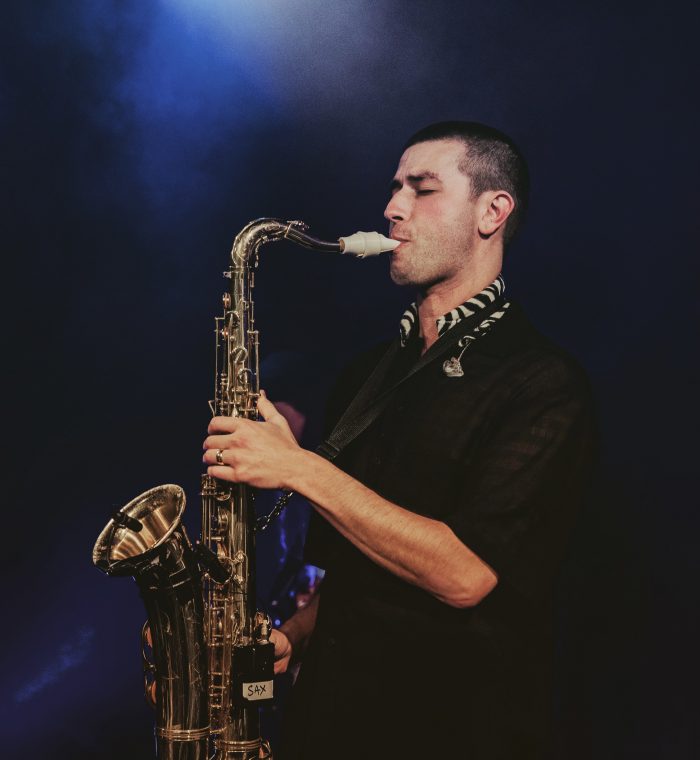 Kapiti Coast
Saxophone Lessons | Bass Guitar Lessons, Clarinet Lessons, Electronic Dance Music Production Lessons, Guitar Lessons, Keyboard Lessons, Piano Lessons, Recorder Lessons, Singing Lessons | Song Writing Workshops, Theory Lessons, Composition Lessons, Jazz Improvisation Lessons, Mixing and Mastering Lessons, NCEA Music Tutoring, Online Lessons
---
Qualifications:

Bachelor of Music - Jazz performance and composition

Pricing:

1h lessons $90, 30m lessons $50

Styles:

Jazz, Classical, Pop, Blues, anything and everything!

Suitability:

All skill levels and ages
---
Bio
Multi instrumentalist with a Bachelor of Music majoring in Jazz from the New Zealand School of Music, Shaan is the lead singer and saxophone player for Drax Project.
With more than 20 platinum certifications in Australia and NZ and 2 US gold records with his band Drax Project, Shaan is one of New Zealands most accomplished song writers.
Available currently for online zoom/skype lessons and in person lessons from December 2023 in Paraparaumu.
"I am excited to share my musical experience and help people achieve their musical goals. I have always loved teaching yet have not had the time. I have limited availability to take on a few students who are serious about music"
---
Teaching Info
Songwriting
I'll take you though the process of writing a complete song. You'll learn:
Song structure
Importance of rhythm in melody
How to write 'catchy' hooks
Story telling through lyrics.
How to record your songs and release them to the world
Jazz composition students are welcome also who want to learn more about:
 Writing for small and large ensembles
 Harmonizing and arranging songs for band and jazz/classical orchestras.
Odd time signatures
Reharmonization
Saxophone
Players of all levels are welcome and will learn:
How to produce good tone
The difference between and importance of – time and feel
Ear training
Learning (transcribing) 'by ear'.
Beginner – Intermediate players will be encouraged also to try classical grading if they are interested.
Advanced players – Whatever they need but Shaan encourages a focus on melodic improvisation, listening and transcribing by ear.
Theory
I studied classical theory to grade 8 during highschool and have a great understanding of jazz and popular music theory through studies at the NZSM.
Theory doesn't have to be scary, it's just a theory remember!
Learn basic music theory so you can communicate to other musicians
Graded theory studies to a tertiary level
 Jazz theory and harmony
Guitar, Bass
Beginner levels are welcome. Learn:
 How to play and learn by ear
 How to play in a band
 Learn to play and sing at the same time
Piano
Beginner – Intermediate students are welcome. Learn:
How to play by ear
How to read and complete grades piano study
How to be a accompanist to singers and other lead instruments
Advanced piano players wouldn't find much to learn from me here other than learning about jazz harmony and song writing.
Singing
I'm happy to teach singing if people want to learn from me. I just would like people to know that I myself still go to singing lessons with Charles William Humphreys who teaches in Lower Hutt, Wellington.
Singing is my main thing professionally and singing with Drax Project of course but I haven't studied singing like I've studied other instruments and still consider myself a learning student.
I would focus more on
Recording your own voice
Editing vocals
Improve your ear
Jazz and popular music
I studied singing after University with Charles William Humpreys. I recommend people looking to learn classical technique and how to sing with good health and gain confidence in their own voice to go to Charles. I still take lessons with Charles.
You can find Charles here https://www.sensationsofthesingingvoice.com/
Music production/mixing/DAW:
Anything music production related that you might want to learn: beatmaking, song writing, sampling, recording, mixing etc.