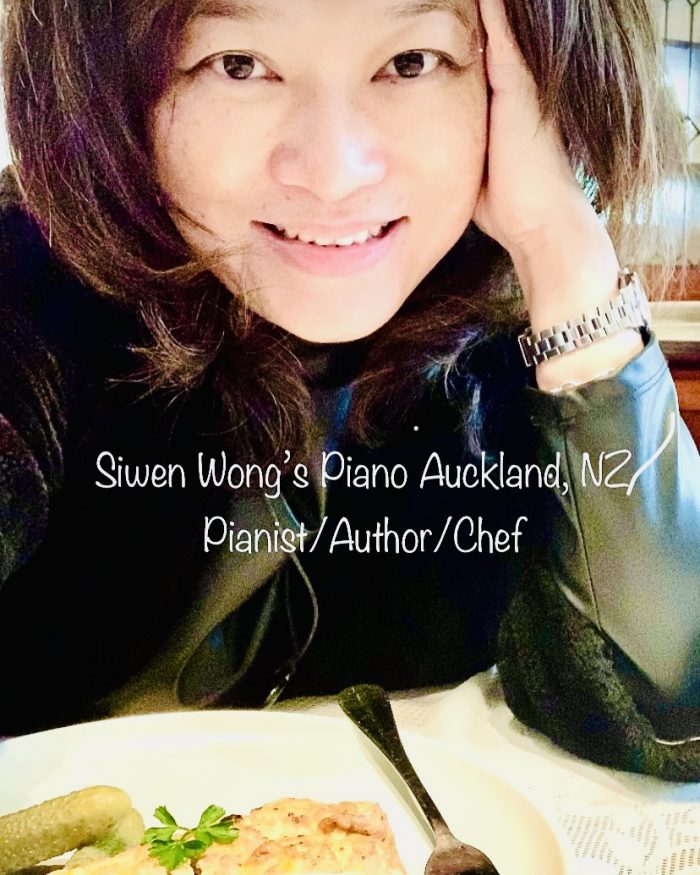 Auckland
Piano Lessons | Artist development, Theory Lessons, Online Lessons
---
Qualifications:

Bachelor of Music in Applied Piano (USA); Chopin and Techniques studies (Poland); Post Grad (NZ); Workplace Assessment (NZQA)

Styles:

Siwen's Piano Performance Aesthetics, Techniques & Dexterity Training Regime (Since 1993)

Suitability:

8 onwards
---
Bio
More than 40 years piano teaching experience to students from more than 20 over countries of different age gap; Orchestra founder; Past students won ABRSM International scholarship, the world youngest ABRSM Gr.8 Distinctions (Yr 2000; 10 years old) and  most students earned their diplomas during high school. Please check Facebook  reviews (MOST RECENT): https://www.facebook.com/siwenwongspianostudio
---
Teaching Info
Strictly required recommendation from my students' parents or friends.
NO free or trial lesson. Audition available for students, $120 audition session for assessment report.
Student who is young required a parent/elder sibling to learn with her together, share the lesson until the student turns independent.
All students' fingers and dexterity will be trained and strengthened to ensure fast progress,  brain development and thus, confidence enhanced.
Performing physical aesthetic movements and expression according to musical context and phrases will be taught.
Students will master grand scales etc.
In-house students will get 50% off for Gr.5 ABRSM theory package within a year duration.
Term break 3 days intensive ABRSM G. 5 Music Theory Workshop ($600 package  fee,  just responsible to cover the whole syllabus)
Term break intensive Piano Techniques, Dexterity and Performance Aesthetics Training Music Masterclass (open to online worldwide students through recommendation)
Masterclass for competition or exam $500/session
I am really fortunate to have Siwen as my piano teacher. I remember when I first joined her class, I just failed my grade 6 in the previous studio and when Siwen first listened to my playing she immediately identified the problem - weak fingers, lack of foundations. She put in a lot of effort to correct my postures, help me build strong fingers, all the essential techniques needed to play a piece. It sure was a challenging task for her as compared to teaching a fresh new learner as I would have to unlearn all the previous wrong techniques and relearn the correct ones. After 1 year plus under Siwen's guidance I passed grade 8 with high distinction and I received a recommendation letter from abrsm to join their scholarship programme. I would not be able to play a lot of great piano pieces without the techniques I learnt from her. Long story short, I was not born gifted, but I met a good teacher. Thank you Siwen!
Sherry Ysh (Korea)
I was one of the very first batch of Siwen's student way back in early 90s . I honesty I have to say if I have not been taught by her, I would not have have the skills to play the piano at a higher level. The techniques and skills she has given me are invaluable and can only be understood by people who are exposed to this. These is very important. You DO NEED proper skill to play a piece of music. It's not just about playing the right notes.
John Liew (Brunei)
Under Ms. Siwen's tutelage, I have received a strong foundation in the area of technique and dexterity. When I first came to her, I had limited knowledge of the various aspects involved in piano playing. Her way of playing the piano, and the way she taught, involved a naturalness and ease which could overcome many difficulties. Thank you so much for nurturing my interest in music and for guiding me, Teacher Siwen.
Ruth Yong
Awesome!! The lesson was indeed an eye opening experience to me. I have never attended any piano lesson like Ms. Siwen's dexterity technique. Ms. Siwen has great passion to raise pianists. She is so experienced in this field and have unique methods for short and long fingers to fly on pianos. Amazing!
San San Ng (Students' mom)
One of the best fine movement trainings I've ever had. Thank you Teacher Siwen for helping me develop such solid foundations in my fine motor skills.
Kim Ko (Melbourne, Australia)
Highly Effective training in dexterity. Blessed by the technique imparted by Ms. Siwen.
Charles Cl Pui (Singapore)
Siwen is an enthusiastic, passionate, and determined teacher who helped me and my brother in developing a strong foundation in piano technique. We both continued playing, studying piano, and performing after moving away, and this strong foundation she taught us have served us well to this day. Her methods are effective and efficient. Siwen has also nurtured my interest in music and music history. I highly recommend Siwen as well as her dexterity and performance training without any reservation.
ShinYin Lee (Boston, USA)
Ms. Siwen Wong sees the talents in everyone and helps one grow. Her teaching combines the rigour of the classics and the humanity of the contemporaries. She will make a positive mark in your life.
Yee Yang Wong (Germany)
Siwen is an excellent and dedicated teacher. Thanks to her I got a distinction for my Grade 8 piano exam.
Esther Ting (UK)
Nothing less was than 5 stars! Wouldn't have passed grade 8 without her help. Certainly trained discipline, good finger dexterity, good technique etc!! Would recommend!
Hui Steph (Melbourne, Australia)