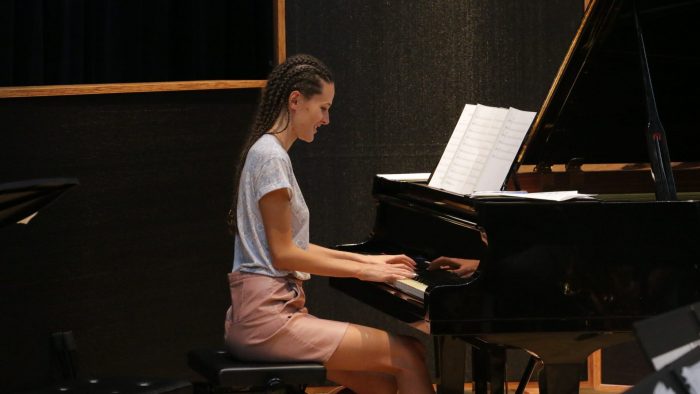 Auckland
Piano Lessons | Keyboard Lessons, Violin Lessons | Aural Lessons, Ensemble Coaching, Theory Lessons, Composition Lessons, Jazz Improvisation Lessons, NCEA Music Tutoring, Online Lessons
---
Qualifications:

Bmus Honours majoring in Jazz, Trinity College grade 8 piano and grade 7 violin and theory

Pricing:

$35 per 30 mins, $50 per 45mins, $60 ph, $5 travel fee to in home lessons

Styles:

classical, jazz, pop

Suitability:

All
---
Bio
Skylar Orr has recently completed her honours degree at the University of Auckland majoring in Jazz Performance in 2019. She studied under Kevin Field for the majority of her piano one on one lessons. Other lecturers have been Alan Brown, Grant Winterburn, Roger Manins, Dixon Nacey, Oliver Holland and Ron Samsom. She currently plays piano in the Auckland Big Band and previously Mike Booths Band "Better Late Than Never". Before learning jazz, Skylar was classically trained on piano through the Trinity Grade exam system, sitting Grade 8 in year 13. She also plays violin where she reached Grade 7 in year 12. Currently, Skylar plays violin in the Auckland Symphony Orchestra and Leys Orchestra. She has played the violin in semi-professional orchestras while still at high school such as the Mozart Festival Orchestra (Bay of Plenty) conducted by David Squire. In year 13 she was the leader of the Big Music Day in Taupo, playing violin 1. Skylar was always high achieving in her Trinity theory exams where she received the highest mark in the Taupo region multiple times.
---
Teaching Info
Skylar has experience teaching one on one and in groups from ages ranging from 5 to 60 year olds. She believes it is never too late to learn an instrument because, not only from the enjoyment it brings but the benefits it can have on the brain. Learning music not only keeps your brain active (especially important in older people), it helps with other subjects such as maths. It is the only activity that engages all parts of the brain at once! Skylar will tailor your lessons to suit your needs and aspirations. She will either suggest a method book right for you/your child or source music you/your child want to learn. If sitting an exam is your thing, Skylar can help you pass with great results. 100% of students have passed with either Distinction or Merit. Skylar has had three successful audition and acceptance of students into the University of Auckland, Bachelor of Music, majoring in Jazz Performance on piano. She can teach a range of styles both on violin and piano such as pop, classical, blues and jazz. Skylar also loves to teach theory and aural skills as she believes it helps a lot in understanding and hearing the music we play in more depth. In her lessons she will incorporate theory and aural but will also solely teach theory/aural if students want a deeper understanding or if they want to sit a theory exam. Skylar can teach all the grades of theory and aural, NCEA level 1, 2 and 3 music and university level jazz theory/aural.
Skylar is flexible and can work out a time that suits around your busy life. Lessons can be anywhere from 20 minutes to 90 minutes. Depending on your location and spaces available, Skylar can travel to your house (travel fee applies) to teach if necessary otherwise she teaches at the Saint Heliers Community Centre on Fridays and Mt Albert on Wednesdays.
Thank you so much for all your hard work and dedication in teaching Rosa piano, she has learnt so much from you.
Rosa, piano 3.5 years learning
I just wanted to thank you, so nice to support the kids that have put so much time and effort in. The kids might not show it but as a parent I really appreciate you and what you do. (Re term 3 student concert 2023)
Jamie Freeman (Brodi, yr 9)
You are a very responsible teacher. We are fortunate to have you as Anna's teacher. Thank you Skylar.
Anna, violin 1 year learning
Thank you again for all the work you are doing and he is loving to study piano now.
Pathishe & Eroshini (Dev (13) 1 year piano previously & 1 year with me)