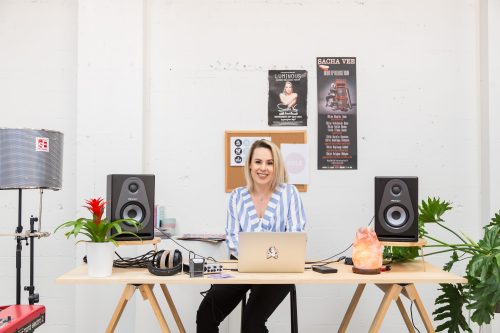 Christchurch

Artist development | Singing Lessons | Song Writing Workshops
Qualifications: Masters of Music Therapy, Bachelor of Music Arts (Jazz Vocals)
Pricing: Sign up info@solemusicacademy.co.nz to find out session fees
Styles: Singing, Songwriting, Artist Development, Professional Music Career Development.
Suitability: 13+
---
Bio
SOLE Music Academy was founded by Internationally acclaimed singer-songwriter and NZ Music Commission Mentor Sacha Vee.
We don't believe in aimless music lessons. When you sign up at SOLE Music Academy we take time to establish your own personal goals and dreams in music.
Whether it is to perform your own set at a local bar, record and release your own music, get your music heard on radio, or become the next big NZ music export and perform on the international stage, no goal will be too small or too big and will always be supported.
Due to our invaluable experience and expansive network we specialise in 'bridging the gap' into the music industry.
Once you SIGN UP you will receive a free no-obligation consultation to assess your goals and aspirations to see how SOLE can empower and enrich your life.
All levels are welcome. Private sessions are also available.
To find out more about SOLE sessions and SIGN UP NOW go to www.solemusicacademy.co.nz
"WE BELIEVE SACHA HAS THE RIGHT ATTITUDE AND CONNECTIONS TO MAKE THIS ACADEMY SUCCESSFUL AND WE LOOK FORWARD TO WORKING WITH HER ON ANOTHER LEVEL, NOT JUST AS AN ARTIST WE PROUDLY SUPPORT."
– James Meharry, Station Director RDU 98.5FM
---
Teaching Info
Currently SOLE Music Academy offers group evening sessions in Singing, Songwriting and Artist Development but will soon offer sessions in Music Production, Collaborations and Music Business.
Once you demonstrate the talent and commitment required to develop a successful career in music you will be offered the chance to audition for the Artist Development programme. In this programme, Sacha Vee will work directly with you to develop a tailor made plan which outlines your own specific music vision.
Recording and performance opportunities will be made available as well as invaluable connections with the right music figures, radio, music labels and publishing houses which will get you one step closer to making your dreams come true.
"I'm such a huge fan of Sacha, her music and her teaching style. I came to her already having a foundation vocally so Sacha tailored my lessons to work on aspects that really challenged me as a musician. She encouraged me to expand my range, work out harmonies on the fly and most importantly, helped me write my first songs. Sacha pushed me out of my comfort zone in such a supportive way and her love of music is infectious. I highly recommend her to musicians of all ages and abilities."
Wallace Gollan
"Although I only had a couple of singing lessons with Sacha in NZ before she set off overseas, they were paramount in helping me to achieve a bigger sound and a better technique. She is without a doubt a thorough and skilled teacher."
Louis Baker