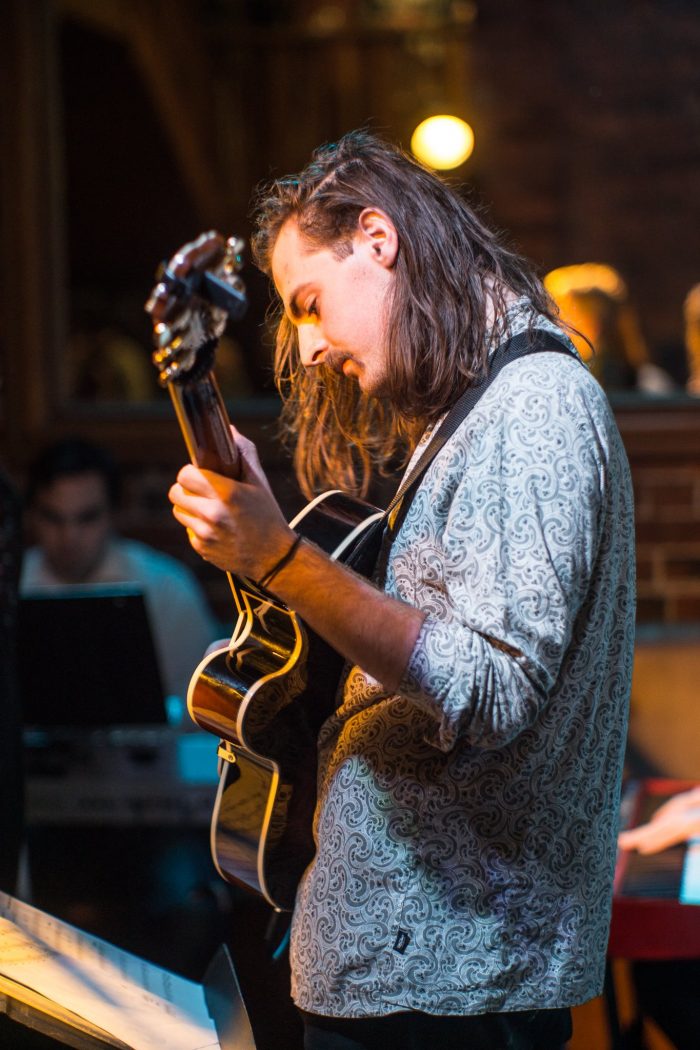 Wellington
Guitar Lessons | Bass Guitar Lessons | Alexander Technique Lessons, Artist development, Aural Lessons, Ensemble Coaching, Song Writing Workshops, Theory Lessons, Composition Lessons, Jazz Improvisation Lessons, NCEA Music Tutoring, Online Lessons, Posture for Singers and Instrumentalists
---
Pricing:

$20+ per lesson (groups/ individual prices negotiable)

Styles:

Jazz, Math/Prog-Rock, Funk/Soul, Classic Rock, Folk/Bluegrass

Suitability:

All ages & Abilities
---
Bio
I have 15+ years playing experience and I am currently completing my studies in Jazz performance/ Music composition and Philosophy at Victoria university. I am well-versed in directing and rehearsing both small groups and larger bands but have a passion for working one-on-one with students, with a focus on refining both technical and conceptual elements.
As a student of music I have excelled in both theoretical and performance areas and continue to seek out new and interesting opportunities and creative outlets, delving into a wide variety of musical traditions and disciplines. I have studied Alexander technique, Somatics and Tai-Chi as well as Musicology, Music Pedagogy, Linguistics, English Literature, Philosophy of Aesthetics, Cognition and Metaphysics at a university level.
---
Teaching Info
Lessons are well planned and adapted to fit to each students needs and can easily cover both fundamentals and advanced topics. I have experience teaching children as young as 8 and 9 as well as mature players 30 and above looking to start fresh or improve their knowledge/ facility on the instrument (it is never too late or too early to start!)
Lesson materials will be provided as well as suggestions for practise/ listening between sessions and I am easily contactable throughout the week.
I am located in central Wellington but may be able to travel to accommodate groups of students or special circumstances.
Lesson times are fully flexible and can be re-scheduled in the event of illness etc.
I look forward to working with you.
Steven has been teaching our son the guitar for almost 2 years, beginning when he was 7 and had never picked up a guitar before. He has made really great progress over that time, and we give Steven a lot of credit for keeping him motivated and enthusiastic. Our son is always happy to go to his lessons and really seems to enjoy them. They often are the highlight of the week. He is also motivated to practice at home so that he can show Steven his progress at the next lesson. Our son reports that "Steven is nice, and really good at teaching the guitar" - we think this is a huge understatement and can't recommend Steven highly enough. - Matt and Alicia
I decided to learn how to play the guitar on a mere whim, deciding that if I was to be any good, I would need lessons. Thus, I stumbled upon Steven Beechey's profile on a website dedicated to finding oneself a music teacher and decided that I would give it a go. Years have passed since then and the guitar now plays an extensive role in my life; this is largely due to Steven's teaching. I have always felt like I am in the presence of a musical expert when taking lessons with Steven as these lessons are always well organised and appropriate to whatever musical avenue I have decided to explore. Though lessons are varied depending on what needs work, they have always felt like a conversation with a friend. I invariably have the habit of leaving lessons brimming full of newfound knowledge and eager to practice whatever was just covered. Just as important as what Steven teaches you is what he leaves for you to discover yourself; learning the intro to Little Wing by Jimi Hendrix certainly would not have made the same impression upon me, nor would it present the same opportunity to learn if Steven had merely shown me the correct fingerings. Instead, I chased down videos of Hendrix playing and listened to recordings half a thousand times. Because of this, I learnt infinitely more from Little Wing than I would have otherwise. Steven has inspired in me a dedication to learn guitar that has transcended whatever it was that I imagined I was getting myself into when I first decided to pursue playing the guitar. - Dara
I have been having guitar lessons with Steven for over 3 years. During that time my guitar playing has progressed hugely. I have also developed a far greater appreciation of music. Steven encouraged me to join a band, and I now jam with them regularly and have played a number of times to audiences. - Ian
Thanks very much for being part of the Encore! team this year; it's been a pleasure welcoming you on board as a regular teacher! Thanks very much, Steve, for the drive, energy and focus that you bring to your lessons. Thank you for your passion for music, which would be inspiring to your students and your desire to see your students grow and excel as musicians under your guidance. And as I'd told you before , I am amazed by your focus and the clarity you have about where you're heading (its uncommon in someone of your age and I think demonstrates some maturity in how you live life!). Have a relaxing break and we'll look forward to see you in the new year! Warm regards, Fern & the Encore Team