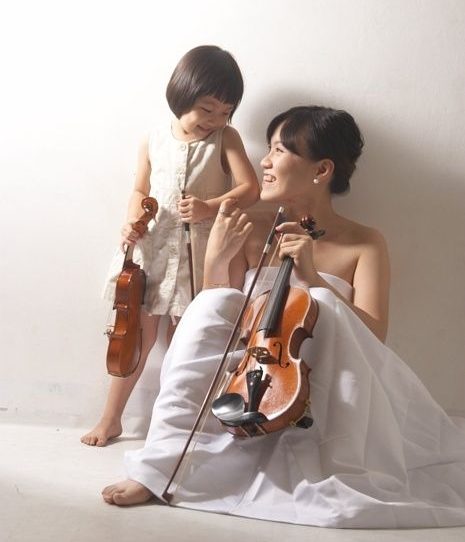 Auckland
Violin Lessons | Piano Lessons, Viola Lessons | Artist development, Aural Lessons, Ensemble Coaching, Theory Lessons, Music And Movement For Under Fives, Mixing and Mastering Lessons, Online Lessons, Suzuki Music Lessons
---
Qualifications:

Doctoral of Musical Art (Violin Performance) ; ATCL (Piano); MMus; BMus; Suzuki Method Certificate (Book 1-8)

Pricing:

$45 for 30 minutes

Styles:

Suzuki method; Classical/traditional music training; ABRSM Exam; Trinity Exam; Online/in person lesson

Suitability:

1.5 ~ 4 years old (Group lesson); 3.5 years old to Adult (instrument); Beginner to Collage level
---
Bio
An active violinist in the USA, Dr. Wang performed with major symphony orchestras in North Texas area in United States. In addition, she had her own teaching studio in Dallas, TX until 2018. She then moved to Washington DC area with her husband in 2019. She continues her teaching in Suzuki Music Master Learning in Bethesda, MD. Dr. Wang moved back to New Zealand with her family in 2020, and starts her studio in both Hamilton and Auckland, New Zealand.
Dr. Wang began her violin and piano studies at the age of four in her home city, Taipei, Taiwan. After earning a Bachelor of Science in Software Engineering from the University of Waikato, New Zealand, in 2004, Dr. Wang began working on her Bachelor of Music in Violin Performance at the University of Auckland under the supervision of Professor Dimitri Atannosov and earned the degree in 2006. During the period, she was a member of several symphony orchestras, including the Waikato Symphony Orchestra (WSO) and New Zealand Youth Symphony Orchestra (NZYSO) and she performed in major cities in New Zealand. In addition, Dr. Wang held private violin instructor positions in public schools.
In 2006, Dr. Wang embarked her graduate studies in violin performance under Professor Julia Bushkova at the University of North Texas, USA. As an active teacher for over 20 years, Dr. Wang has taught in public school districts such as Plano ISD, Frisco ISD and Denton ISD of the North Texas area as well as maintaining a private teaching studio. She was awarded the membership of Pi Kappa Lambda in 2006, and was on UNT President's list in 2007. She was also a Master Teacher of the University of North Texas Education program in 2008. She later earned the Master of Music and Doctoral of Musical Arts Degree from University of North Texas.
---
Teaching Info
As a professional violin performer, Dr. Wang passionate about teaching and she has been playing both violin and piano for more than 15 years. She teaches violin, viola, and piano using combination of Suzuki and traditional methods. She selects teaching material based on student's ability. Her students made into top list of School All Region Audition in United States. Also, she also provides her students training on doing ABRSM and Trinity exams.
Tracy has been the violin instructor for our son for over 9 years and the piano instructor for our daughter for over 4 years now. Her greatest strengths are the attention that she pays to detail right from when the students are very young. She is able to identify the specific requirements for each student and tailor their lessons/training appropriately. We are very happy with her teaching method and used to drive a long way every week just so that our kids can learn from her! Now that she no longer lives in the Dallas area, we continue the lessons online.
Ramya
I started learning with Mrs. Tracy when I was in 6th grade. Initially I had taken lessons with other teachers who hadn't properly taught me the correct techniques. My foundation was unstable, however within months Mrs. Tracy was able to help me correct all my techniques properly. She also manages to keep me interested in what I'm doing whether it's technique or songs. Whether in person or online she puts in extreme amounts of effort into helping perfect her students while also keeping the same patient and encouraging demeanour. Based on the personality of the student she uses different methods for different students and I would say it's working fantastic.
Lauren
Both my son and daughter have taken violin lesson with Tracy for many years. We had other teachers before Tracy but none of them are as patient and committed as Tracy. Tracy is a very professional and passionate teacher. She makes sure that her students understand the concept and theory, helping them build a solid foundation, provides a lot of feedback and, also teaches them how to practically more efficiently and independently. She treats each student as a unique individual and adjusts her teaching style accordingly. She is like a friend to her students and at the same time challenges them to be better. I highly recommend Tracy to anyone who is interested in taking music lessons. Reply Like Share
Sylvia
Both of my kids love Dr. Tracy. She is very patient with young kids and she uses different teaching styles and is experienced in applying different methods for different kids. Highly recommended her if you are looking for a teacher to start you music lessons!
Lucy
I started with Dr. Tracy in 8th grade and even though I was only with her for a limited time she helped me with the most important techniques which improved my playing as a whole. When I first joined I couldn't even read music properly but within 4-5 months I was able to play complex music with many different techniques.
Varda
Dr Tracy is a wonderful teacher. She has the technical capability as well the teaching skills to communicate with the students precisely what they need to know. When she moved away, we seriously considered continuing with virtual lessons. That may still be in the works.
Cory
My daughter had the opportunity to work with Miss Tracy improving her violin reading and playing skills before she moved out of State. Miss Tracy helped her accomplish a lot in a short period of time and demonstrated a lot of interest in my daughter's progress.
Fabiola
My son started violin lessons with Tracy when he was 4.5 years old. Though he had initially taken lessons with the community center, I felt he wasn't given the attention or guidance we were looking for. ​After our first lesson with Tracy, you could tell how much my son loved learning from her. She kept him interested with fun exercises and songs. She was great with understanding children's attention spans and finding ways to make learning fun. In just 3 months, my son was reading and playing sheet music. My son looks forward to his violin classes every week.
Lucy
I think Tracy is a great violin teacher here are a few reasons why. The lessons are focused and include scales, etudes and piece work with emphases on technique and musicality. Tracy gives an amazing amount of feedback during our lessons. She mentions what is going well and what needs more work and ends each exercise with a summation of what to practice for the next lesson. She is great at breaking tricky sections or techniques into a set of simpler steps and gives lots of tips for maximizing practice time. And like all good teachers she adapts her teaching style based on her students needs.
Ben