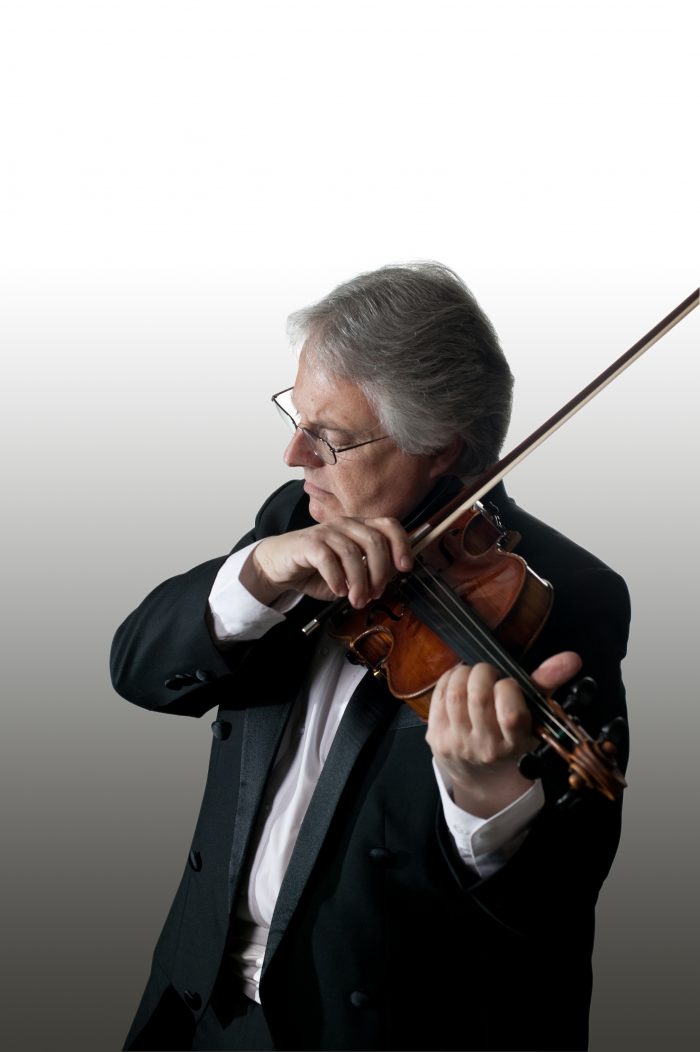 Lower Hutt
Violin Lessons | Artist development, Ensemble Coaching
---
Qualifications:

Graduated from Gniessin Institute of Music - Moscow, 1974

Pricing:

$100 per hour

Styles:

Classic - Russian Violin School

Suitability:

any age
---
Bio
YURY GEZENTSVEY – Violinist
Born in Kiev, USSR, in 1952, Yury Gezentsvey graduated in 1974 from the Gniessin Institute of Music in Moscow with the Diploma as Soloist, Pedagogue, Orchestra Soloist and Chamber Music Performer. Special appreciation goes to his teachers Abram Shtern in Kiev and Petr Bondarenko in Moscow.
In 1979 Yury Gezentsvey emigrated from the USSR, and was appointed Concertmaster of the Civic Orchestra of Chicago, as well as being a member of the chamber group "The Chicago Ensemble". In 1980 he was engaged as Concertmaster by the Philharmonic Orchestra of Caracas, Venezuela. He also formed a Chamber Ensemble with American pianist Harriet Serr (most acclaimed resident pianist in Venezuela). Of their recital in September 1981 at Carnegie Recital Hall in New York, the "New York Times" wrote: "…he invariably respected the score's poetic content… he rarely failed to produce a sweet, cultured tonal quality." Of one of their recitals the Venezuelan newspaper "El Nacional" (April 4, 1983) wrote: "He is a really special violinist. His sound is different: the sweet tone cuts the air, turns around your soul, and those who want to cry may do it…".
In 1983 and 1984 he was invited to act as chairman of the panel of judges at the final examinations in Violin of the National Conservatory of Music "Juan Jose Landaeta" in Caracas. He was also teaching at the "Emil Friedman" Conservatory.
From 1985, Yury Gezentsvey holds the position of Principal First Violin of the New Zealand Symphony Orchestra, and has also led the NZSO in numerous occasions.
He has also taken part in the 1986, 1988, 1990 and 1992 International Festival of the Arts in Wellington, as leader of the "Gezentsvey Quartet" and as soloist, in the 2002 – as a member of the Massey Piano Quartet and in the 2004 – as a member of the New Zealand Piano Quartet.
In October 2003 as Solo violinist he took part in the 10-years Celebration of Sister-City relationship with Wellington in Sakai, Japan.
Yury Gezentsvey has done numerous recordings for Radio New Zealand Concert FM, National Radio and TVNZ Productions, as well as the CD "Romantic Strings" released by BMG, which was nominated for Best Album of the Year in 1995. The 2006 NZPQ CD with works of a New Zealand composer Anthony Ritchie was hailed as "one of the year finest" by "Listener" reviewer Ian Dando. As Leader of the Dominion Quartet, Yury recorded Alfred Hill String Quartets (Naxos). Volume 1, released in June 2007, reached No 1 in the July Radio NZ Classical Charts. Volume 2, released in October 2008, reached No 1 in CD Universe Quartet Charts in the middle of January 2009. About this time Uncle Dave Lewis wrote in his review:"The Dominion Quartet is obviously dedicated to the cause of Hill's music and performs it in a grand, expansive style reminiscent of the Hollywood String Quartet; every phrase is clear, well-modulated and singing, with every dynamic marking taken as gospel''. After Volume 3 was released in December 2009 Wellington reviewer John Button wrote in Dominion Post from 4 February 2010:"The playing of the Wellington-based Dominion Quartet goes from strength to strength; beautifully poised and precise, yet never overstressed, allowing Hills' natural lines to breathe and expand. Relaxed, yet always with something interesting going on, this series is becoming an absolute winner." After Volume 4 was released in December 2011 Robert R. Reilly, the music critic of Crisis Magazine, wrote about the recording:"It is adroitly played…with plenty to warm the heart…" In January 2012 Bob McQuiston wrote in Classical Lost and Found:"These performances by the Dominion String Quartet of New Zealand are uniformly superb". In January 2012 it reached No 3 in CD Universe Chamber Music Charts. Volume 5 was released in November 2014. A month later it reached No 2 in CD Universe String Quartet Charts. Top Dutch journalist Bob Lagaaij called it 'a remarkable one'. In his critique on MusicWeb International David R. Dunsmore wrote: 'The playing of the Dominion Quartet is very fine…This disc must be considered a success and should appeal strongly to lovers of late nineteenth century music… these works make for an enjoyable and absorbing hour.
The playing and recording are first rate… I would certainly be pleased to hear other installments in this series and look forward to Volume Six.' The last CD of Alfred Hill String Quartets, Volume 6, was released by NAXOS in November 2015. Harry van der Wal wrote about it from Holland:'For those that are collecting this series it's a must to have it…it has been a labour of love. This you can clearly hear in the performance. There is emotional drive, passionate yearnings…embracing and warm music, with the slightest hint of modernity creeping in from time to time. All done in great taste and with an extra dash of elegance befitting the late romantic era'.
Yury Gezentsvey participated in the Canberra Chamber Music Festival in Australia, giving a Sonata Recital on 11 May 2008.
As Violinist of the New Zealand Piano Quartet Yury Gezentsvey recorded the Beethoven Piano Quartets for Naxos. This CD was released in May 2009. The reviewer of "The New Recordings", Giv Cornfield, wrote on 25 May 2009: "It has been a very long time since these wonderful works had been recorded in their entirety, so this new release by the New Zealand Piano Quartet—and what a great and spirited one!—is warmly welcome. Penned by the 15 year old Beethoven, they are clearly works of genius, even if (understandably) heavily influenced by Haydn and Mozart. The New Zealanders play stylishly, vigourously and with great tone and benefit from outstanding recorded sound. Most warmly and highly recommended!"
Together with his orchestral and performing career Yury Gezentsvey teaches advanced violinists. His book "Scales & Arpeggios for Violin" was published in 1995 by Green Bay Publishers in Auckland.
---
Teaching Info
Private tuition tailored to your needs, focusing on the following essential points:
bow change
sound production
staccato
spiccato
martle
ricochet
intonation
vibrato
change of positions
optimal fingerings
portamenti
posture
interpretation