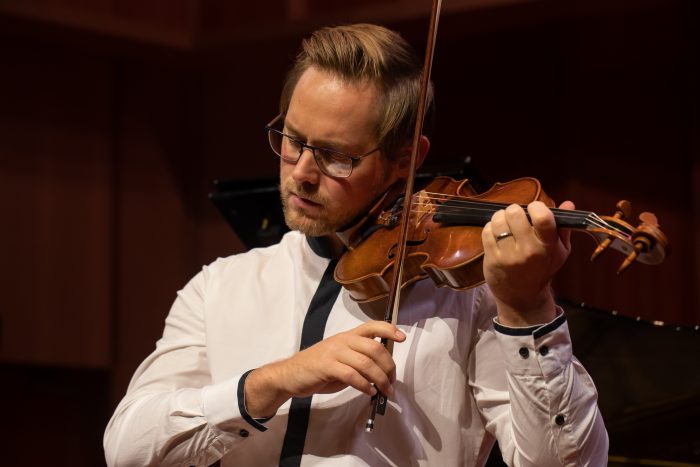 Christchurch
Violin Lessons | Viola Lessons | Ensemble Coaching, Online Lessons
---
Qualifications:

Master of Arts - Bern, Switzerland, Bachelor of Music - NZSM Wellington, Postgraduate Diploma in Music Performance - NZSM Wellington

Pricing:

$120 per hour (45min or 60min lessons available)

Styles:

Classical Violin, as well as Folk styles such as Irish, Bluegrass and improvisation

Suitability:

Beginner to Professional, any age (adults welcome)
---
Bio
I am the Associate Principal First Violin of the Christchurch Symphony Orchestra and play regularly with the New Zealand Symphony Orchestra. I have extensive chamber music experience and I play a wide variety of musical styles including Classical, Irish, Bluegrass and Country. I'm just as comfortable playing in an orchestra as I am in a rock or folk band and will give anything a go – from Mendelssohn to Michael Jackson!
After attending Burnside High School, I completed my Bachelor of Music and Post-graduate Diploma at the NZ School of Music in Wellington. I then went on to complete my Master of Arts at Bern University of the Arts, Switzerland, where I was awarded the top mark for my final recital.
Since returning to New Zealand in September 2015, I have rediscovered a passion for teaching and I love seeing my students continue to learn and achieve. My approach of delivering high standards and expectations with a smile has proved effective in inspiring and developing many great young players from beginners to university level.
Outside of music, I enjoy the outdoors, soccer, snowboarding, water sports and cycling.
Note: I am open to inquiries for casual or one-off lessons, a slot in my masterclasses, lessons with my assistants*, or to be placed on my waiting list for regular lessons. (Estimated wait time for regular lessons is around 2 years.)
*Lessons with my assistants include regular checkups and input from me.
---
Teaching Info
My teaching approach includes a strong focus on good technique as well as creating a fun and motivating learning environment. It is important to me to teach a child transferable life skills as well – if they can apply themselves to learning the violin, they will be able to learn anything. I always strive to help my students create music that communicates to the listener emotionally.
I enjoy teaching across the whole range of levels and ages.
A word to any hesitant adult beginners:
I have been blown away by the success that my adult students have had in learning the violin. I really believe it's never too late to learn and with the right kind of work and direction you will be surprised what you can do!
He is practising in the evenings and it is like listening to a completely different violinist. You have done wonders with him!!  We so appreciate it!
Donna
I thought that was the best teacher's recital concert I've ever been to. They all played really well! And everyone obviously really enjoyed it - a great way to finish the year :)
Victoria