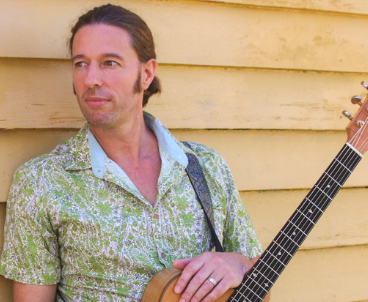 Nelson
Guitar Lessons | Bass Guitar Lessons, Ukulele Lessons | Artist development, Ensemble Coaching, Song Writing Workshops, Composition Lessons, Jazz Improvisation Lessons, Online Lessons
---
Qualifications:

Diploma in Jazz Wellington Music Conservatorium

Pricing:

$70 an hour

Styles:

Contemporary, Fingerstyle, Jazz, Blues, Pop/ Rock

Suitability:

5 to Adult
---
Bio
I have returned to New Zealand after 10 years overseas, 5 years in the U.S. and 5 years in Australia, as a performer and educator.
Guitar enjoyment came at 15 after several years of piano. While at school I enjoyed getting together with like minded friends to write and perform songs, so then went to the Wellington Music Conservatorium and studied Jazz under Geoff Hughes and Leigh Jackson.
Previously when living in Nelson I played over 50 line ups including  Nelson Youth Theatre productions of Les Miserables and Godspell, Sharon O'Neill, Midge Marsden, Ubercat with Liam Ryan, amoung others. Taught at NMIT, Nelson College for Girls, Garin College and privately. Wrote music for 2010 Motueka High School production Will: The Lost Years.
In 2011 moved to the U.S. for 5 years, working for Tommy Emmanuel (who had previously mentored me), travelling, touring, recorded 2 albums, and playing the resorts in Hawaii.
The last 5 years have been in South East Queensland performing and teaching, running bands and composition at a private school.
Notable ex students:
-Callum Allardice, New Zealand session musician, composer, Guitar tutor at NZSM
-Caleb Nott, (The Broods)
-Lewis Stephenson, (the Belligerents, Confidence Man, Moses Gunn Collective) Brisbane based Multi instrumentalist, writer and singer with a growing portfolio of credits including touring and songs played on Triple J. Taught for 3 years.
---
Teaching Info
With 25 years of teaching experience and hundreds of previous students, I understand how students develop knowledge, technique and enjoyment through music. There are many facets to music and I enjoy sharing what I know about it through material and songs from today and all that has come before.
Core competencies include: Written music and notation, harmonic knowledge, playing by ear, songwriting and composition, developing performance confidence, recording, band or group development, parent relationship, project management.
Guitar skillset: Scales and modal systems, chords systems and families, rhythm /percussion, improvisation, two handed tapping, odd times, fingerstyle, thumb-picking, plectrum, playing with other people and performing. Covering popular, jazz, blues, rock and traditional.
"Brett Holland has been a phenomenal mentor and tutor to me, his personal and empathetic teaching style helped my development as a musician, and his knowledge of the guitar and music is astounding. I would recommend Brett to any musician, budding or established. He also assisted me in my successful audition to Jazz Music Institute in Queensland, Australia" - James Dent Musician.