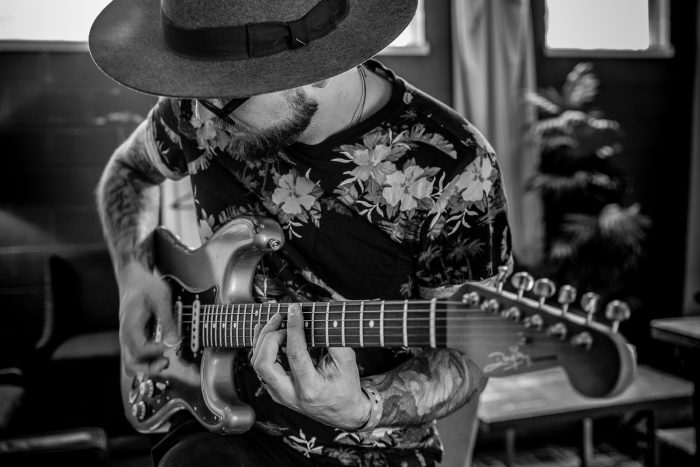 Auckland
Guitar Lessons | Bass Guitar Lessons | Aural Lessons, Theory Lessons, Composition Lessons
---
Qualifications:

Bachelor of Music

Pricing:

$50 per hour lesson

Styles:

All styles from classical to heavy rock. Blues speciality.

Suitability:

Beginner to advanced ages 7 and up
---
Bio
Online guitar and bass lessons available anywhere in NZ, all you need is your instrument, computer, and internet connection! Struggling to get into town for lessons, or wanting to learn from your comfort zone, I can help.
I am a passionate, and enthusiastic teacher who is dedicated to your success. I have been a guitarist for 25 years, and a teacher for 17, all the while continuing with extensive work in multiple bands and as a solo performer.
I have a Bachelor of Music from The University of Auckland, and continue to further my studies in both pedagogical technique and music theory.
No two people learn in the same way, and this is especially true when it comes to learning a new instrument; it is a teacher's place to inform, encourage, and inspire… to truly share one's passion for music. This approach relies on the formation of an individual, personalised syllabus, which will allow for both maximum progress, and student enjoyment. This is what I offer.
---
Teaching Info
Lessons are taught on a weekly basis and cover a full range of theory and practical knowledge, giving every student the ability to excel, whether aiming for fame, or just having some fun.
I teach online over Google Meet with a multi-camera setup so that you can see everything that you need, all music provided is written out by me, and sent to you in PDF format, and I provide video and email support throughout the week.
If you are just looking to improve your knowledge of music theory, or perhaps focus on writing your own music, I offer courses to suit.
If you've reached a point where you feel stuck, and are no longer making the progress you had hoped for, some structured guidance is just what you need.
Matt is awesome, I've been taking lessons for 19 months and I've learned so many great songs. When I ask Matt to teach me one of my favourite songs, he always figures it out and teaches me how to play it. He's even taught me so much that I can learn songs on my own. I always look forward to my lessons!
Gracie Collins
Matt is a really great instructor! He's very patient and knowledgeable in the music industry. Highly recommend.
Joy Yiu
At 70 it seemed a good time to learn to play this guitar. Matt has blended theory, bad habit breaking exercises, humour and support to help me work towards my goals. And he has incorporated my questions and ideas into our sessions. The lessons are a cooperative venture which I think creates a positive learning environment.
David Sanderson
I decided to start playing the guitar again a little over a year ago. After researching guitar instructors I booked a trial lesson with Matt. The one lesson was enough for me to decide that he was the instructor for me. Matt is enthusiastic and patient. He thoroughly explains theory and concepts. He very quickly analyzes the areas where I've struggled and provides helpful tips. If Matt wasn't teaching guitar, he would likely be teaching something because he is a natural teacher. If my first guitar instructor had been Matt, I probably wouldn't have stopped playing years ago.
Jan Cirillo