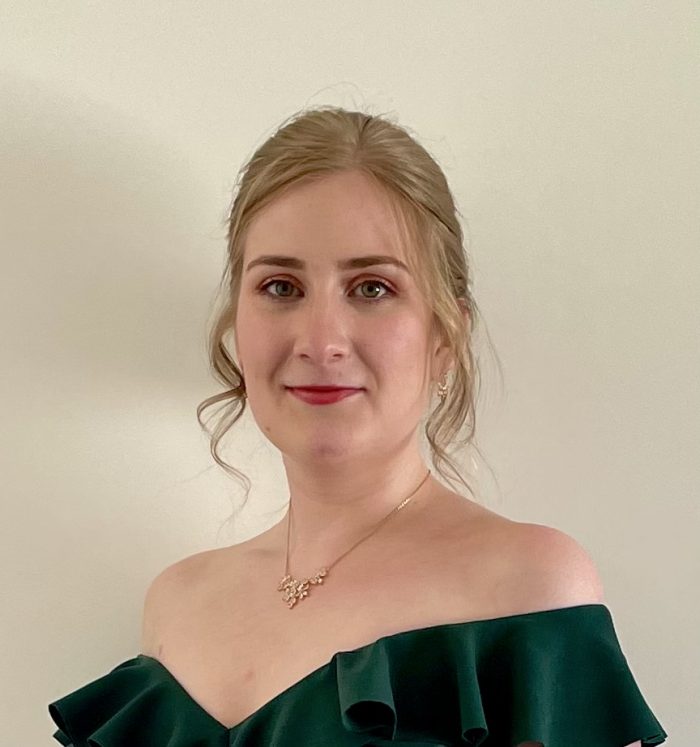 Christchurch
Singing Lessons | Choirs | Theory Lessons, Conducting Lessons, NCEA Music Tutoring
---
Qualifications:

MusB(Hons) - Performance, BA - German, DipABRSM - Voice

Pricing:

$70-80

Styles:

Classical, Musical Theatre, Music Theory, Conducting

Suitability:

All
---
Bio
Courtney is a born-and-bred Cantabrian, returning after a half-decade stint at Otago completing her BMus(Hons) in Performance with Judith Henley and Anna Leese and BA in German and Linguistics. In 2022 she decided a change in pace was in order and undertook a Masters in Conducting at UC under Professor Mark Menzies. Courtney's new course of study utilises her prior experience with and vast knowledge of the voice by having a strong focus on choral direction and she is also exploring the role of the director from a performer's mindset. 
​Courtney is first and foremost a singer – she began her training at the age of 7 and quickly worked her way up through the grades before gaining her ABRSM Diploma in 2016 at just 16.
Courtney has notably performed with New Zealand Opera and been a featured soloist with the Nelson Symphony Orchestra, Opera Otago, the Octagon Ensemble, the Christchurch Opera Club and City Choir Dunedin. However, she now finds her musical endeavours revolving around directing and encouraging ensembles along with private tuition. During her undergraduate study, she was privileged enough to be awarded the J.M.W. Speirs Memorial Prize in Choral Conducting. Courtney's weekday evenings are occupied with directing the Christchurch Youth Choir, UC's Consortia, and Schola Cantorum, while multiple times per week she finds herself on Zoom at Columba College, Dunedin, still taking their Senior (Cantus Columba) and Junior Madrigal Choirs by distance. Courtney is also in demand as a relief teacher at local schools, tutors at the University of Canterbury, and has begun being invited to adjudicate competitions.
Previously, Courtney has been Director of Music at All Saints', Dunedin, and Choir Director of the Southern Youth Choir and of Selwyn College's Competition Choirs. Alongside her singing and conducting, she has been a violinist for most of her life, completing her ABRSM Grade 8 in 2016, and has also dabbled in composition, leading to being awarded a Lilburn Merit Prize and the Aotearoa Composer's Prize. While performance and stage work holds a special place in her heart, Courtney is equally at home being a theory enthusiast and passionately believes a solid foundation of theory and music analysis is key to remarkable performances. This is why she extended herself and committed to obtaining her ABRSM Grade 8 Music Theory before embarking on tertiary study. Courtney's pursuits thus far in life have given her a solid, well-rounded musical foundation – there isn't much she hasn't been involved with somehow!
​
---
Teaching Info
A typical singing lesson comprises of warmups (physical and vocal), followed by exercises from collections such as Vaccai, Lütgen and Marchesi to further develop technique and free the voice. We then shift to repertoire study with a selection of the current pieces a student is working – this could include pronunciation and vowels, breath management and tone, and performative interpretation.
My vocal teaching is based on combining techniques I have observed from Judith Henley, Anna Leese and Gina Sanders while under their tutelage. I also incorporate performance goals acquired through working with vocal coaches such as Sharolyn Kimmorley AM and Andrew Crooks. My mission in music is to promote a healthy and encouraging learning environment that allows students and performers to thrive, excel, and achieve their goals, whether as soloists, chamber musicians or choristers.
For more information and lesson costs, please visit courtneyhickmott.com