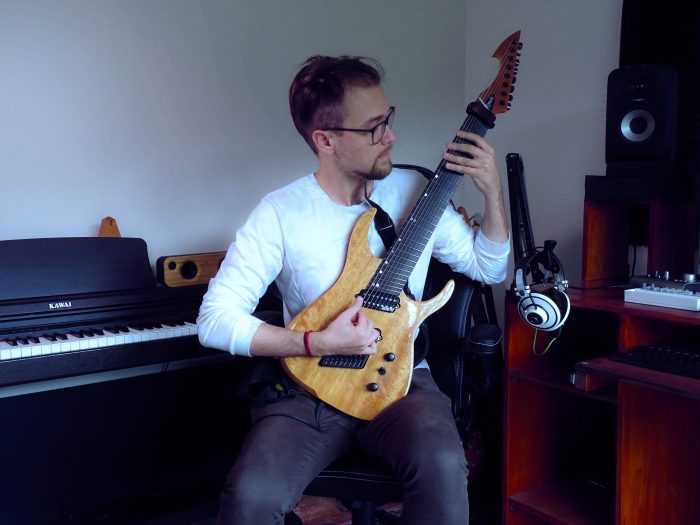 Nelson
Song Writing Workshops | Bass Guitar Lessons, Guitar Lessons, Piano Lessons | Artist development, Aural Lessons, Theory Lessons, Composition Lessons, Jazz Improvisation Lessons, Mixing and Mastering Lessons, Online Lessons
---
Qualifications:

Bachelor of Music Technology, Cert of Psychology

Pricing:

Online: $50 hourly, Studio Lessons: $70 hourly

Styles:

Jazz, Flamenco, Blues, Rock, Metal, Electronic

Suitability:

All ages
---
Bio
I am an experienced multi-instrumentalist, music technologist and composer. From a young age, I developed an interest in jazz while growing up in cities like Houston and New Orleans. During my middle-school years, I took part in music programs that inspired me to learn the piano and guitar in jazz, rock and blues. From that point forward, I was fascinated by songwriting and composition, and so luckily I was accepted into the Music Technology program at the Queensland Conservatorium after high school. While studying, I taught private instrumental and composition lessons through my own business, and continued teaching at primary schools and music academies.
---
Teaching Info
I am a jack of all trades in my teaching methods. I help my students develop their influences and refine their goals for what they want to accomplish. I can teach skills in instrumental training, composition and music production techniques. I guide my students through ear training exercises in my lessons which I believe is a core part of developing musical expression and composition training.
I also believe that musicians should take advantage of new technologies that can help with musical exploration and development. I use tools such as digital audio workstations, interactive digital interfaces and audio sampling machines enabling students to explore new possibilities in an encouraging and creative environment.
I started up with Alex earlier in the year and as a result have really grown in my understanding of music and how to implement different techniques in my personal compositions. What I really appreciated was that Alex took the time to listen to my goals, and helped me understand what was lacking in my own abilities. I feel like I have grown a lot as a result of learning with Alex
Cornelius Lo
Alex commenced instructing our daughters in 2015 on a weekly basis and to this day they never want to miss a lesson. With the very first class, I could see Alex was a great fit for us, He allowed the girls to develop at their own pace without pressure and frustration. He has been able to provide a quality of lesson that allows the girls to explore their own tastes and various genres and challenges them suitably. Alex teaches one of our daughter's guitar and drums and the other daughter piano. They willingly sit down at their own time and practise without prompting. We couldn't be happier with Alex's knowledge of music and teaching skills
Tiina Sihvola
Alex is a great piano teacher. We have been using him for about 18 months now and we are very happy with his service. Alex is patient, kind and calm, and my son really enjoys learning the piano with Alex. I would definitely recommend Alex to anyone who is considering contacting him for music lessons.
Fiona Ong
Alex is a great music teacher. Always listened to what my boys wanted to learn and taught them in a really calm and supportive way. I would recommend Alex to anyone who would like to learn or enhance their abilities playing a musical instrument.
Colette McCaffrey