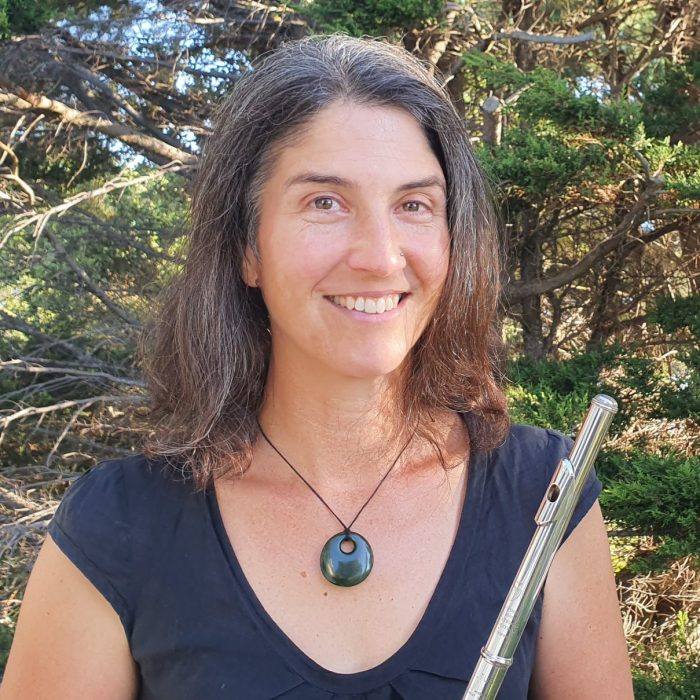 Wellington
Flute Lessons | Theory Lessons
---
Qualifications:

MMus, LRSM, LTCL

Pricing:

$35/half hour lesson

Suitability:

All ages, beginner to professional
---
Bio
Andrea has a Masters degree in performance flute from Auckland University and a postgraduate diploma from Trinity College, London. She has played with Auckland Philharmonia and Orchestra Wellington.
Andrea has been teaching the flute for 30 years, at all ages and all levels from beginner to university performance.
---
Teaching Info
I love to see my students grow as musicians and as people. I want to help each individual achieve and excel at their own pace in a way that is comfortable and fun for them.
Andrea is a fabulous flutist and teacher. She possesses the perfect teaching trifecta: in-depth knowledge, exceptional musicality and outstanding communication skills. She is thorough, detailed and has high expectations. Andrea has had such a strong influence on my development as a musician, our two years of lessons felt like a real crash course in flute playing. She successfully prepared me for an ATCL exam and university auditions. Andrea was extremely accommodating when organising lessons, this was very appreciated as I was travelling from out of town. She has a great sense of humour, and the lessons were as enjoyable as they were challenging. I cannot recommend Andrea enough!
Anna
Andrea is an amazing teacher for our daughter and through her lessons, we have seen her blossom into a confident flutist. Andrea is super easy to communicate with and has always been very friendly. She really cares for her students and takes the time to understand their abilities and interests so that she can better accommodate their needs and curate the music they learn and play to suit the individuals. A stand out teacher!
Deborah
Andrea is an incredible flute teacher who through my 7+ years with her, has continuously supported me and helped me grow in confidence and skill. Just a few years ago, I could have never imagined myself playing in front of people, but through her encouragement and superior teaching skills, I have gotten further than I ever could have thought and have even had the opportunity to play in front of audiences. Andrea is caring, attentive and is a friendly teacher who has taught me so much over the years. She is extremely patient and makes you feel at ease with playing. Her guidance and skills have really aided me and I can't imagine having any other teacher.
Rebecca