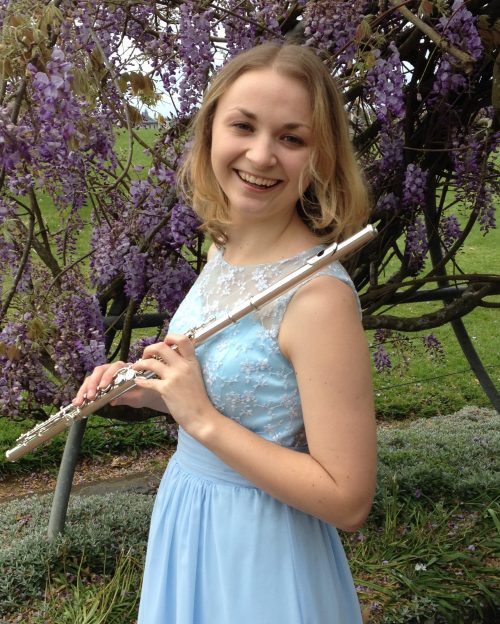 Auckland

Flute Lessons | Recorder Lessons | Skype Lessons
Qualifications: BMus with First Class Honours, BA, ATCL with Distinction
Pricing: $27.50 for 30 mins, $40 for 45mins, $52.50 for 1 hour
Styles: Any
Suitability: Beginners to Advanced
---
Bio
Originally from Gisborne, Anna completed a Bachelor of Music with First Class Honours at the University of Auckland in 2016. She has also completed a Bachelor of Arts degree in Politics and International Relations in 2015. Anna is currently a Master of Music student in the Netherlands, and is offering Skype lessons to New Zealand students.
A keen orchestral player, Anna has played casually with the Auckland Philharmonic Orchestra and Auckland Chamber Orchestra. In 2017, she held a Fellowship with the New Zealand Symphony Orchestra and Internship with the Auckland Philharmonic Orchestra. She has twice been a member of the National Youth Orchestra and was principal flute of the Auckland Youth Orchestra 2016-17.
In 2018, Anna toured with the Auckland Youth Orchestra, playing the Nielsen Flute Concerto, after winning the AYO Concerto Compeition. In 2016, Anna won the prestigious University of Auckland Graduation Gala Concerto Competition, performing as a soloist with the University Orchestra. During this year she also performed as a soloist with the New Zealand Youth Symphonic Winds, was awarded the 'Best Soloist' prize at the National Concert Band Festival, and the Woodwind Prize at the Gisborne International Music Competition.
During her time at the University of Auckland, Anna studied abroad in Italy for 6 months, where due to language barrier she joined what she thought was a wind band, but was actually a marching band! Anna's love of concert bands resulted in her establishing the University of Auckland Concert Band, now the largest community concert band in New Zealand.
---
Teaching Info
I strongly believe that learning a musical instrument enhances people's lives and helps to develop skills which are invaluable to all students – no matter what kind of future they pursue!
I have 9 years of experience teaching flute, recorder, aural/theory, flute ensembles, concert bands and coaching chamber groups. This is supported by my strong research interest in flute pedagogy and methodology at a postgraduate level.
As a teacher I aim to:
Develop well-rounded, confident and musical students who flourish
Develop skills essential as both a flautist and musician: instrumental technique, physical skills (breathing, body alignment), musicality, performance skills and musicianship skills (aural, theory etc.)
Plan creative, engaging lessons with an enjoyable and vibrant atmosphere
Teach in a style that is supportive, encouraging and friendly
Nurture a passion for music
Use acute problem-solving skills to ensure students playing issues are quickly pinpointed and solved
Provide performance opportunities and prepare students for exams if desired