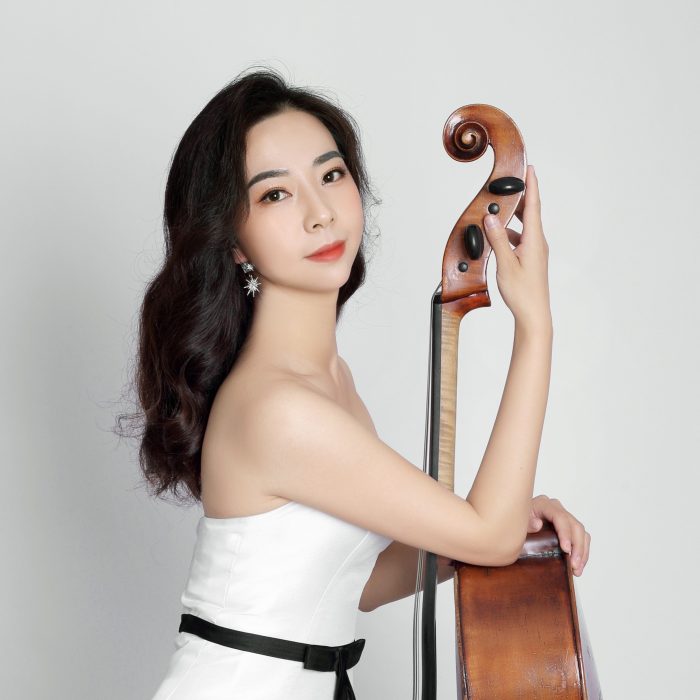 Wellington
Cello Lessons | Ensemble Coaching, Online Lessons
---
Qualifications:

DMA candidate | NZSM; Master degree of Music | Sibelius Academy (Finland); Bachelor of Arts | Shanghai Conservatory of Music (China); Hummingbird Music Best Teacher Award at the 2022 China Youth Music Competition; 2nd Prize in A-group of the 3rd "Aegean Cup" cello competition in 2008; Excellence Award of Alice & Schoenfeld International String Competition; First Prize of 3rd Chamber Music Competition organized by the Shanghai Conservatory of Music;

Pricing:

80 NZD/60 mins; 45NZD/30 mins

Styles:

Classical

Suitability:

from beginers to all levels
---
Bio
Li Zhenqi is a cellist from China. DMA candidate in cello performance at the New Zealand School of Music. holder of the Barbara Finlayson Scholarship 2020-2024. She received the New Zealand School of Music (NZSM) Performance Excellence Award at 2021 and New Zealand School of Music Postgraduate Award in Cello Performance at 2021. She is the recipient of the Therle Drake Scholarship 2020-2024. Zhenqi is a guest cellist of the Wellington Orchestra since 2022. She was selected as a grantee of the Special Program for Artistic Talent Cultivation by the Chinese Scholarship Council in 2021.
Zhenqi showed her prodigious talent from a very early age. She began piano lessons when she was a toddler. Zhenqi began formal study of the cello at age seven, following her study on the piano. Zhenqi's ability on the cello was rewarded when she won the 2nd Prize in A-group of the 3rd "Aegean Cup" national cello competition in 2008. Zhenqi entered the affiliated primary school of the Shanghai Conservatory of Music at age 16 with renowned cellist Xinhua Ma and attended Shanghai Conservatory of Music in 2011. She served as principle cellist of Shanghai Conservatory of Music symphony orchestra and performed with the orchestra at The National Centre for the Performing Arts. Zhenqi served as concert master in the First Cello Festival Orchestra organized by Shanghai Conservatory of Music. Zhenqi earned the Excellence Award of Alice & Schoenfeld International String Competition in 2013. Zhenqi traveled to Finland in 2015 and she entered the Sibelius Academy where he studied with the exceptional renowned cellist Martti Rousi. In June 2018, Zhenqi completed her master degree of music with honors at the Sibelius Academy. She was instructed by many famous musicians in the world, such as Wang Jian; David Strange; Marko Ylönen; Sadau Harada; David Geber; Reinhard Latzko; Nicolas Altstaedt; Johannes Meissl(Artis Quartet)、Hatto Beyerle(Alban Berg Quartet)etc.
As a chamber music player, she won the First Prize of 3rd Chamber Music Competition organized by the Shanghai Conservatory of Music with Yue-Quartet. They had hold concerts in Czech Republic, Austria, and invited to participate in numerous chamber music festival, e.g. Dvorak Chamber Music Competition, ISA International summer academy, etc.
As an educator, Li Zhenqi received the Hummingbird Music Best Teacher Award at the 2022 China Youth Music Competition. Founder of Tweedle Tweedle Music Studio. She has been a cello teacher at YK Pao International School in Shanghai and Kielo International School in Helsinki. Her students are from Finland, Australia, New Zealand and other countries. Some of her students have been admitted to the Shanghai Youth International Orchestra, passed the Emperor's Exam with honors and won prizes in competitions.
Zhenqi has performed on classical stages around the world, appearing as guest cellist with such symphony orchestras. Zhenqi currently has her career primarily in Wellington.
---
Teaching Info
I have taught cello throughout Europe and Asia to all ages. I have done research on the world famous Finnish education and have been inspired by it in my own way of teaching. I emphasize the basic skills, but I don't make it boring. I tailor my approach to each student's personality. And I also focus on chamber music training. I will organize regular student concerts and offer ensemble classes so that students can experience the joy of playing in a group. I may be strict, but learning cello with me will be fun!
Teaching language: English & Chinese Mandarin